---
Style / Fashion
China Beauty Standards Under Spotlight
Single eyelids or double eyelids? Pretty or distinct? A look into Chinese modeling puts beauty in perspective.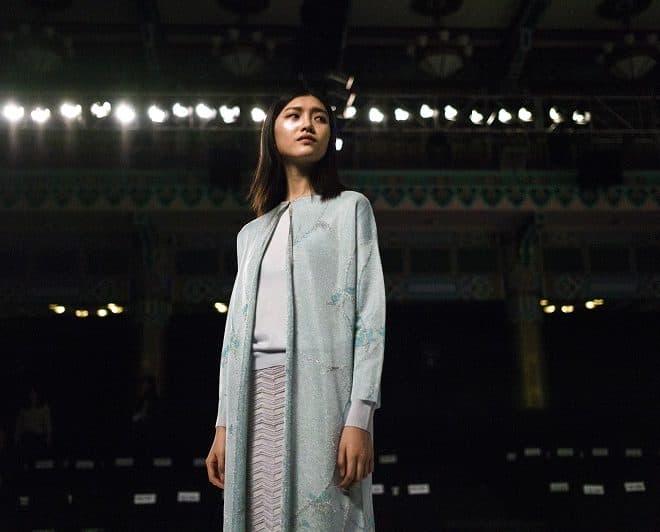 In a world where some people fork out thousands for double eyelid surgery and other such "improvements", model Ju Xiaowen, with her distinct face and single eyelids, seems to be anti-thetical to all that. The Xi'an model was chosen as the new face for L'Oreal Paris in February, indicating a clear divide between what Asians themselves think is beautiful, and what Westerners look for in Asian Beauty. On the other hand, on the runways of China Fashion Week, which concluded on Thursday last week, many models seem to fit into what is known as the 'Chinese Traditional Aesthetic' – "big eyes, double eyelids, and a pale & serene beauty."
The above conception of the Chinese Traditional Aesthetic was "diagnosed" by Roye Zhang, chief agent for China Bentley Culture & Media. The company has been operating since 2003, exactly when China's fashion industry was still in its infancy. "There are big differences between eastern and western aesthetics – a face we find beautiful in China won't necessarily work abroad, and vice versa," he said.
Overseas shows sought men with "single eyelids and small eyes, who are thinner and not so tall", and women who "look like Mulan from the Disney cartoon — she's not exactly pretty, but she's memorable at just a glance". In an interview with Vogue, Ju Xiaowen herself noted the beauty schism by stating that "In China, we still like big eyes and a high nose—that's the classic beauty in China, although I think that's going to change". She revealed that she herself took measures that other women took when she was still living there, such as curling their eyelashes and putting double-stick tape on their eyelids.
The gulf in perception is to the point that Zhang's agency has to bring in foreign CEOs and bookers to look through their pre-vetted Chinese talent. "The vast majority of our models are more suitable for the Chinese market – there's only a very few of them who will be able to go abroad," he said.
One such model who seems to fit the criteria for being both locally and internationally suitable is the 21-year old Xu Naiyu. She's been a frequent walker for the runways during the Fashion Week, showing off everything from a simple green top to a pieced-together dress accessorised with protective goggles and a yellow-streaked wig. Xu wanted to be a model from a young age, and is currently in her second year at the Beijing Institute of Fashion Technology studying modelling and design. She booked her first professional gig only in 2014 but has since walked shows both in China and abroad at the star-studded Milan and New York Fashion Weeks.
"If you want to get to the next level, you still have to go abroad to fashion capitals like Milan or Paris, because this profession is one that came into China from the outside world," Xu said. Indeed, the Chinese version is a pale shadow of the overseas Fashion Weeks. There are no major foreign brands, and only simple sets with just two locations. The fashion industry of the world's second-largest economy is full of brands unknown elsewhere, and few designers are integrated with the international fashion buyer system.
"In this industry, luck is so important," Xu said in between events at the Beijing Hotel, a longstanding establishment near Tiananmen Square in the Chinese capital. She also noted that the industry was "torturous" at times, lamenting that "I'm not that kind of single-eyelid girl who's instantly recognizable".
This may serve as a sharp and ironic jolt for those coveting some form of idealized Asian beauty. Before you put your own eyelids under the knife, you may want to take some time to ponder whether other people might see it differently.
---