---
Properties / Homes
This US$250 Million Bel Air Mansion is Struggling in the Real Estate Market
Mega Bel-Air mansions gained massive media attention for their glamorous, high luxury amenities in the early 2010s but now, they're catching attention for other reasons.

Air screams richness and extravagant when it comes to real estate property.  Luxuo featured the most expensive house in the U.S.A, aptly located in Bel Air. The estate which once belonged to billionaire and philanthropist Andrew Jerrold Perenchio hit the market with a $250 million price tag. Now, this 38,000-square-foot home in Bel Air built  is competing to be the most expensive home in America; but even after a massive discount, it's still struggling to be sold.
This $250 Million Bel Air Mansion is Struggling in the Real Estate Market even after massive discount
According to the Wall Street Journal, there's an "oversupply" with continued development of mega Bel Air luxury real estate and many more multimillion-dollar mansions already listed. In fact, Scott Tamkin, a broker at Los Angeles brand of the luxury realty firm Compass, recently reminded Bloomberg that neighbouring Senderos Canyon, encompassing 6% of the total land area of Bel Air, is a tract of 258 undeveloped acres in one of Los Angeles's hottest neighbourhoods and it has already lost 40% of its 2013 list price of $125 million; currently, it's a steal at $75 million.
Bel Air's most expensive, $250 million luxury mansion, is currently owned by Plastic surgeon Raj Kanodia. The aesthetic doctor is himself a household name thanks to his technique of scarless "closed rhinoplasty" nose jobs for Hollywood elites. Kanodia initially had the intention to flip the 38,000-square-foot Bel Air mansion for a profit but till now, still hasn't managed to sell it.
Originally with a price tag of $250 million, this luxury mansion nicknamed "Billionaire" is now asking for $150 million.  The house at 924 Bel Air Road is being offered for sale by Branden Williams and Rayni Williams with Hilton & Hyland and Shawn Elliott of Nest Seekers.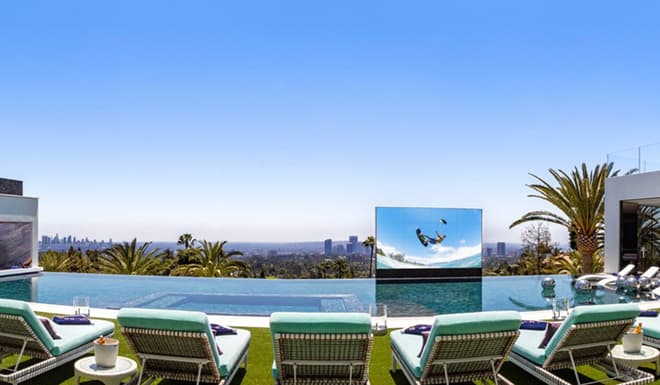 The 38,000 square feet of indoor living space and 17,000 square feet of outdoor entertainment decks features two master suites, 10 VIP guest suites and 21 bathrooms. Divided over 4 levels, the mansion is described as "home to the most affluent people in the world". Offering a scenic view of Los Angeles on the master deck of the property and an 85-foot-long infinity pool, the outdoor entertainment area is pretty impressive.
And it's amenities? A four-lane bowling alley and multiple lounges and a downstairs car and motorcycle gallery, featuring a variety of vehicles, including a vintage Mercedes-Benz car, which are worth a combined US$30 million. If that is not dramatic enough, a penthouse office on the upper level consist of a purely decorative helicopter that was refurbished with a luxurious interior.
The home also boast a fitness center, a massage studio and wellness spa and over a 100 art work surrounding the house. Two fully stocked floor-to-ceiling Champagne and wine cellars is part of the price tag as well.
Despite its luxurious concept, the property has been on the market for two years. Massive, customized properties are known to be challenging when it comes to finding a buyer. Its costly price is one of the main reason why it has been doing badly in the market.
The often hefty price tags for bigger homes contribute to their lengthier sale times because there is a smaller pool of buyers who can afford them, said Artur Miller, founder and CEO of Miami-based AMLUXE Realty, in an article with CNBC. And with its excessive amenities such as the decorative helicopter, owners who have over-customized often find themselves with two choices when it comes time to sell: wait, potentially years, for the right buyer or slash the asking price. On the East Coast, the luxury real estate market is suffering a similar glut – even in the Hamptons, the summer destination for the country's elite, real estate prices have been trending downwards by 7-8%.
---