---
Properties / Interiors & Decor
Interview: Holly Hunt, Furniture Designer
The American design guru collaborates on her first residential project.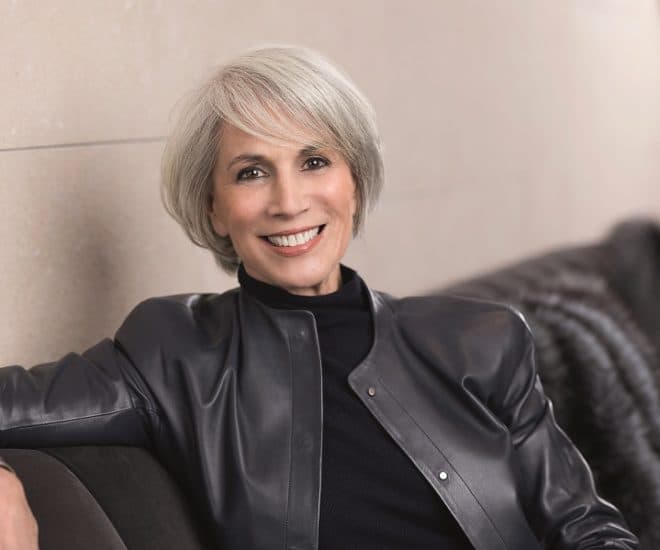 Over the last 30 years Holly Hunt has built an empire of design showrooms and a reputation for being on the forefront of style and quality. Now the American design guru is collaborating on her first residential project.
"I never thought I'd be a furniture designer," Holly Hunt says on the phone from her office in Chicago. Hunt, who founded one of America's preeminent design houses is known for her keen eye and a knack for being consistently on the cutting edge of style and quality. But at the start of her career, she was more interested in fashion than furniture.
A native of Texas, Hunt graduated from Texas Tech and after completing an executive training program at a Federated Department store in Houston she moved to New York in the early 1970s to work for a costume jewelry firm. A decade, a marriage and three children later she opened her first furniture showroom under the Holly Hunt brand. "I was getting a divorce and I had three young sons. It wasn't a business plan, it was an escape plan," she says dryly and with a hint of Texas drawl.
At the time, Hunt says, everything had a very layered and traditional look. "I used to joke about it saying that everyone was trying to make new money look old." She envisioned a more streamlined aesthetic for affluent Americans, first representing midcentury designer Karl Springer and later Christian Liaigre, whose minimalist style had a truly global influence. "His work was the opposite of what was going here. It was very clean. He was someone with a wonderful eye for scale and proportion."
After Liaigre left her company in 2010, Ms. Hunt expanded her Holly Hunt Studio line of furniture, lighting, rugs and fabrics, designs that encompass minimalism, eclecticism, and a blend of modern and transitional references with careful attention to subtle detail and proportion. Hunt also launched collections by French architect Jean-Michel Wilmotte and the American couturier Ralph Rucci. The company designs and makes 70% of the products it sells, largely to interior designers.
Today there are showrooms in all major U.S. cities, as well as London and in São Paulo. In February of 2014, global furniture giant Knoll acquired Hunt's company for US$95 million. It was around that time that Ms. Hunt embarked on her first-ever residential project, L'Atelier Miami Beach, a luxury condominium building in southern Florida.
Located on the site of the former Golden Sands Hotel, the oceanfront project is being developed by SGM Management and W Capital Group and will comprise three- and four-bedroom residences with half-floor units of 2,300 sq. ft., full floor units of 4,600 sq. ft. There will also be two 8,000 sq. ft. multi-level penthouses. Each residence will have ocean views and an expansive balcony with an outdoor whirlpool spa. At the base of the building, common areas feature lush landscaping by Enzo Enea as well as a hammock garden, an oceanfront infinity pool with private cabanas, and over 120 ft. of sand beach. Prices range from US$4.3 million – US$25 million for the penthouse.
How did Hunt become involved in the project? "It happened the way everything seems to happen in design: word of mouth," she says. Hunt received a call from the team at One Sotheby's in Miami Beach asking if she wanted to oversee the design work and after meeting with the developers in Chicago, she agreed.
It was the first time her team had worked on a project that was still in the rendering stage (L'Atelier broke ground in early December 2015 and is scheduled for completion in 2017). "We were doing all of this virtual work, which was very new for us. But we had fun doing it. I look at things more as opportunities than challenges," Hunt says.
The 18 storey glass-rich building, which Hunt describes as "absolutely modern," was designed by the architect Luis Revuelta and resonates with many of the new condominiums going up in Miami Beach, from the John Pawsons's Miami Beach Edition to Norman Foster's Faena House. "It's on the ocean and has a lot of glass and a lot of views," Hunt says. While using a lot of glass can be difficult in Miami with the profusion of light and heat, Hunt says covered outdoor terraces help to filter the brightness.
For the residences Holly Hunt selected Poliform kitchens and Gaggenau appliances. She also designed her first ever Hammam for the spa area and the amenity spaces that overlook the pool. Her favorite part was designing the lobby, which features "wonderfully high ceilings." She also says the penthouse is "fabulous". The two-story unit has six bedrooms, 7.5 bathrooms, seven terraces and a 40-foot rooftop infinity pool.
The level of detail and design Hunt says is testament to the evolution of Miami as world city. "Today Miami is absolutely an emerging world-class city. It's rich culturally. It's rich commercially. The Design District has become a destination full of high-end luxury boutiques. Between the new museums and everything happening downtown, it's kind of amazing."
Q & A
Have your tastes and design ideals changed much since you first launched your company 32 years ago?
God I hope so! I don't know if I've changed in terms of how I think philosophically, but I always want to be on trend. As trends change and grow you also personally. I think 30 years make me better at seeing things closely. You can't learn that out of a book. You learn it when you do it. That's been a gift to me.
What trends are you noticing currently?
You know, it's kind of trend-less at the moment. Yes, there is more color. I also have younger clients now. When I started my clients were all over 50, now I have some who are 35. They want kid proof and dog proof. We have solutions like died acrylic that's washable and sun proof but looks like natural fiber. The other trend is mixed styles. There is no longer a 'look'. I don't find a definite style, just mixing a little old with your new.
Is there a style you believe is quintessentially 'American'?
Well, there's an American aesthetic, there's a bit of an American look, but design is worldwide today. It's not like 25 years ago.  More and more there is also cross-pollination between design and art.
What is your favorite upholstery fabric?
Low-pile like mohair or cotton velvet. It's easy to sit on and keep clean.
Which colors do you gravitate toward?
I prefer more masculine colors that have a gray quality.
Are you working on any new projects you haven't done before?
Yes, we're working on a yacht. We went to the Monaco boat show this year and we saw some really interesting boat interiors. Every inch counts, but you learn as you go and it's fun.
What advice do you give to young designers?
The same thing as I tell my children. You need to learn skills. And be a sponge. You want to know how the world works. How things are made. And if you really want to be a designer, learn how to draw in perspective and learn CAD. I regret that I don't have those skills, but I have a great team who does.
Story Credits
Text by Sophie Kalkreuth
This article was originally published in PALACE
---