---
Properties / Interiors & Decor
Founder, Sean Bo Details The Bodi Collections' Bespoke Mosaic Interior Art Design
Specialising in interior furnishing materials including fabrics and wallpaper, Bodi Collections is revered for incorporation of award-winning mutaforma micro mosaic elements in all of its design.
Established in 2001, Bodi Collections specialises in interior furnishing materials including fabrics and wallpaper – catering to a variety of demands for revolutionary materials for commercial, hospitality, and residential projects.
Founder, Sean Bo Details The Bodi Collections' Bespoke Mosaic Interior Art Design
Tell us about the early stage of Bodi Collections when it was set in Singapore in 2001. How unique was your vision?
When I started my company in 2001 in Singapore, the interior design field was developing in many exciting ways with many well-known international brands such as Jab Anstoch & Carlucci di chivasso which I had the privilege of working with, along with many other well-known European Design brands. Singapore was then, and still is a dynamic and vibrant melting pot of different cultures and with my Eastern upbringing and Western exposure it allowed me to propel forward with my vision.
I have always had a deep appreciation for Beauty especially how Fabrics, Furnishings, Materials and Coverings are integral to the contribution of the Elegance, Mood and Experience in any environment. My vision was to open up the minds of my clients and allow them to appreciate and enrich their Living Spaces with my unique experience and creative materials. I aspire  to make the interior  and living spaces much more appealing, exciting, warm and truly a home that they fall deeply in love with.
This is exceptionally important globally in today's world where many of us will spend more hours at home and we should embrace and nurture our internal self as well as the environment we live in.
You have been working in both Singapore and Shanghai. Tell us about some of your most memorable projects?
I have had many memorable projects both in Singapore & Shanghai however one of my most memorable was that of working with a client in South East Asia for one of his Private Residences. The owner was so intrigued with the interior design of the world's largest Art Museum, Louvre, Paris. He wanted a replica of it in his home and the entire time frame from Visualisation & Conceptualisation to the final Completion took a total of 5 years. The end result was grand, stunning and exquisite interior truly depicting the spirit of the Louvre.
How bespoke an interior decoration can be ? You have some examples in mind?
In today's context, truly customised and Creative solutions which transforms a client's thoughts and dreams to reality  are possible. The client's style and character are reflected in minute designs details through the use of materials, artistic language and design features. The in-house production of our materials offer unparalleled control over the design, manufacturing and operative stages of each project. Through personalisation and value for decoration we achieve the client's wish by creating a Dream Art piece with Functionality & Aesthetic Presence.
A magnificent example is that  of Co-creators  Dr. Susan Lim and Dr. Christina Tan who brilliantly created ALAN the Musical and the inanimate character ALAN.
The creators  chose a beautifully self-designed  mosaic portrait to represent ALAN the protagonist from the Musical, instead of printing posters as or using any other medium. Through intense engagement & close collaboration, the project visualisation & conceptualisation took  3 months to completion resulting in a life-sized image of Alan measuring 1.4 x 1.4 metres square & a total of 59,000 micro-mosaic pieces. When it was eventually unveiled during the first day of live recording in the legendary Abbey Road Studios, London, the art piece ALAN  was so amazing and everyone in the Studio was impressed  and touched by its beauty and presence.
Interestingly the Fantasy of Companionship is a fascinating premise as it speaks of the possibility of alleviating loneliness through the bioengineering of the inanimate ~ALAN came to life during the live recording at the legendary Abbey Road Studios in the presence of an entire team of Creative individuals which include renowned musicians, Composer Manu Martin, Solo Pianist Tedd Joselson, Conductor Arthur Fagan, Music Director Matthiew Eymard, composers joi Barua, Ron Danziger, sound engineers, animators, videographers, musicians from the London Symphony Orchestra And  London Voices.
This unique art piece of ALAN and collective effort of all is a beautiful reflection of humanity acting as One and  lives in our minds and hearts forever.
You are known for the sophisticated use of mosaics. Tell us more about the latest TILLA Mosaic you are bringing in from Italy, how special are these mosaics?
Each piece of Mosaic Art encompasses the artistic vision and concept as originally intended by the artist, expressed through vibrant colours and subtlety made possible by the use of this innovative micro-mosaic.
Each micro-mosaic piece (tesserae) has unequalled tiny dimensions from 1.5 to 7mm and thickness of 1-2 mm, using the latest nanotechnology to create 17 nanolayers of metals and pigments under the surface of super transparent glass. The use of this patented nanotechnology creates a unique material with superior brilliance and colour vibrancy.
The tesserae are positioned with a rain-like technique with spacing of only 1mm to obtain pixelated artistic designs. Module sizes are available in 288x288mm or in multiples, held together by polymeric based tiles with a laser-cut jigsawed edge, which avoids the joint line, thus ensuring a high-precision fit for ease of installation. Besides, Mutaforma also has a matrix, artistic and exclusive placements which satisfy different design and needs. The medium-density per square meter has a count of approximately 28800-45000 pieces of tesserae!
Compact , refined, lightweight  & durable this versatile micro-mosaic redefines creativity and allows for infinite possibilities. Particularly suited for smooth surfaces, the finished product can be used for  feature walls, floors coverings, fabric, panels, ceilings, furniture surfaces, swimming pools and artistic structures in any design through digital layout and production. The beautiful variety of colours, the refined details and the marriage of design & technology presents a truly iconic result that is breath-taking and allows us to express all possibilities of the imagination.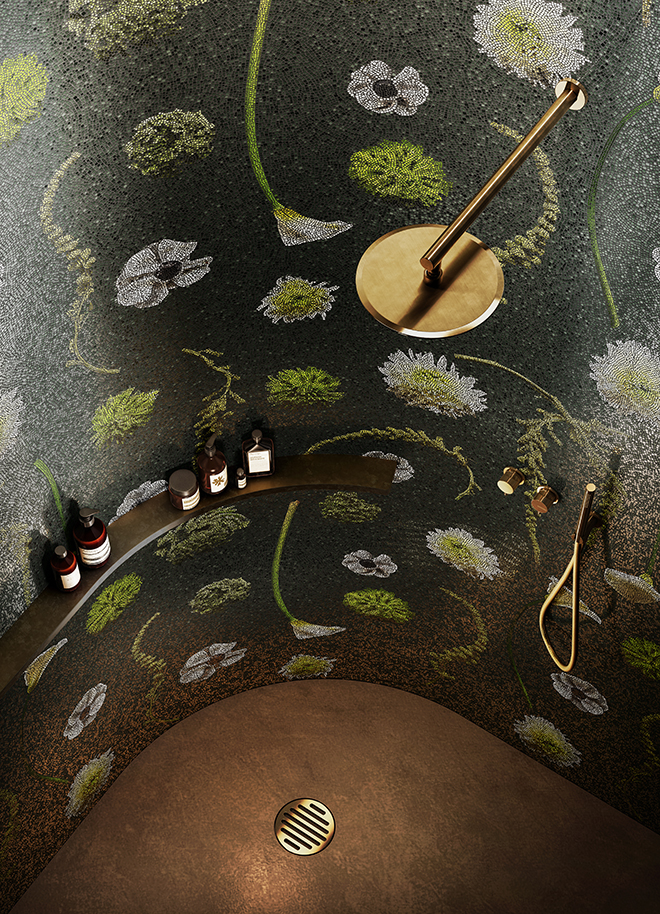 Would you consider your inspiration as more oriental or more influenced by European decoration schools?
My inspiration is more influenced by the European decoration schools as the Europeans have had a much longer period developing the field of interior decoration. Coming from an Asian background, I very naturally, however do  keep the balance between east and west.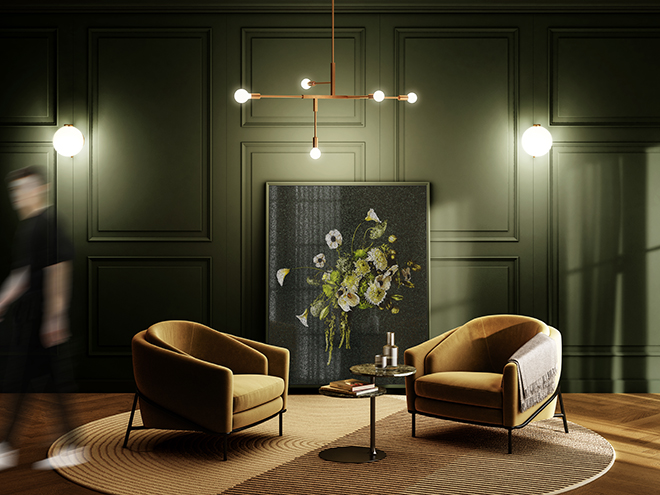 You often refer to Italy when talking decoration. How unique is this country in the artistic world ? Many of the materials you use are actually coming from Italy?
Italy is one of the leading countries in Fashion & Design where fashion is very much a part of the Country's cultural life and society. Italian Fashion became prominent from the 11th to 16th Century when artistic development in Italy was at its Peak. In 2009 Milan, Italy's Centre of Design was ranked TOP Fashion Capital of the World alongside the rest of the big 5 New York, Paris, London & Rome.
Yes many of my materials originate from Italy. The product I am introducing to the market for the first time in Singapore is the World's smallest micro-mosaic. With reference to Italian decoration, my understanding and appreciation of their work is related to their perfection and sophisticated beauty. This is not only based on many generations of style & integration, but more about their lifestyle and experiences.
Your favourite interior architect?
I have 2 favourites: Marshall Strabala and Jaya Ibrahim.
Your favourite room at home?
The living room
The country where you would like to build the villa of your dream and relax after a hectic life on the road?
An Asian country that is loved by many: Thailand.
---