---
Properties / Interiors & Decor
Fantasy Comes Home: Maison et Objet Trends
The clean lines of Scandinavian style dominate home interiors but a new more theatrical, baroque look is set to win through.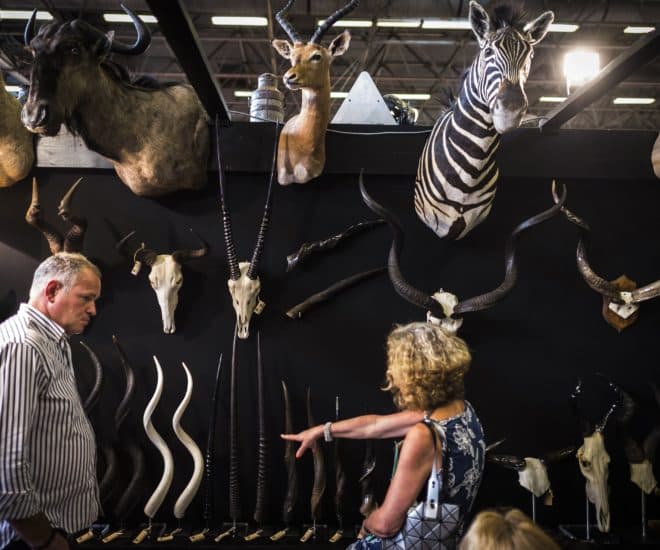 The clean lines of Scandinavian style dominate home interiors but a new more theatrical, baroque look of curiosity cabinets and sumptuous velvets is set to sweep through our homes. Well, that's if the trends at the big Maison et Objet show (Paris Design Week) in the French capital are anything to go by.
"We live in anxious times. Step out of our doors and we are confronted with fear, insecurity and pollution," design guru Vincent Gregoire told AFP.
"So indoors we want to break free, we want sensuality, theatricality and opulence, even surrealism," added Gregoire, who helped put together this year's show.
With its luxuriant thick shag-pile carpets, marble, velvety taffeta, copper and brass, the look is not all that far from the 19th-century Second Empire style that sprung up from the decadent court of Napoleon III and his big-spending wife empress Eugenie.
The fact that there are so many amulets around also shows the need for more than just physical comforting in these troubled times.
Nomades Authentic, which often works with shells and semi-precious stones, had begun putting Catholic holy medals in bell jars.
But in the wake of the deadly terror attack in Nice – close to where its creator Evelyne Viladrich is based – she began adding crucifixes too. "These are spiritual objects," she said. "We have need of them now."
For Gregoire the look is all about the "spirit of the Victorian curiosity cabinets. We had that a few years ago but it was a little scary, with skulls and that… Now we have funny animals which bring good luck, or bad, and which we can play with."
Animal kingdom
The city dweller who longs for nature can also transform their home into a cozy hunting lodge.
If the real thing seems a bit much, why not decorate your walls with fake stag and bulls' heads made of wood you can mount yourself (from the Italian studio Miho Unexpected Things or the Dutch Studio Roof)?
They come upholstered or in tartan and can be accessorized with glasses, or hats from the Spanish firm Softheads.
Crockery is getting closer to nature too, with drawings of little wandering insects popping up on plates.
And why not put a peacock in your sitting room? Dutch taxidermists Museumwinkel have everything from (farmed) butterflies starting at five euros euros ($5.60) to a lion (who died in a Belgian zoo) for 22,000.
"People want to get closer to nature and these pieces are unique," said spokeswoman Nicolette Naphausen. "We are giving animals a second life."
Set up six years ago by an accountant, Museumwinkel now employs four full-time taxidermists.
More cutesy are Anne-Claire Petit's knitted animals – giant lobsters, Bambis, woodpeckers and cats, the nearest things you will get to an adult cuddly toy.
Child cocoons
Nature too has found its way into children's bedrooms, where soft hues and light-colored wood are taking over.
"Ten years ago or so everything was very colouful. Today the kids rooms are getting closer to the adult world," said Sandrine Guigou, co-founder of the brand Lilipinso.
"And when rooms are not in pastels, they tend to have black and white urban graphics," she added.
Cacti, swans, butterflies, flowers and features are the main motifs used by this wallpaper and rug maker which works with around 100 designers from around the world.
For Austrian company VividGrey is it all about creating calm. Their lamps and bedding comes in either grey or blue cotton and linen to create soft and poetic interiors that last.
"There is so much color in children's toys, (using subtler hues) creates a calmer atmosphere, making the home a shelter, or a cocoon," said Sabine Fajana.
"Before parents would buy a completely designed children's room from a specialist," said Thomas Lepine, of the Paris brand Charlie Crane. "But with the arrival of stores such as Ikea, they pick and chose, maybe getting the basics from Ikea and indulge themselves elsewhere with well-chosen pieces."
His brand's wooden high chairs and loungers have a Scandinavian air while the metal tube chairs for older infants hark back to the designs of French modernist designer Jacques Hitier.
Hunt for the unique
A public hungry for novelty, for rarely seen and surprising objects has helped boost the market for artisan creators.
At Maison et Objet, makers come from all corners of the world with their rugs, terracotta cut, rustic and recycled furniture and sofas dressed with kilims carpets.
With everyone looking for the unique, the Dutch firm Doing Goods call themselves modern "treasure hunters", combing the flea markets of New York to the streets Delhi for unusual objects. Snowdrops from Copenhagen even sell old laundry bats which were used to beat the dirt out of clothes.
"A unique piece is also something you can personalise," said Vincent Gregoire. Although ii is not always about luxury, he insisted. Technology is making design accessible to everyone.
"Machines that allow you to print images onto everything from cushions to plates are being sold more widely now," he added.
---