---
Properties / Hotels
The St Regis Florence with Bottega Veneta suite
International hotel chain Starwood has announced the reopening of a landmark Florence hotel, complete with a suite from top designer label Bottega Veneta. The St Regis Florence, originally the Grand Hotel Florence, has been treated to a ten-month restoration which has seen significant interior changes to the 18th century palace, ranked among the city's most […]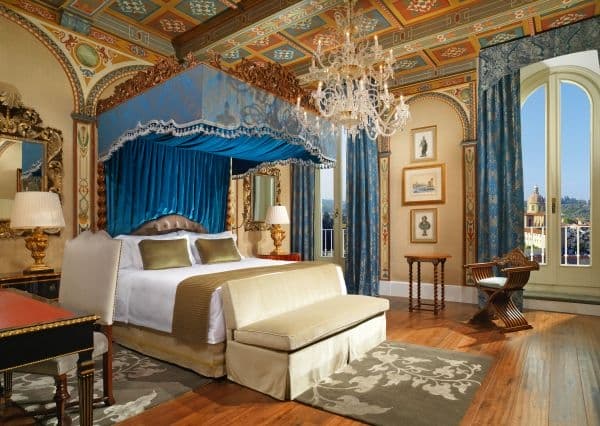 International hotel chain Starwood has announced the reopening of a landmark Florence hotel, complete with a suite from top designer label Bottega Veneta.
The St Regis Florence, originally the Grand Hotel Florence, has been treated to a ten-month restoration which has seen significant interior changes to the 18th century palace, ranked among the city's most significant buildings.
The hotel boasts 81 rooms and 19 suites, decorated by local artisans and including antique furniture such as hand-carved gold leaf frames and crystal chandeliers.


The hotel's most celebrated room is the Bottega Veneta suite, designed by Bottega Veneta creative director Tomas Maier in a style of 'quiet luxury', and furnished with a mix of pieces from the Bottega Veneta home collection.
In collaboration with the Michelin-starred restaurant Enoteca Pinchiorri, the hotel also includes a new restaurant called Etichetta Pinchiorri, although the glassed art ceilings that date from the 19th century are still in place.
An outdoor library terrace, a vaulted cellar and a Florentine marble spa complete the refurbishment, which was officially unveiled last week.
St Regis is the latest brand to turn to a well-known fashion name to design a suite — Waikiki's Halekulani resort offers a Vera Wang suite.
London's May Fair hotel also features one by Elsa Schiaparelli and Diane von Furstenberg designed ten rooms at London's Claridges.
Source: AFPrelaxnews
---