---
Properties / Hotels
Abu Dhabi's Hyatt Capital Gate Hotel
The Hyatt Capital Gate hotel, which offers 189 five-star rooms, will finally open its doors December 21 in Abu Dhabi. The hotel leans a record-breaking 18 degrees — more than four times that of Italy's famed Leaning Tower of Pisa, which is angled at just under four degrees. The striking style of the building earned […]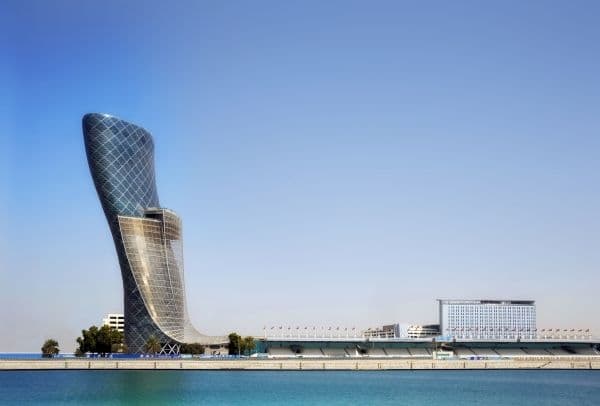 The Hyatt Capital Gate hotel, which offers 189 five-star rooms, will finally open its doors December 21 in Abu Dhabi.
The hotel leans a record-breaking 18 degrees — more than four times that of Italy's famed Leaning Tower of Pisa, which is angled at just under four degrees.
The striking style of the building earned it a place among Guinness World Records last year, despite a two-year delay in the handover.

Now, guests will be able to sleep in guest rooms that hover over nothing but air, with the Hyatt occupying floors 18-33 of the structure — each floor protrudes by between 300mm to 1400mm.
Among the features is the Rayana Spa, a 'sky-spa' perched on the 19th floor offering "a refreshingly elevated oasis experience" along with a suspended outdoor pool and whirlpool.
Restaurant options include eastern Mediterranean cuisine at the 18˚ restaurant, a chic bar called Privé, the "residential-style" Lounge, a pool bar and the Lobby Café.
---