---
Motoring / Yachts
Top 100 Superyachts of Asia-Pacific 2020, Nos. 61-80: Yacht Style
Yacht Style rolls out Nos. 61-80 from its annual Top 100 Superyachts of Asia-Pacific, made up of yachts in the 52-56m bracket.
Lady Candy, 56m Benetti
Hong Kong-based Lady Candy and Genesis owners took advantage of economies of scale in building superyachts at Italy's leading yard, and both were advised locally by Captain Paul Brackley of Central Yachts, who has undertaken other substantial projects in the region. Now ranked 61 in the Top 100, Lady Candy cruised Borneo and the Philippines recently, did a Med season via Phuket and Cochin in India, and is lately back in Cebu.
Genesis, 56m Benetti
See also #61 above. The vessels are based at Gold Coast Marina on the western New Territories side of Hong Kong, and despite the similarities, they are actually custom outfitted and operated in completely different ways.
Fidelis 56m, Perini Navi
One of a fleet of Perini Navis that constantly cruise Asia-Pacific waters, Fidelis has spent considerable time in the South Seas, and when this was written had arrived in Singapore after exploring the beautiful waters of New Caledonia, a French-Melanesian group less than 1,000nm off the Queensland Coast. It has the world's second-largest barrier reef after the nearby Great Barrier Reef.
Lili, 55m Amels
One of the Amels Limited Editions 180s that have become increasingly popular with Asian owners, Lili represented by Imperial Yachts has chartered widely in Indian Ocean and Southeast Asian waters albeit also alternating with the Med season and beautiful bays such as Villefranche near Nice, a favourite.
Halo, 55m Feadship
Another visitor to Marina Taina in Papeete, Halo was inspired by Helix which cruised Asia-Pacific for a year on behalf of this leading Dutch yard. It was the last of a series, and could be delivered in a mere 33 months from Feadship's Van Lent facility. Bought by a lady, she is reported to be "following the sun", and indeed she was recently in Cairns in north Queensland to be followed by Denpasar in Bali, Indonesia.
Driftwood, 55m Amels
"We are confident that the Amels 180 is the most successful 55m superyacht design ever, with more than 20 deliveries since 2007," says Rose Damen, an increasingly frequent traveller to Asia on behalf of both Damen Shipyards and subsidiary Amels. Driftwood, another example of the species, has been cruising in French Polynesia, was in Honolulu in the Hawaiian Islands after that, and is lately on a sojourn to the Pacific Coast of Central America.
Samax, 55m Feadship
Constantly commuting between the Med and Southeast Asia, this vessel was originally commissioned from Feadship's Royal Van Lent yard by Prince Jefri of Brunei, and she has been a denizen of Phuket and the Andaman Sea ever since. Her favourite Med hangouts are Turkey and Greece, although in 2019 she turned up in Malta presumably for maintenance before returning.
Papa, 55m Amels
Brand new to the Southeast Asian charter market in 2019-2020, Papa is another of the very popular Amels 180s, being handled by Burgess. With exteriors by Tim Heywood and interior concepts from Laura Sessa, she has a vast sun deck and outdoor cinema, and a bridge deck sky lounge that unusually boasts a custom-made football table. Accommodation is for 10 guests, including a spectacular owner's suite on the principal deck, with its own spacious lounge, office and private balcony. Captain Paul Bessant heads up 12 crew.
Adele, 55m Vitters
This classic Hoek-designed super sailboat was built by Vitters and delivered in 2005, then refitted at Royal Huisman before her current cruise to the South Seas, starting in French Polynesia, and by late 2019 ensconced at Westhaven Marina 
in Auckland, New Zealand. She has luxury accommodation for 10 guests in four cabins.
Ocean Paradise, 55m Benetti
Singaporean entrepreneur Adrian Lee's custom creation features Zen gardens and a minimalist fitout always connected with the sea. Although sold and Med-based, she stays in our collection as a fine example of what younger Asian owners can do, starting with a blank palette. The unusual pool with its fountain features show some of Lee's ideas, working with in-house designer Mauro Izzo. An upper salon reflected his penchant for collecting vintage video games.
Ark Angel, 55m HYS
Originally a Japanese maritime cadet training vessel, Ark Angel has been refitted and refined in 2004, 2009 and 2011 by Harbour Yacht Services in the former US naval base at Subic Bay in the Philippines. Offered for sale by Burgess, she has an asking price of US$5.8 million. Beautiful local hardwoods have been extensively used within. Accommodation is for 16 guests in eight cabins, and she has a remarkable range of 12,000nm. There are two helipads, one touch-and-go and the other a three-tonne pad.
Keri Lee 111, 54m Trinity
Another Australian-owned superyacht that charters far and wide, her interiors feature some interesting original artworks, and principal furnishings are French antique. The vessel was offered in Southeast Asia, and in recent seasons has tried the Med market; located late 2019 in Genoa.
Maridome, 54m Brooke Marine
Longest-standing member of the Melbourne superyacht club, retailer Solomon Lew keeps this distinctively-designed vessel built at England's Brooke Marine in the Med lately, cruising the Greek and Turkish Rivieras at the latter end of the season, but equally he has waved from astern during past cruises in Phuket. One trucking mate has taken delivery of the Amels Volpini 2, so a matching upgrade may be in the wind, although Lew also has the 45m Texas which he uses for Australian cruises.
Talisman Maiton, 54m Proteksan Turquoise
Newly available for charter in Southeast Asia via Burgess, this 2006 build by one of Turkey's premier superyacht yards was refurbished in 2012. Says the agency: "Boasting an enormous open plan sun deck and an eclectically-styled interior, which blends eye-catching Asian influences with art deco features, this vessel is a perennially popular charter yacht". Master and VIP cabins on the principal deck are complemented by six individual "boutique cabins". She recently provided aid to Surin sea gypsies after a fire, and has taken part in the popular Below Decks reality TV series.
Drumbeat, 53m Alloy Yachts
Part of a growing fleet of superyachts that call French Polynesia and Fiji home, with occasional refit and repair runs to Auckland where Drumbeat was built. David Jamieson of Asia-Pacific Superyachts talks these days of 50-60 big boats in the extensive Fiji archipelago. Bart Kimman, Hong Kong-based leading agent for Camper and Nicholsons in the region, says that sales activity among the super sailboats is quite vibrant.
Mischief, 52m Baglietto
Taking advantage of late Med autumn weather, Mischief was on the Turkish Riviera mid-October. Fun-loving Australian businessman Ian Malouf has offered her for sale after cruising in Europe for some years, but we are told the vessel has not yet changed hands.
Elysium, 52m Benetti
Formerly Quantum of Solace and part of the famous James Bond series ordered by dealer extraordinaire John Staluppi, she was purchased by the experienced Singapore and Malaysian property developer David Eng, who had earlier built two aluminium superyachts at Palmer Johnson on the shores of the Great Lakes. Often kept in Phuket, and lately out near Krabi in Phang Nga Bay.
Seashaw, 52m Cheoy Lee
Singapore steed of the late movie mogul Shaw Vee King, who passed away recently, this Frank Mulder-Dee Robinson design was completed at Cheoy Lee near Macau. Long kept at Republic of Singapore Yacht Club, and making fortnightly "long weekend" passages to nearby Indonesian and Malaysian islands, her established routine for family and friends doesn't seem to have changed.
Jade 959, 52m Jade Yachts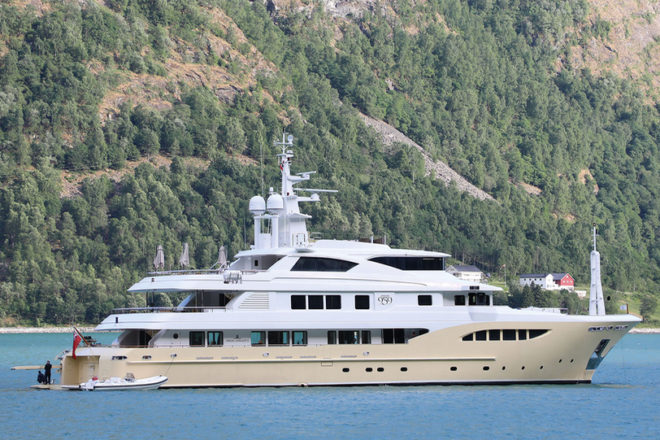 A Juan Carlos Espinosa design and built in Kaohsiung when Jade Yachts was more active there, Jade 959 has been chartering in the Med for the past few seasons. Jade VP Memphis Han is heavily involved in the family's new builds, refits, commercial and fishing craft. Sale agents C&N.
Deniki, 52m Amels 171
Presently cruising in New Zealand, Deniki
 came up in conversation for other reasons when Tim Heywood's 15-year sojourn as sole exterior designer of the remarkably successful Amels Limited Editions was broken by the announcement of an Espen Øino LE. "I'm sure the first one was Deniki," said Heywood, recalling an early naughties media conference in Monaco, "and I think she still has the same owner." The vessel's eclectic interior by Peter Heuvelmans fuses oriental and classical styles. She does some charters, sleeping 10 guests in five suites, including the master.
The original article appears in Yacht Style Issue 50. Email subscribe@lux-inc.com for print subscription enquiries or subscribe to the Magzter version at: www.magzter.com/SG/Lux-Inc-Media/Yacht-Style/Fashion/
---