---
Motoring / Yachts
World's Largest Sailing Superyacht in Production
Turkey-based Dream Ship Victory (DSV) has signed a contract to begin new 141-meter sailing superyacht, destined to become the world's largest. Now a construction schedule is slated to begin this summer with a five-year build plan, making for a launch date of 2016. Naval architects Dykstra & Partners and Ken Freivokh Design collaborated with DSV's […]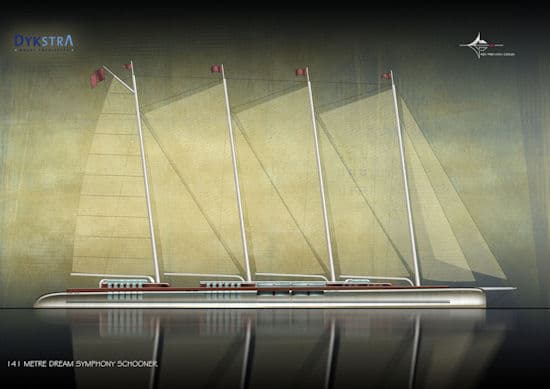 Turkey-based Dream Ship Victory (DSV) has signed a contract to begin new 141-meter sailing superyacht, destined to become the world's largest.
Now a construction schedule is slated to begin this summer with a five-year build plan, making for a launch date of 2016.
Naval architects Dykstra & Partners and Ken Freivokh Design collaborated with DSV's Valeriy Stepanenko on the Art Deco-inspired all-wood yacht.

The all-wood design will use up a fair number of trees, but DSV promises excellent green credentials through the use of carefully selected tropical woods, a "totally renewable resource".
Via jameslist
---