---
Lifestyle / Alcohol
Interview: Hadrien Mouflard for Maison Ayala
We sit down with Hadrien Mouflard to find out what goes into a bottle of Ayala champagne and what the brand means to him.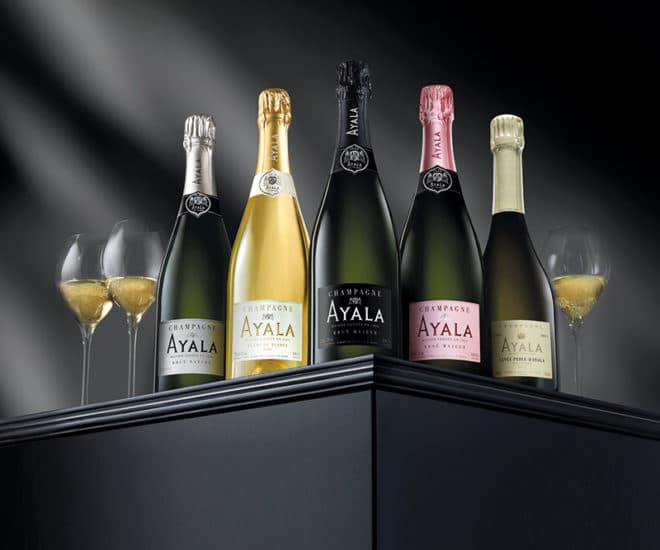 AYALA is synonymous with fine champagne. Consumed and collected by discerning individuals the world over. We sit down with Hadrien Mouflard, Head of Maison Ayala to discuss everything champagne.
Having celebrated the Maison AYALA's 150th anniversary a few years ago, what would you say makes AYALA Champagne unique? How do you manage heritage and modernity?
We celebrated our 150th anniversary in 2010, Champagne AYALA having been founded in 1860, is over 155 years old! Our House is one of the oldest still in activity today: we were one of the original founding members of the Syndicat des Grandes Marques, the ancestor of today's Union des Maisons de Champagnes and in that sense, we belong to the 20 or so Houses that really helped to forge Champagne as we know it today.
Back in the 1920's, Champagne AYALA was truly one of the leading Houses in the region, producing over 1 million bottles a year, when Champagne did not even weigh 10% of its current production. Since the Bollinger family bought Champagne AYALA in 2005, a wind of change has been blowing on the House and we can now proudly say that we have a talented, young team in place, bringing a contemporary spirit to a historical House of Champagne.
How important is London, the UK and the royals in the history of the Maison AYALA?
Right from the very beginning, London and the UK have played a key role for Ayala. Fernand de Ayala, brother of House founder Edmond de Ayala, settled in London in 1863 and became very close to the British aristocracy and royalty, gaining the friendship of the Prince of Wales, future King Edward VII. He introduced him to our famous 1865 vintage, which was very dry for the time, and he became a great follower of Ayala. He even rewarded us with a Royal Warrant, which we held for the first half of the XXth century, until 1952. The House also had the great honour of welcoming Queen Mum, HRH Elizabeth II's mother, in 1983.
Today, the UK remains our biggest export market, with almost 25% of our sales, thanks to very special partnerships, like the one we have with world-famous chef Gordon Ramsay, who selected our Brut Majeur as the House pour in every single one of his restaurants in the UK, from the more accessible ones all the way to his 3-Michelin star Restaurant Gordon Ramsay in London.
How important is it to keep AYALA Champagne family-owned, especially versus the emergence of large groups in the champagne world?
Champagne AYALA has always belonged to small, independent and family-owned structures: it really is part of who we are. This independence allows us to keep quality as our main focus, which is a key component of how we want Ayala to evolve in the coming years, as we believe it will always be an important differentiating factor in an ever more competitive business. Being independent means being able to make decisions that put quality first.
Besides Champagne, what are your passions and how are they reflected in the Maison AYALA's art de vivre?
One passion often leads to another and it is probably not a great surprise for you to learn that I am also passionate about cooking and gastronomy. I think this passion is really reflected at Champagne AYALA with the great care that we put in looking for and sourcing the best "ingredients" possible to craft our wines, as much as the continuous quest for the perfect balance. It goes without saying that I feel Champagne is a great companion for food and wine matches, something that we really care about here at AYALA and that our guests are able to experience when they share a meal with us at the estate.
What is champagne to you? (A drink for celebration, a personal moment …?)
Champagne is first and foremost a drink for special moments. It is a great companion for all the great milestones in life, a true and unique marker for pleasure. That being said, opening a great bottle of champagne can also become a special occasion per se and this is also what makes this product so special.
Tell us about your Chef de Cave/Cellar Master Ms. Caroline Latrive? What mission and objectives drive her?
Caroline was born and raised here in Champagne and her father was himself a great oenologist. She joined our team in 2007 and has not stopped to amaze us with her great skills since. It is a very challenging mission to respect the style of a historical House like Ayala and she managed to do so brilliantly since her beginnings, but also succeeded in bringing her personal touch to our blends, for example by using a lot of Chardonnay, a grape variety she especially loves. Her main mission is to help Champagne AYALA to keep on growing in quality, by refining the style of our wines and expressing the best Champagne has to offer.
What type of audience do you target in Asia? Any specific products (Millesime, Serie Limitee) being driven to the Asian clientele?
Asia as a whole is hard to generalise, because a lot of markets have different approaches to Champagne. For example, China remains a rather small market, where Champagne as a whole sells less than 2 million bottles, whereas Japan does more than 5 times more. For a brand like Ayala, we try to target those more mature markets, able to more easily appreciate the refinement of a smaller, boutique-style House. The recent launch of our limited edition Rosé No.8 should hopefully have success on markets worldwide, including in Asia!
How is the 2015 harvest looking like?
Our first impressions of a very highly qualitative vintage were confirmed by the recent tasting of the vins clairs. We had a very hot growing season and most of the region featured great ripeness, without losing too much acidity. The grapes were harvested in a great sanitary state, with very little if any diseases reported. The juices were very expressive from an early stage on and we can expect great blends to come out of 2015, along with some vintage wines.
Your most personal memory working for the Maison AYALA?
I will always remember my very first day at AYALA, when I visited the beautiful, historic cellars and discovered the fantastic heritage that the House had. I felt right from the start that very powerful fundamentals were present to help relaunch that Sleeping Beauty of Champagne. From the very beginning, I had the feeling that it would be a very exciting adventure to form a new team and work closely on building a new communication and commercial strategy for the brand.
Another great memory I have took place during a visit to Boston in the US where a sales representative meeting me for the first time brought a bottle of 1959 AYALA that he had found in his family cellar to share it with me, to celebrate the fact that "Ayala was back" as he said! The wine was fabulous and proved to me once again that the great heritage and history of this Champagne House really deserved to be rediscovered by wine lovers all over the world.
This article was first published in Palace magazine.
---