---
Lifestyle / Alcohol
Cité du Vin Celebrates Bordeaux Wine
The French city opens its doors to wine lovers this June with the new centre and a wine festival.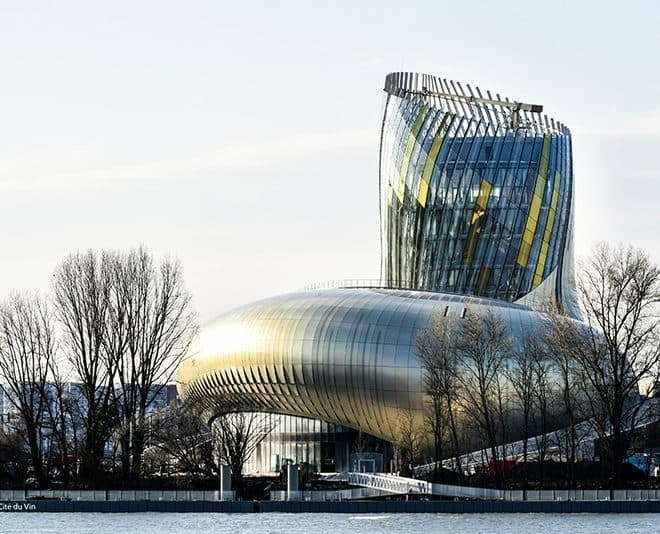 With the French city all geared up to open its new cultural center dedicated to wine, many expect the city of Bordeaux to become a new tourist hot-spot (more than it already is). On June 1, the Cité du Vin will open its doors after a three-year construction period, in time to be the summer destination for visitors.
Situated in the center of the Bassins à Flot district, the cultural center is part of the plan to regenerate the area. The design of the building is a nod to the rites and rituals of wine drinking, with its curved structure reflecting the moment when wine is swirled in a glass. Yes, that is what the shape means!
Measuring 13,350 sqm and spanning 10 floors, the futuristic design also features the colors of the Garonne river. On the second floor, sits the center's permanent exhibition that takes wine lovers on a multi-dimensional journey. With the help of 3D images, aromas and various interactive features, guests can explore the history, properties and cultural aspects of Bordeaux.
The tour can also be enjoyed with the help of an audio guide — available in eight languages — and will also bring visitors to other vineyards around the world. While there is a replica of a genuine wine cellar created to elaborate on the various stages of wine making, the Belvedere viewing gallery on eighth floor of the center allows visitors to sample a glass of Bordeaux's finest.
Following the opening, the city will kick off the 10th Bordeaux Wine Festival on June 23. The weekend will see the riverbanks of Bordeaux transformed for the wine-tasting event while trips to vineyards are also organized to help tourists understand the wine making process. Visitors can also get a special pass to sample the region's famous "1855" grand cru wines, the real stars of the region. Held on alternate years with the Vinexpo wine industry trade fair, the "Bordeaux Wine Festival" has become a popular event that brings together locals and wine fans from further afield.
Find out which Bordeaux wines are on Epicurio now. Download the app on iTunes or Google Play now.
---