---
Lifestyle / Travel
Expedia launches "Unpublished Hotel Rates"
Expedia claims it's selling rooms at "unpublished rates", but what does this actually mean and how can travelers take advantage of it? "Unpublished rates" are the minimum prices that hotels will sell a room at if they haven't been able to sell it at the standard rate. The travel giant announced October 25 that it […]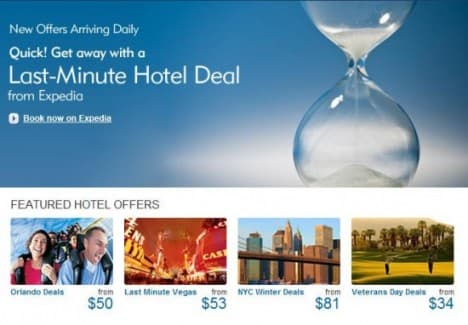 Expedia claims it's selling rooms at "unpublished rates", but what does this actually mean and how can travelers take advantage of it?
"Unpublished rates" are the minimum prices that hotels will sell a room at if they haven't been able to sell it at the standard rate.
The travel giant announced October 25 that it would dramatically expand its unpublished rate inventory to include 25,000 hotels around the world, claiming that travelers could book hotels at up to 50 percent off the standard online price.

Given that in the first half of 2010 nearly half the hotel rooms on any given night were vacant, it might seem that Expedia is onto a winner for both travelers and hoteliers.
The company's Tim MacDonald said in a statement that travelers were "trading up" — booking at the same prices they normally would but getting more for their money in terms of star rating.
However, much like competing programs from Travelocity and Priceline, the program is "opaque," which means travelers don't know what they're booking until after they've confirmed.
While the site says that it uses brand-name hotel partners, some travelers have reported that this isn't necessarily all it's cracked up to be, with one poster to the TripAdvisor forums saying "The 3 star London hotel I got was far from 'brand name' and furthermore was so poorly rated on Expedia's own site that not one single guest recommended it."
While it's true that opaque deals can be thrifty and risky at the same time, there are a couple of ways to minimize the risk.
Some consumers are attempting to take the upper hand by identifying opaque hotels on websites such as Betterbidding.com, BiddingforTravel.com and Hotel Deals Revealed.
Shopping around on different sites can reveal a wealth of hotels all in the same area, so don't just stick to Expedia, Priceline or Travelocity because they're your favorite.
Finally, some travelers report success in simply ringing a hotel and asking if there are any bargain deals available — although the internet always has the most offers, it doesn't necessarily have the best.
---