---
Lifestyle / Travel
Discovering Jeju Island, the "Island of the Gods"
Take a walk on the wild side and discover the natural wonders of Jeju's triple UNESCO threat
A place nicknamed the 'Island of the Gods' by locals, Jeju Island is a place that holds some of the most stunning natural beauty in the world, earning itself as one of the UNESCO World Natural Heritage Sites, officially known as the Jeju Volcanic Island and Lava Tubes.
Awarded in 2007, the Jeju Volcanic Island and Lava Tubes has just celebrated its 10th anniversary and we decided to fly up to talk a walk on the wild wide to see what the island is all about.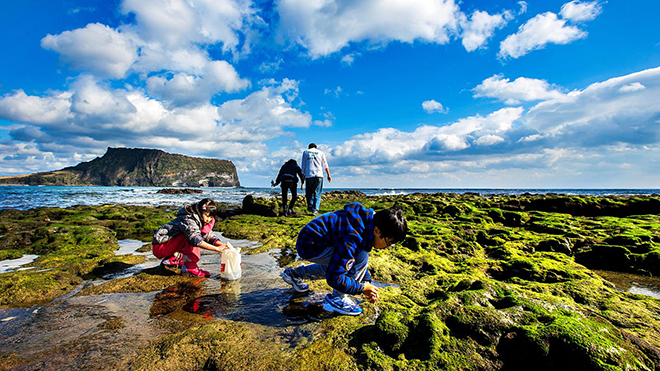 As Korea's one and only World Natural Heritage Site, Jeju Island has three natural wonders under its UNESCO belt, namely Hallasan (the highest mountain in South Korea), Geomunoreum Lava Tubes (an underground lava network that spans across the island) and Seongsan Ilchulbong (a tuff cone located at the eastern end of Jeju), which resulted in its nickname "Jeju's triple UNESCO threat".
Each a majestic sight to behold in its own unique way, Jeju Island is not only just for nature lovers and hiking enthusiasts, but it is also perfect for regular travellers to experience wonders of Mother Earth and appreciate the mysteries behind each site.
And here's where you need to go when exploring Jeju Island
Geomunoreum
Underground lava tube system aside, the Geomunoreum hosts much more of nature's splendour including its scenic mountain range, named the Geomunoreum Volcanic Cone, that formed through years of volcanic activities in the region, serving as the foundation to the lava tubes.
The nature park within the range is an ideal start for any Jeju trip as you can venture into its grounds for a leisure hike and scout for its many wildlife all nested inside the foliage of Japanese cedar trees.
After the hike, hop over to explore Manjanggul Cave, the only lava tube range that is opened to the public. A tunnel and cave formed by the lava flow travelling to the sea, Manjanggul stretches for over 13 kilometres and right now, only one kilometre within are classified safe for visitors to explore.
TIPS: Be sure to take a photo of the "Stone Turtle" inside the cave, which is a natural formation that resembles the silhouette of Jeju Island itself.
Seongsan Ilchulbong
Fondly known as the Sunrise Peak by locals and tourists alike, Seongsan Ilchulbong Peak is one of the most scenic attractions in the whole of Jeju and like its name indicates, this is where you go to witness a majestic sunrise and sunset as you sit on the peak.
Sights aside, Seongsan Ilchulbong Peak is also the home to the iconic Jeju Haenyeo, a community of veteran female divers (some even aged over 80) that performs demonstrations on how they fish for various shellfish by the peak including abalone and sea urchins.
Hallasan
The highest mountain in the whole of South Korea, Hallasan is a shield volcano that is loved by hikers worldwide.
Standing at over 1,900 meters, the mountain is surrounded by a lush of greenery that makes up the Hallasan National Park.
Offering a stunning journey for those who visit, Hallasan is a captivating landscape that is better fit for intermediate or veteran hikers alike. Unlike the two before that takes less than 2 hours to complete, the journey on Hallasan can easily take up to 5 hours (even for its shortest route).
That said, the course is a smooth one for those willing to take it on as roads are paved properly for hikers and stairs are made for easier passageway near the mountain cliffs.
For all the sites we've mentioned, the best time period we recommend for all is during spring or autumn, where weather is moderately chilled and calmer, compared to the harsh wind and snow in winter or the heat in summer.
To find out more about Jeju Island, visit  Jeju Island Tourism (www.ijto.or.kr).
This article was originally from L'Officiel Malaysia.
---