---
Lifestyle / Travel
World's largest cruise ship makes US debut
Allure of the Seas, the world's largest cruise ship along with its twin Oasis of the Seas, made its US debut Thursday with operator Royal Caribbean showing off innovations including the first Starbucks coffee house at sea. Allure soars 65 meters (213 feet) above the waterline, stretches 360 meters (1,181 feet) from bow to stern […]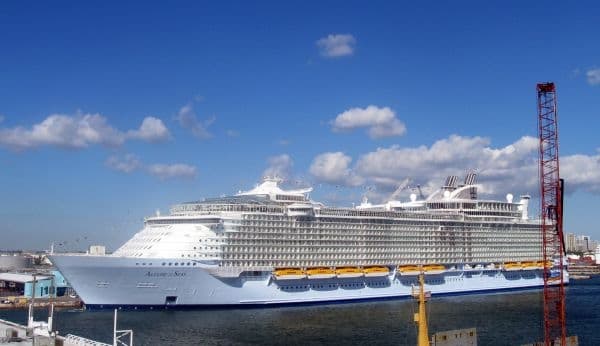 Allure of the Seas, the world's largest cruise ship along with its twin Oasis of the Seas, made its US debut Thursday with operator Royal Caribbean showing off innovations including the first Starbucks coffee house at sea.
Allure soars 65 meters (213 feet) above the waterline, stretches 360 meters (1,181 feet) from bow to stern and fully loaded weighs 225,282 tons.
It was built by South Korea's STX Finland Cruise shipyards in Finland at a cost of one billion dollars. The Allure made its US debut after a 13-day transatlantic journey from Turku, Finland, to Florida.

"We are very proud of these two ships that are the largest (cruise ships) in the world. They are twins, sharing exactly the same size and design," Royal Caribbean marketing director Rebecca Barba told AFP.
The Allure's 16 decks are divided into seven "neighborhoods," including a sprawling green area with fully grown trees reproducing New York's Central Park; a Coney Island-style Boardwalk; and numerous amenities offering rock walls, ice skating rinks and swimming pools with surf simulators.
"It's like being on seven different ships at once, and it's so big you at times forget you're at sea," said Barba.
Despite the global economic downturn, Royal Caribbean decided to build the twin giant cruise ships and feels certain it can get the customers to fill them.
"We're optimistic because while we know we're going through some hard times, we offer a luxury cruises at relatively affordable prices, because everything is included," Barba said.
The cheapest cruise package Allure has to offer is a week-long voyage for 899 dollars per person, although a family of four would pay about 25 percent less per individual.
The most expensive package includes the Royal Loft Suite for up to six people, at 15,609 dollars per person per week.
Allure of the Seas' inaugural seven-night Western Caribbean itinerary will depart on December 5.
The Allure arrived at its home port of Port Everglades in Fort Lauderdale, 48 kilometers (30 miles) north of Miami, where it was welcomed by a flotilla of ships.
Miami's complementary port facility, Fort Lauderdale, houses the largest cruise ship port in the world that in 2008 welcomed some four million customers.
Source: AFPrelaxnews
---