---
Culture / Auctions
Andy Warhol Coke bottle sells for $35 million
An Andy Warhol canvas of a black-and-white Coke bottle has sold for $35.36m at an auction in New York. Sotheby's said Coca-Cola [4] (Large Coca-Cola) "is a landmark in the artist's creation of his pop art style". Organizers reportedly whet the appetite of live bidders by serving small bottles of soda pop as guests mingled […]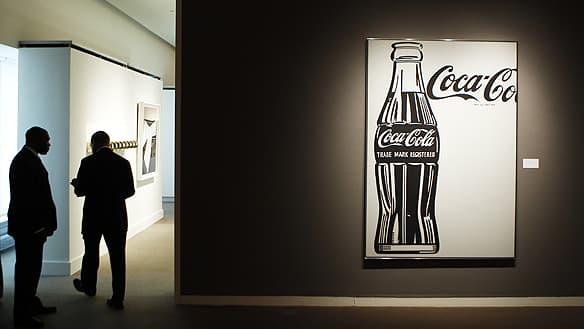 An Andy Warhol canvas of a black-and-white Coke bottle has sold for $35.36m at an auction in New York.
Sotheby's said Coca-Cola [4] (Large Coca-Cola) "is a landmark in the artist's creation of his pop art style".
Organizers reportedly whet the appetite of live bidders by serving small bottles of soda pop as guests mingled ahead of the New York sale.

Warhol, who based his 1960s-era image on a soft-drink advertisment he found in a newspaper, ultimately made four Coke bottle paintings — one of which is displayed at the Andy Warhol Museum in his hometown of Pittsburgh.
---