---
Lifestyle / Travel
5 Reasons To Visit Sri Panwa, Phuket
What do G-Dragon, Song Hye Kyo, Snoop Dogg and Rita Ora have in common? They've all been seduced by this little piece of paradise.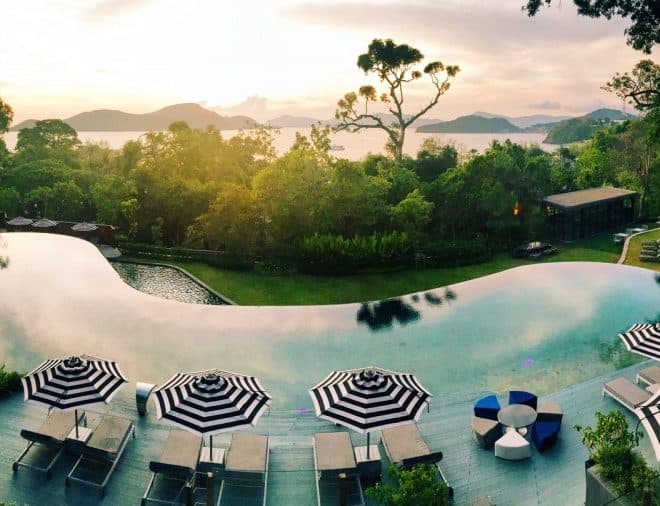 When a travel destination attracts guests the likes of Bhutan's King Jigme Khesar Namgyel Wangchuck, members of the Thai Royal family, and entertainment bigwigs, you know there's something exceptional about it. In 2013, Snoop Dog and Rita Ora shot the music video of their hit Torn Apart there, catapulting the resort to the top of Most Beautiful Hotel lists the world over (we actually covered it on Luxuo way back in 2008). This year, a new enclave of 30 pool suites and penthouses (each with its own infinity pool), collectively called The Habita, was added to the lush 40-acre development. ultra-friendly service and accommodating staff aside, we reckon it is the following five reasons that draw royalty and celeb A-listers to Sri Panwa like moths to a flame.
1) The Habita (pictured above)
The 30 expansive pool suites and penthouses in this new enclave are the epitome of luxury living. Our three-night stay in the luxurious and contemporarily minimalist 140 sqm penthouse was accompanied by a stunning ocean view (made even more incredible when surveyed from the edge of the unit's enormous infinity pool) and a soundtrack of avian chirrups.
2) Cool Spa
Another new addition to Sri Panwa, besides The Habita, is this modestly-named spa and wellness center. The soothing ultramarine walls, constant gush of waterfalls, and positively soporific massage treatments – we fell asleep both times we visited – make this the perfect respite for your skin from the blistering Phuket sun.
3) Baba Nest
This is probably the reason guests flock to Sri Panwa. After surviving a petrifying tuk tuk ride up a winding and vertiginous slope, I was dumbstruck upon emerging from an elevator that brought me to this rooftop lounge. The venue is leveled and devoid of chairs – beanbags and low tables are scattered throughout, instead – to maximize your appreciation of the sunset and the unbeatable panoramic view of the Andaman Sea, arguably the best that Phuket has to offer.
4) Baba Chino, Baba Iki and Baba Hot Box
I wouldn't go so far as to call myself a gourmand, but I know good food when I partake of it – and the gastronomic offerings in Sri Panwa are truly sensational. While the Chinese cuisine served up at Baba Chino is excellent, the delightful Japanese dishes at Baba Iki are uber-fresh and the chargrilled items at Baba Hot Box are extremely flavorsome. I found absolutely no reason to head out of the resort in search of grub.
5) Free Willy
You've got to give it to the Thais to come up with the most facetious names. This 47 ft luxury speedboat might not have anything to do with releasing orcas, but you could very well spot schools of dolphins if you chartered it for a cruise around the Phuket archipelago and spend a day with up to 24 others, just living it up.
---