---
Lifestyle / Gastronomy
World's Most Expensive Avocado Toast at Berlin Art Week
Tim Bengel has created the world's most expensive avocado toast. Estimated to be worth around US$3 Million.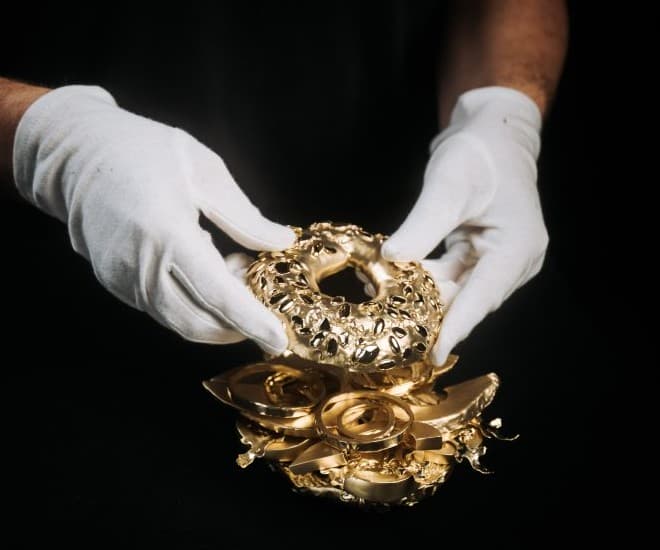 Tim Bengel has created the world's most expensive "avocado toast" and will be showcasing it tomorrow (September 16), for Berlin Art Week. The sculpture, named "Who Wants To Live Forever?", is pure gold and estimated at US$3 million.
Using a real avocado toast as a template, the 29-year-old artist 3D-scanned 27 individual pieces of the sandwich — five avocado wedges, five tomato slices, ten arugula leaves, five onion rings, and two bagel halves. He then cast each piece in 18-carat gold and reassembled it into a sandwich. Altogether, the sculpture weighs more than 11 kilograms.
According to Stuttgart News, German art gallery Galerie Rother, designed a US$47,000 case to display "Who Wants To Live Forever?". The piece will be on show at a local restaurant, aptly named "Avocado Club".
According to Bengel, avocado toast is a status symbol for millennials that represents wealth, fitness, health and status. The artist sees a connection between his creation and the Greek myth of King Midas, whose touch turns everything into gold and later dies of starvation.
"Something similar is happening today in turbo-capitalism, which, in its greed for profit maximisation, is destroying its own participants," Bengel said in a release.
The artist's rose to fame in 2017 when his paintings, made by glueing gold leaf and coloured sand to canvases, went viral online. For Berlin Art Week in 2019, he built a skull-shaped garden from shrubs and gravestones.
The world's most expensive avocado toast sculpture will make its way to the United States later this year, starting in Miami for Miami Art Week in December. It also is available for purchase via Galerie Rother.
Elsewhere, the world's most expensive burger, "Golden Boy", sold for about US$5,964. Netherlands-based conglomerate Remia International bought the Robbert Jan de Veen creation, and proceeds from the sale went to a local food bank.
For more gastronomy reads, click here.
---