---
Leaders / Yachting
Championing the Gulf: Mohammed Alshaali
Mohammed Alshaali reflects on Gulf Craft's four decades, growing from an isolated fishing boat start-up to a high-tech, fully integrated operation building yachts from 34-175ft across four brands, with two upcoming Majesty superyachts set to kickstart the company's fifth decade.
Congratulations on 40 years since you co-founded Gulf Craft in 1982. What were the key moves that helped Gulf Craft grow to become the Middle East's leading yacht and superyacht builder?
The first big jump was in 1991, when we moved from building boats to building the first yacht, a 53 flybridge. The second jump in the history of the company was in 2001 when we began building superyachts, starting with the Millennium 118 for John Staluppi in Florida and the Majesty Yachts brand.
Since then, we've tried to balance between building boats, small cruisers, yachts and superyachts. Of course, the superyachts grew bigger over time, but we're still building fishing boats and cruisers, as well as water taxis in our factories in the Maldives. Our aim is to be among the world's top five superyacht builders in terms of styling, quality, engineering and interiors.
Are you happy with where Majesty Yachts is today?
I'm very happy because we perfected the interior and exterior styling some time ago. For the last two years, we've been focusing more on engineering, on how to make the boat even more comfortable and reliable. We use the latest technology and are always trying to improve.
Now we have, for example, boats using solar panels, battery power, and so on. On our new Nomad 70 SUV, all the hotel loads can be run from the batteries, and you only need the engines for propulsion.
We're trying to introduce new technologies and keep up with the new tech, such as navigation equipment, entertainment systems and everything else on the boat. We're also trying to use nature-friendly materials on our boats and yachts. This is all part of the work of our R&D department, which includes 50 engineers.
That's why I say we want to be top five. It doesn't mean we will be there tomorrow or next year, but this is our target.
In Europe, many leading yacht builders are competing with and learning from neighbouring or nearby yards, but Gulf Craft is all alone in the UAE. How can you keep up?
We have consultants from Europe and are in constant communication with high-tech developers. We invest money in this. We're physically a little far from the centre of the yachting industry, but we started far away 40 years ago, and we weren't scared to compete.
However, if you talked to me over 20 years ago and said we'd be regular exhibitors at the Monaco Yacht Show, I wouldn't have believed you. But things are changing. Yes, Europe used to feel further away, but we're living in a global economy. We're inter-dependent.
Gulf Craft is making a concerted effort to open new markets, such as making your US show debut at Fort Lauderdale in late 2019 with the Majesty 140 and Majesty 100. Where do you see your biggest growth regions in the coming years?
Growing around the world has always been a priority and I think we've succeeded. If you can compete in Europe, you can compete anywhere, because even in the US, we're competing with European brands. In Asia, Australia, we're competing with European brands. We're selling well in Europe, so if we're selling there, we can sell anywhere else.
Your daughter Abeer is Deputy Managing Director, overseeing the company's global expansion. How closely do you work with her?
We work together as we're both part of the Management Board. It's not me or her making the decisions but the whole board. The financial department, engineering department, all the different departments are represented on the board. My daughter and my three sons — two also work for the company — all grew up as Gulf Craft was growing, so boating is in their blood.
What has been the response to the Gulf Craft Experience Centre at Port Rashid in Dubai since it opened at the beginning of the year?
It has been well received and worked well for us. It's close to the centre of Dubai and close to the airport. It also allowed us to separate the sales and marketing department from the factory, so they have their own space and can receive clients and prospects in their own facility. It's much easier for everyone.
What was the feedback on the Majesty 120 as it made its European debut in September, showing at both the Cannes Yachting Festival and Monaco Yacht Show, along with a Majesty 100?
There was a very good response, and this will show in the order book. This year was the first time the 120 came to Europe but we already have hull five in production. This shows that the 120 already had a good reputation with people that saw her in the past, including at the Dubai International Boat Show earlier in the year. Hull two Rocket One, the 120 shown in Europe, went to America to exhibit at the Fort Lauderdale International Boat Show, and we have another sale in the US.
The Majesty 100 remains our most popular superyacht. We've delivered 12 and have another five or six in production.
You work regularly with Cristiano Gatto, who designed the exterior and interior of the Majesty 175 and the interior of the Majesty 120, plus he has designed the upcoming Majesty 160. Why does this partnership work for Gulf Craft?
It's very important when you work with a designer that he understands production. We're not one-off builders. He doesn't design one boat for one customer. He designs a series for a yard, so he knows that we'll be building multiple hulls of each model.
Also, you need to have trust. He trusts what we'll do, and we trust him. We've also developed a friendship since we met. We're constantly challenging each other on designs, discussing solutions, but he knows he'll never be undercut or sabotaged because we trust each other.
Cristiano Gatto is one of the best designers in the market for bigger yachts and he has designed so many of them. And the Majesty 175 is unique. She's the most beautiful yacht and I don't say that because we built it — we've built so many — but this is how I feel every time I go on that yacht. The only downside is that not a lot of people saw the yacht in person because she wasn't at any boat shows.
We've been working with Cristiano again on the new Majesty 160, which also marks our first project with Van Oossanen, on the naval architecture.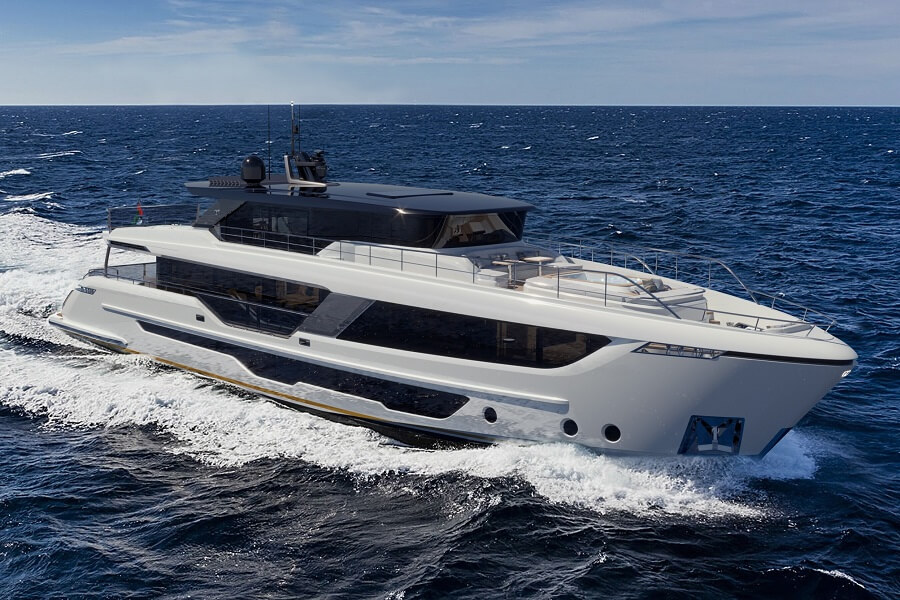 What's the update on the upcoming Majesty 111, which will fit between the 100 and 120 models in the range?
We're building two hulls simultaneously and the first one will be at the Dubai International Boat Show in March 2023. The Majesty 111 has been designed by Dutch studio Phathom and we've sold hull one, with others in negotiation.
How important to the brand are the smaller Majesty models like the 49, 62, 62 M and the new 72? They're a huge gulf in price from the Superyacht Collection, so who do they appeal to?
I always say we're a small company. We grew up with our customers. We started in yachts with 50-footers, 60-footers, and the demands from customers kept growing, so we built bigger yachts and superyachts. Yet, we still have new customers coming to us, so we keep the smaller models, which are the bread and butter of the company.
What distinguishes the Nomad series, which features 55, 65 and 75 Fly models, and 65, 70, 75 and 95 SUV versions?
Nomad is different. The Nomad is not a smaller Majesty superyacht; it's a relaxing, slower, oceangoing experience, made for people who don't worry about reaching somewhere quickly or showing off. They want something to live in as a family and enjoy the sea. Considering we only launched the brand in 2015, they're selling very well and we're adding new models every couple of years.
The SUV versions have worked well. We launched the Nomad 70 SUV at this year's Dubai International Boat Show and already have three or four on order.
Which models represent the future of the Oryx sport cruiser range (36, 379 and 42)?
We already had the 36 and 42, then we changed the style a bit and released the 379 and now we're building a 47ft and a smaller one. They've been selling well and the price in the market for resale is excellent. We have 70 or 80 Oryx boats on the water, mostly in the Middle East, and we're also selling a few of the 379 in the likes of the Med and Australia.
Silvercraft is a mix of power catamarans (SilverCat 34 CC/HT/Lux, SilverCat 40 CC/Lux) and monohulls (36 CC/HT, 47). What are the main markets for these models?
Silvercraft is more focused on fishing and utility boats, and this is where Gulf Craft started. We don't want to lose our heritage, so we still cater to those customers. However, the catamaran models are new to Silvercraft because it's a popular hull for sport fishing, although these models have more luxury than most fishing boats. They have air-conditioning, a proper saloon, galley, a nice bathroom and so on.
We have a history in catamarans. We built racing powercats in the late 1980s and built our catamaran yachts in the early and mid-1990s, although there wasn't a big market for it as the materials were expensive.
Now the mentality towards catamarans has changed, and the materials are better, and that's why you see a lot of people coming back to catamarans because of stability, fuel efficiency and space. We're not only following the market; we have a background in this. We will have a factory dedicated to catamarans that will open next year.
How do you feel when you look back at 40 years of Gulf Craft, having also had such a successful personal career?
I'm proud of what has been done. It's not for me or my family; it's for the team at Gulf Craft and for the country. I think we've shown we can create a world-class yacht builder. I think it's a legacy for the UAE and I think Gulf Craft is part of the UAE story. In fact, I don't think there's anything else like Gulf Craft in the whole Middle East, a local company that manufactures a high-standard product exported around the world.
This article first appeared on Yacht Style.
For more reads on Leaders, click here.
---