---
Leaders
Moritz Grossmann CEO Christine Hutter: Triple Threat in the Game of Watches
Moritz Grossmann CEO, Christine Hutter is the only independent founder, owner and watchmaker of a watchmaking firm, focusing on craftmanship over quantity.
Watchmaking is often about a remembrance of things past — one might even say it is about living history, and keeping the past always in the present tense. While true of all spheres of watchmaking, exempting perhaps the quartz watch and the smartwatch, it is particularly true of haute horlogerie. In this rarefied realm, the work is often about bringing the techniques and knowledge of the past into the present, and ultimately onto people's wrists again. When an old name returns once more to the dial of a working timepiece, it is a special moment. Well, it can be when done right, and that is exactly what Christine Hutter did on November 11, 2008 when she resurrected the Moritz Grossmann name from her kitchen table in Dresden. This is the Glashütte-based manufacture that produced all the pieces you see here, of course.
Obviously, there is more to it than that oft-told story about the firm's rebirth. First of all, Hutter was deeply interested in all things mechanical from the moment she graduated from university in 1986. This nascent passion was nurtured by master watchmaker Wilhelm Glöggler in Munich, where Hutter entered the world of watchmaking as an apprentice. By the time she finished, she was top of her class, according to the brand's biography of her. In 1989, the world changed dramatically, and the path was suddenly open to Glashütte, the mecca of German fine watchmaking. In due time, Hutter had completed stints with the watchmaking trade in both Switzerland and Germany. In fact, Hutter gained valuable sales and marketing experience at no less than Glashütte Original and A. Lange & Söhne, before she embarked on her entrepreneurial journey to establish the Moritz Grossmann manufacture.
This of course begs the question: why Carl Moritz Grossmann (to use his full name and distinguish from the manufacture that bears his name today), and who is he anyway? It does not take much of an imagination to infer that Grossmann was a watchmaker based in Glashütte. He was one of the legendary names in that great watchmaking town, alongside Ferdinand Adolph Lange and Julius Assmann. It was Lange who convinced Grossmann, a Dresden watchmaker, to set up shop in Glashütte in 1854. Grossmann eventually set up the German School of Watchmaking Glashütte in 1878, while also making timepieces at his manufacture there. When he died suddenly in 1885, his manufacture was liquidated and the name Moritz Grossmann was not to return to watchmaking until 2008.
Hutter, with the support of her family, bought the rights to the Moritz Grossmann name, and became the heir to a grand tradition. As you might expect, Hutter is one of very few women brand leaders, owners and watchmakers, and possibly the only one who is all three of those things. We are certain that we shall be keeping in close contact with Hutter, so we will call time on the introduction here, and leave the rest to Hutter herself. With any luck, we will revisit the specificities of the models and collections elsewhere, which we had to cut short here due to space constraints.
Before we begin, we must ask — for the benefit of our readers who do not know Moritz Grossmann too well — about the start of the manufacture. Tell us why the story began in your kitchen in Dresden.
Well, we started with a holding company in Switzerland (Hutter was employed by Haute Horlogerie Schindler SA when she acquired the rights to the Moritz Grossmann name, and was based in Switzerland) and then established a company in Germany. We wanted to start at the original address of Moritz Grossmann in Glashütte but it was not possible. So began without an office in Glashütte, just a letter box, and me working out of my family home in Dresden. At the time, I lived half the time in Switzerland, and half in Dresden.
Eventually, I managed to rent some rooms in Glashütte, opposite the house of Moritz Grossmann. Then (while we looked for a permanent space) we worked out of a couple of houses and five different flats over the years.
So you did not start out at the location of your current rather impressive building…
We found the land, and we started construction of the building, which took a few years to complete. We moved into the new building in 2012 even though it was still under construction. We finished in 2013 and that was the official opening of the manufacture.
The editors, including myself, have been to Glashütte many times over the years, and your building has always been very impressive. I initially imagined you made many thousands of watches, because of the size of the manufacture, but I was surprised to learn that Moritz Grossmann makes between 200 and 500 watches annually!
You must not forget that when you start a company like ours, there is a lot of development work that goes into it. Not only do we need to develop movements, we also need (space and time) to set up production from scratch. Then there is the question of style, because we (invest in having a lot of) craftsmanship in-house, and in working the traditional way (of Glashütte style watchmaking). This does not even take into account the matter of production (by hand) and finishing by hand. Because of this, we are not able to produce watches in quantity, and that was never the target. For us, we want to really go (all-in) on the highest craftsmanship, to produce (the highest) quality.
So nowadays, we produce around 300 pieces a year, and the target is to reach 1,000 pieces. Still we cannot (more than) double our production so we go step-by-step. This is another reason for the manufacture building, where we had to decide if we wanted to go with a smaller building and expand in maybe three to four years, and then again, and again… or do what we did and get enough space for 100 or 120 people. Now we are a bit more than 40 so we can grow to three times the size and not need to invest again (in real estate and related infrastructure).
"We are not able to produce watches in quantity, and that was never the target. For us, we want to really go (all-in) on the highest level of craftsmanship"
On the note about quality, Moritz Grossmann watches are singularly distinguished in the amount of handcraftsmanship in every piece. You also produce a number of signature features, such as the unique automatic winding system in the Hamatic, and the distinctive Grossmann winder. All of this takes time, and we are seeing that newer collectors do not really understand that it might take up to a year to make one watch, never mind the development time of a few years.
Normally (those production time requirements) are true. It depends of course on the movement; maybe the Hamatic or the Tourbillon will take longer. There is also the matter of raw part production, and then a very long part where we work on hand-finishing. Just the purple-brown hands can take up to eight hours because these are done by hand; and you can see this, if you use an eye-piece (or some other magnifier). It is clear that they are done differently to normal watch hands.
We also do a double-assembly of the movement and that takes time (this involves assembling the entire movement, oiling it and regulating it, then taking it apart again to clean it all and start again; some finishing is done only at the point of the second assembly, and this is when the actual functional but also decorative screws are used; final fine regulation is also done the second time around, allowing for a little more precision and accuracy). Then again, you must remember that we do not only produce one watch (at a time). We are doing small series production.
Staying on hand-finishing for a moment, I was deeply impressed by the Benu Heritage Tremblage model. Tell us about this dial, which you did in-house.
We are lucky to have a very experienced engraver to work on this; he is 72 years old and he really knows how to do this tremblage dial by hand. We discussed what kinds of dials we could do by ourselves (this watch came together during the Covid-19 disruptions)… there were a lot of delays with suppliers, and there is a chance your order will (slip through the cracks) and then you will be waiting a long time. Our engraver proposed this tremblage technique for a dial that we could do ourselves and I said "Hey, let's do it!" It is all done by hand and is (pure) craftsmanship; we need four to five days for just one dial!
I was just with a client, showing him that you can really see the handwork in the details, like the two holes in the eight, where you can see the tremblage also. (The watch) is a big success and we never thought there would be this kind of demand… You know the collectors today, they are looking for something special, not something mass-produced. Each Heritage Tremblage will be different, because of the handwork. There is not a chance that one watch will look (exactly) like another.
To finish here, tell us about the pricing strategy.
We start, more or less, above €20,000, and it is really about craftsmanship and development. If you combine this with all the usual things, like material costs and so on, there is no way we can do this for €5,000! It's impossible, and you can really see and feel the craftsmanship (for the price). And then you have the development of special movements, like with the Hamatic. This is three and a half years of development in the movement alone. So this is how we start.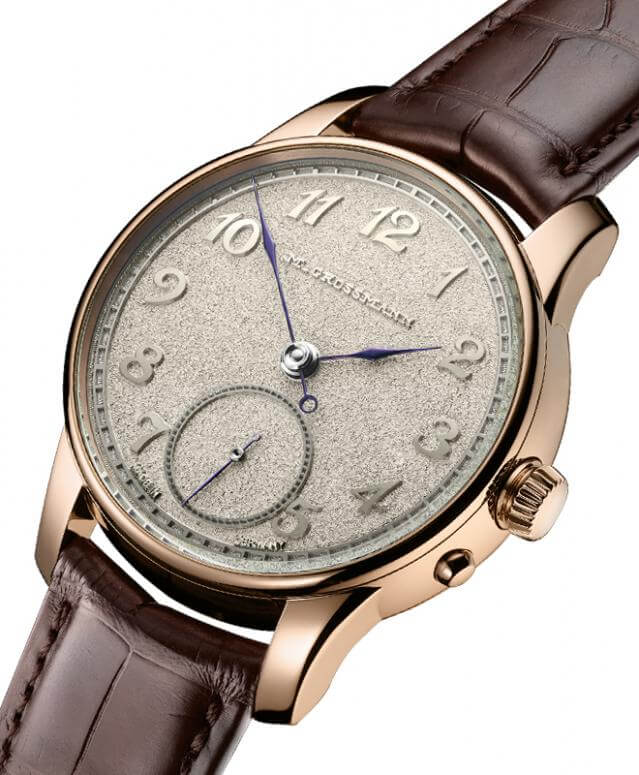 Maybe later, in three or four years, we can look at our prices on the secondary market (pre-owned, auction and otherwise). Right now, we do not have (a track record here) because we are too young and too small. From what we have seen, looking at the last OnlyWatch auction, we thought the piece we offered had (a notional) retail price of CHF27,000-28,000, so the estimate was for between CHF20,000-35,000. It hammered for CHF120,000. For that silver-plating-by-friction dial, and now the tremblage, we see a lot of interest and for sure (strong potential price appreciation) in future. But again, we are young so you cannot compare us with players who have been in the market for decades.
For more watch reads, click here.
---