---
Leaders
Jacyln Chan, Country Manager of Technogym Singapore on Prioritising a Holistic, Bias-Free Approach With Her Management Style
In her role as Technogym Singapore's country manager, she's on a mission to build a workplace culture that is fair and a team comprising of objective-based people who 'culture-add' and not simply 'culture-fit'.
With a career spanning more than 15 years, Jacyln Chan has dabbled her hands in many reputable lifestyle and luxury brands regionally and globally. She has worked in leadership consultancy roles and even had her hand in managing property investments. But her eye on the wellness and fitness industry really pushed her passion to engage in this industry as a certified spin and yoga instructor. Her current role as Country Manager for Technogym Singapore has made her prosper in her career pursuit. Also, her passion for people development and fostering a culture of generosity, humility, and respect among her employees have allowed her to lead the charge of this renowned fitness equipment brand.
Being Singapore's country manager for Italian luxury wellness company Technogym, she's constantly bent on positively impacting her team and those she works with within her sphere. She desires to bring out the best traits in people while being result-oriented. So, when it comes to what she views as important traits for a modern woman to excel in today's business climate, she quips, "I believe confidence is based on knowing your own worth and what you can value-add to your work in terms of skill sets. Confidence is also your own ability to hustle to achieve your goals."
Jacyln also deems self-awareness in recognising biases because bias is prevalent in people and organisations; therefore, an organisation's culture to help shape or reinforce these biases is critical. "It's imperative to bring this self-awareness to the team," explains Jacyln. Then, there is the difficult conversation one must require bravery to speak up such as unacceptable behaviours, and to ensure the conversations take a positive turn.
When it comes to men dominating the fitness industry, Jacyln believes women can be the change and even accomplish things that men can't tackle. She emphasises that the fitness and wellness industry has evolved a lot with more women taking up leadership and influential positions. Fitness in many people's minds is all about buff men lifting weights in the gym. The fitness spectrum has expanded so much, even going beyond the realm of physical health. From HIIT exercises to Pilates, people have more to indulge in their fitness pursuits. Women have also become more present in these spaces, too. She wants to see this path of equity for women in the fitness industry as leaders or influencers.
Jacyln enthuses, "I also consciously remind myself and other leaders that having diversity isn't just about needing to meet an arbitrary 'inclusion' target mix number. Instead, the approach should be to select the best candidate for the job based on a rigorous and bias-free selection process, to build a workplace culture that is fair and a team comprising of objective-based people who 'culture-add' and not simply 'culture-fit'."
So, what can women bring to the table that men cannot? She says employers should recognise that women can also bring the same things to the table as men. Their mindsets and ideal attitudes should be embraced and celebrated regardless of their gender. She adds that women have been stereotyped as overly empathetic or sensitive, or even 'soft'. But as we now know, pigeonholing traits to gender is to paint an unduly simplistic picture with a broad brush. She stresses the need to recognise individuals for who they are and the lenses they carry into the workplace, which can add a different dimension and value to the organisation. This can apply to all genders.
When asked about how the younger generation will reshape the future of the workforce while balancing career and family, Jacyln proudly opines, "I think it's possible to have both a career and a family. The traditional thinking and something that's imbued perhaps in an Asian value system, that still to this day has remnants of patriarchy, is that women would be the ones to choose family over career. Personally, I've found that this choice hits all genders in varying degrees."
She stresses what matters most is that women and men understand the value of time and it is finite. There are windows of opportunity for each priority in life and effective time management allows space to balance priorities well. She knows of a managing director with five kids in tow and men who had given up their careers to make time for their families. She believes that a forward-thinking workforce should not be tied to time in the office; it should be focused on outcomes and goals. All gender should be given the respect when they are managing both careers and families because it is not an easy feat. They can choose to manage their time whether working at home or in the office, but it's the outcome of their work that should be noted.
She also adds some of the essential abilities and attributes that modern working women should have, including embracing the spirit of reliability, relentlessness, resourcefulness, and respect for themselves and others. Without these qualities, any human being, regardless of gender, won't be able to stand their ground and showcase their true worth.
Not forgetting, every woman needs to inculcate an attitude of curiosity, love for growth and follow through with concrete steps and action, and not grow for growth's sake. Do what's best for you in your present situation. Sometimes staying still and recalibrating brings about more transformative change.
On the right advice to give to women aspiring to become leaders in the workforce, Jacyln emphasises, "Allow yourself to feel, embrace the pain, shame, and anger. We owe it to ourselves as humans to feel. But more importantly, be mindful not to stay in that state for too long. Pick yourself up, recalibrate, let go and move on."
Jacyln also stresses some of the essential health pointers to own in terms of today's fitness for busy working women. She encourages women to be active as mobility is crucial for the health and an essential ingredient to ageing gracefully. Physical activity is vital for a wellness lifestyle and is considered medicine for our bodies, minds, and health. Pursuing its mission, Technogym can provide people with bespoke training programs directly from equipment consoles and Technogym App even when they are cooped up at home during the pandemic.
On the type of woman Jacyln admires, she mentions her buddy, Victoria Cambell. Not only was she a triathlon champion, swam for Germany, a Nike-sponsored athlete, and her previous line manager, but she also became her best friend along the way. Jacyln cites, "In one race, she was blocked by two male swimmers in open water. Instead of going either left or right and slowing down, she chose to instead power through and squeezed in between them. In that triathlon, she won first place among both males and females. She embodies the spirit of relentlessness despite the odds!"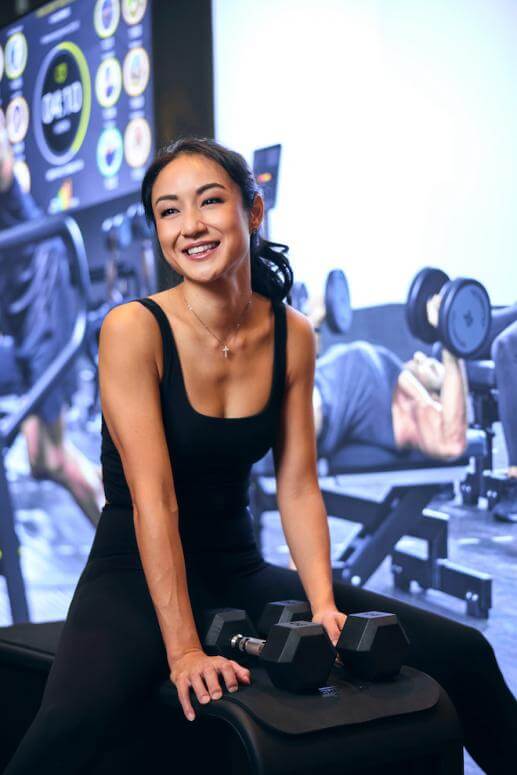 As for how she would like Technogym Singapore to be in the next five years, the country manager wants to see the brand be the gold standard for fitness equipment and wellness solutions in Singapore. She says, "I want our customers in Singapore to recognise the credibility and dependability of the brand's superior innovation and design as well as how all that comes to life is a result of the positive working relationships that my team will undoubtedly bring.
I believe that every successful company is backed up by the people driving the business and it is my goal to enable customers to be able to differentiate us from our competition through a sincere, efficient, and creative approach to how we do business. Technogym with its unique ecosystem made of connected smart equipment, software and apps is the only brand able to offer a complete wellness experience, from the equipment to digital contents."
For more reads on Leaders, click here.
---