---
Properties / Homes
Sylvester Stallone's LA Mansion for Sale
The massive property is filled with memorabilia of the actor's greatest movie franchises "Rambo" and "Rocky".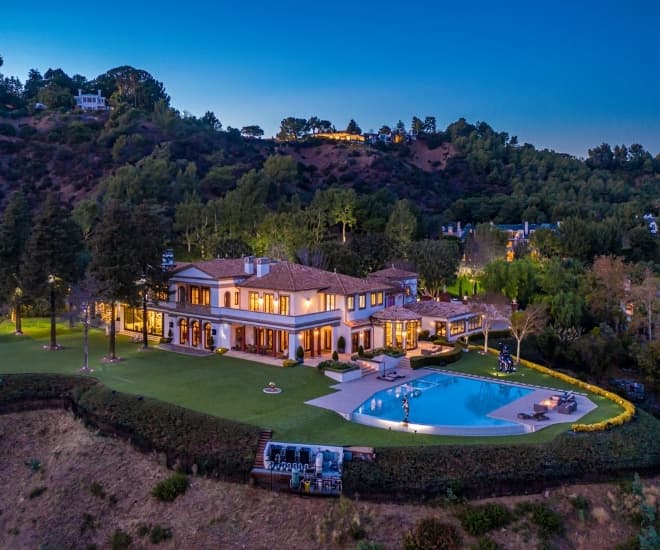 Originally listed at US$110 million in January, action star Sylvester Stallone recently cut the original asking price down to US$85 million. According to Jade Mills of Coldwell Banker Realty, the Stallone family had some initial doubts about selling the property and so listed it high till they were absolutely sure about making the decision to sell it. It would seem they have come to a consensus regarding the memorabilia-filled mansion, much to the delight of Rocky and Rambo fans everywhere.
The secluded Los Angeles mansion is tucked away at the end of a cul-de-sac in North Beverly Park, one of the city's most exclusive and star-studded neighbourhoods. Stallone had the home built in the late 1990s after acquiring the 3.5 acres of land it currently sits on. The sizable estate revolves around a six-bedroom main house designed in a contemporary Mediterranean style packed with amenities.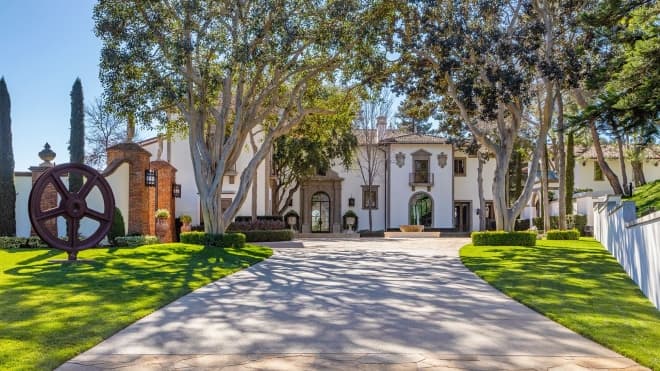 Starting from the home's exterior, one thing that sets it apart from the other star-studded dwellings in the area is its extensive views of the surrounding canyon and city. Most other homes in the neighbourhood, while large and handsome, lack the scenery which the Stallone home offers.
Moving into the home, it's clear that the home is owned by none other than Sylvester Stallone as the numerous pieces of memorabilia will tell you. Throughout the mansion one will find Rambo and Rocky-inspired art and sculptures which pay tribute to Stallone's best-selling movies. This is especially true of the actor's home office which is a treasure trove of movie-memorabilia.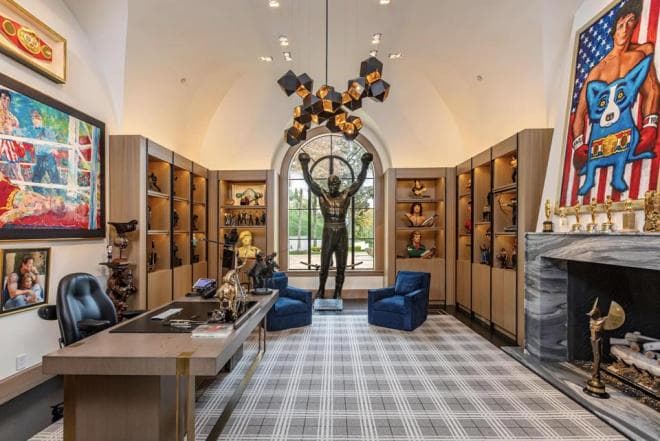 The Mediterranean-style mansion covers 21,000 square-feet and has six bedrooms, 12 bathrooms, a vast kitchen with two islands and a beautiful dining room, hand-painted to emulate an old word-style castle. The home's den was recently refurbished with handmade floor-to-ceiling steel windows for a more modern touch. Additional amenities include a cigar room, a well-equipped gym, movie-screening room, and perhaps the most exquisite, custom bar in the neighbourhood.
Of course, the list doesn't stop there. As if the massive main house wasn't enough, there's even a newly-added two-storey guest house, designed by Richard Landry, which includes two en-suite bedrooms, a living room and its own kitchen and dining area. Elsewhere on the 3.5-acre estate, there's an expansive lawn, putting green, an air-conditioned garage which holds up to eight cars, and an outdoor swimming pool with its own built-in spa and complete with an imposing life-size statue of Rock raising his arms in victory.
The wealth of available amenities definitely earns the home plus points with potential buyers, especially given current pandemic where people are encouraged to stay home. But with all there is to do on the property, "you really don't have to leave the house," Mills said.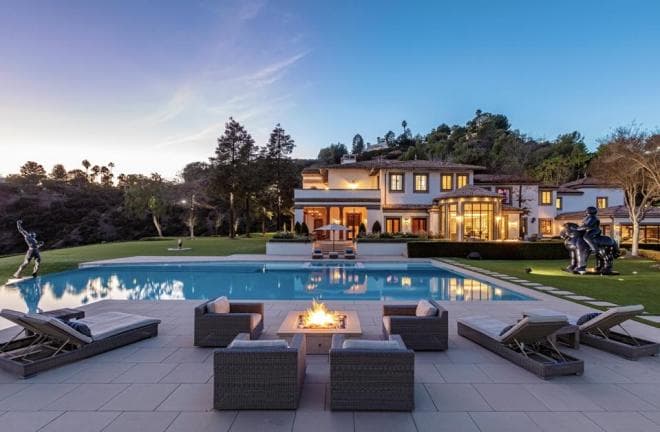 The sizable property is currently on sale for US$85 million, but even with the price reduced from the original US$110 million, it's still almost thrice as expensive as other homes in the Beverly Park neighbourhood. The neighbouring property, which once belonged to late billionaire media mogul Summer Redstone was listed for a mere US$27.9 million. It even has a greater asking price than the Californian mansion he put up for sale last year.
While it is a large home, according to Mills, it is a very comfortable, family house. With the treasure trove of included amenities, the luxury LA home is sure to appeal to families looking for an elegant home to wait out the Covid-19 pandemic as well as die-hard fans of Sylvester Stallone and his iconic action films.
---