---
Culture / Art Republik
Four Artists Dissect the Essence of Time in Olal'Art (更+当代) & Qing Gallery's Latest Exhibition
From Armelle Kergall's exploration of her familial bloodline to Leo Liu Xuan Qi's unique take on globalisation, in art time serves as both a canvas and a muse
Four renowned artists unite to unravel the notion of time. Dubbed "Transcending Time: Beyond Past and Present, The essence of time – through distinct artistic lenses", they each independently reflect and explore the intricate threads of their personal history, putting in their own contemporary take on the continuum of time, beyond the past and present, with the artistic mediums they hold dear. This cross-cultural exchange is heavily influenced by their respective lives in different parts of Asia. The group of talented creatives comprised of French artist Pierre Alivon, French visual artist Armelle Kergall, Malaysian artist Karwai Chan and Singaporean-based Chinese artist Liu Xuanqi brought together their works of art alongside the eloquent beauty of Western and Eastern poetries, capturing the essence of centuries past in vivid oil paintings and a combination of multi-media.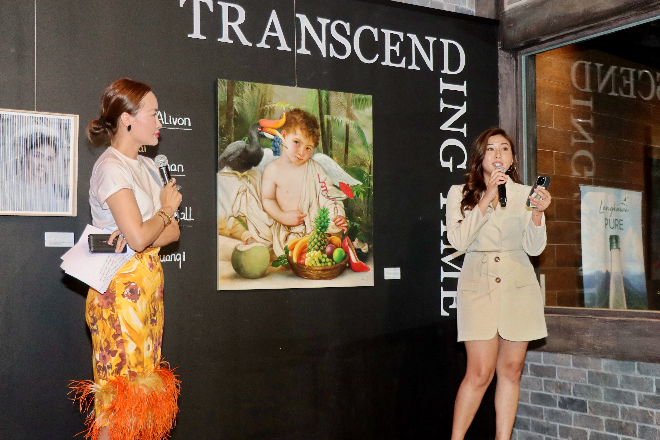 Pierre Alivon
Pierre Alivon reflects on his time living in China to connect historical traditions with contemporary narratives between French and Chinese cultures. Influenced by his long residency in China, Alivon expresses his love of China, through his creations which includes photography, digital art and sculptures.
Nostalgia and humanity are two important themes which Alivon incorporates to create his artworks where he bridges past and present. The "Harmony" series was created by Alivon who used old 1920s China Daily newspapers to create characters based on photographs he shot backstage at the Beijing Opera. "Harmony" begins with a reflection on the theme of memory taking place in the imaginary state between the past and the present. With "Harmony", he wants to invite the viewer to go beyond the boundaries of time and focus on the fundamental love that binds our cultures. Each work is made on a black and white base with a touch of colour and to create a contemplative and poetic atmosphere," comments Alivon.
Armelle Kergall
French visual artist Armelle Kergall who lived in Japan and is now in Singapore. She explores the relationship between her lived experience and her collective memories, genuine or perceived. Her work deals with themes of identity, atavism and the connection between past and present through photography, collage and paper cutting. While photographing her relatives, she discovered troubling elements that deeply resonated in herself. She creates a visual dialogue by combining and layering family and personal archives. "I delve into the origins of my family mythology and collective memory to reveal how the past weaves itself into our present and moulds our lives," she states. Her 2005 photography series captured the daily life of her family members where she "questions the invisible bonds of a bloodline".
The discoveries she made during the course of her work and research have had a profound effect on her and have influenced her artistic approach, ultimately culminating in her latest series where she continues to delve into the themes of identity and memory. Kergall's goal as an artist is to "provoke reflection" on the universal themes of familial mythology and "to question the relationship" between human beings and our shared history.
Karwai Chan
Karwai Chan draws inspiration from the "natural, tropical world" and the Cupid. Her works often depicts Malaysian culture from the memories of her youth, including the nostalgic Milo truck arriving at primary schoo which she depicts in "Sweet child O'mine" as well as the rhinoceros hornbill (the state bird of the Malaysian state of Sarawak) surrounded by local fruits in "The odd one out", both completed in 2023 specially for this exhibition. The addition of the Cupid in these seemingly unassuming paintings adds a level of enchanting surrealism as Chan aims to pique the curiosity of the viewer, having them embark their love on a visual journey.
Although seemingly innocent at first glance, Karwai's perspective often aims to challenge the "monotony of repetitive work" and to comprehend the "underlying discontent within this subset of people" to further embrace the essence of living. The presence of the Cupid in her creations embodies the eternal emblem of love and the innocent joyfulness of a child. "As people grew indifferent to the world around them, becoming colder and less empathetic, the hues of love and warmth appeared to gradually fade," explains Chan.
Leo Liu Xuan Qi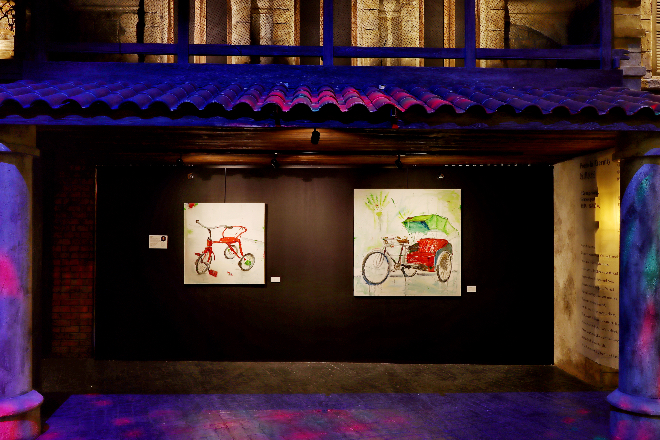 Chinese-born, Singaporean-based Leo Liu QiXuan is a contemporary artist whose art fuses modern graphics design elements with traditional painting techniques. This results in a dynamic contrast between design and "still realism". Leo often seeks to provoke those who appreciate his art into thinking about contemporary issues facing humanity and the world as a whole. In his "Cloud" series, Leo plays with the idea of permanence and the temporal, exploring the tension that arises at the crossroads of rapid globalisation. For Leo, time is the most elusive element during the process of creation as it "can be at times halted, at times leapt across, and at times overlapped". "Time is perpetually moving forward, and the world should also progress with it!", says Liu Xuan Qi.
Transcending Time: Beyond Past and Present
The essence of time – through distinct artistic lenses
is available at from 9 September – 30 September at Sentosa Resort World, 8 Sentosa Gateway, 098269 (inside the Van Gogh exhibition).
To make appointments or to schedule a visit, please contact info@olalaworks.com
For more on the latest in culture and art, click here.
---