---
Leaders
Artistic Duo: Meet the Founders of Olal'Art
Established in 2021 by Yalin Chen and Joy Wei Fallenius, Olal'Art is an art space with a focus on Chinese and European contemporary art.
Olal'Art, founded by Yalin Chen and Joy Wei Fallenius, confidently manages art projects, curates exhibitions, and organises art events. The company is the perfect choice for families and private businesses seeking consultation services to find the most suitable art pieces to decorate their homes, offices, or event spaces.
Olal'Art offers workshops and guided tours to engage the public in the art world and promote artists' ideas through their works. Furthermore, they are constantly seeking new partnerships and collaborations and welcome anyone interested in pursuing artistic and cultural projects.
When did you first get interested in the arts and how did it lead you both into the business of being gallerists?
We have been close friends for over 16 years, and both of us were involved in being "art dealers" and in the project consulting business. As Joy was based in HK, and I was based in Paris and Beijing, we always stayed in touch and shared business opportunities regarding artwork and art projects. When we moved to Singapore, we knew our business time had come as we always talked about it over the years. For the first two years, we did many pop-up art exhibitions, solo or collaborated with experienced curators. Partly for market research, partly because we learnt a lot from others to gain more and more experience. The art space on 27A Arab Street was finally launched in February 2023.
When was Olal'Art founded in Singapore? What has been the specific DNA of the gallery?
Olal'Art was established in November 2021. The specific DNA of the gallery is our love for life and art, where people can get together and enjoy the moment. A goal of ours is to promote art in Singapore, where people can learn to appreciate and enjoy it and at the same time help to elevate the artists' value. Moreover, art helps us be introspective and take stock of the meaningful things in our life — these are the key points of Olal'Art.
What led you to develop a strong expertise in the contemporary Chinese art market?
The contemporary Chinese art market has grown rapidly in recent decades, driven in part by China's economic and cultural expansion on the global stage. With this growth has come a greater interest in Chinese contemporary art from collectors, curators, and art enthusiasts around the world. Developing expertise in the contemporary Chinese art market requires a combination of factors, as we are still learning and getting a deep understanding of Chinese art history and culture. We work with experts to gain knowledge of the current art market landscape in China and connections to key players in the Chinese art world. Keeping up with the trend is also very important, this might involve attending art fairs, exhibitions, and events in China, as well as following art market news and publications.
Modern China has numerous talented artists. Where and how do you find new artists to exhibit and what do you look for when considering a new artist for your gallery?
We have built our friendships with our artists for a long time, way back when we even considered creating an art business. We are blessed and lucky to have these very loyal and supportive artist friends who are willing to work with us and trust us unconditionally, even though we are quite new to the industry. To Olal'Art, a full-time artist's artwork speaks a universal language that reflects society and history. Of course, reputation is always one of the most important elements under our consideration.
Being a gallerist means that you work actively on positioning your artists. How do you approach that part of your work?
We support artists' careers over the long term: facilitating collaborations with other artists from different places or institutions, and providing them with opportunities to exhibit their work in our art space, also outside of the gallery, such as the Arts House, or other suitable spaces. We also encourage our artists to participate in different art fairs which will be carefully selected. Olal'Art keeps a close and strong relationship and friendship with our collectors and institutions.
Tell us about the latest exhibitions you have curated in Singapore.
April and May are the crazy intense months for Olal'Art. We organised and curated two art exhibitions: Black&White Quotes and Agape, a mother-daughter duo art showcase.
The former is an exhibition featuring Chinese contemporary ink painter Zhang Zhao Hui and French artist Hélène Le Chatelier. Their artwork express and speak in very different format and language, but something in common between them is the use of ink. The exhibition will be on till 21st of May.
The latter, hosted at The Arts House Singapore showcases traditional Chinese painting and modern oil painting. Singapore is the first stop for the duo, and they are using art as a platform for charity where part of the profits from this exhibition (about S$20K) is donated to the Singapore Sian Chay Medical Institution. We are blessed to have all the support from different local art institutions and organisations. Olal'Art is honoured to facilitate this meaningful art charity event and witness this momentous occasion.
How special is your relationship with Chinese contemporary artist Shen Jingdong?
Artist Shen Jingdong has a long-term friendship with one of Olal'Art's co-founders over decades. As an artist he is very unique, and his work represents Chinese history, culture, roots, and familial relationships. As a friend, he is loyal, kind and open-minded.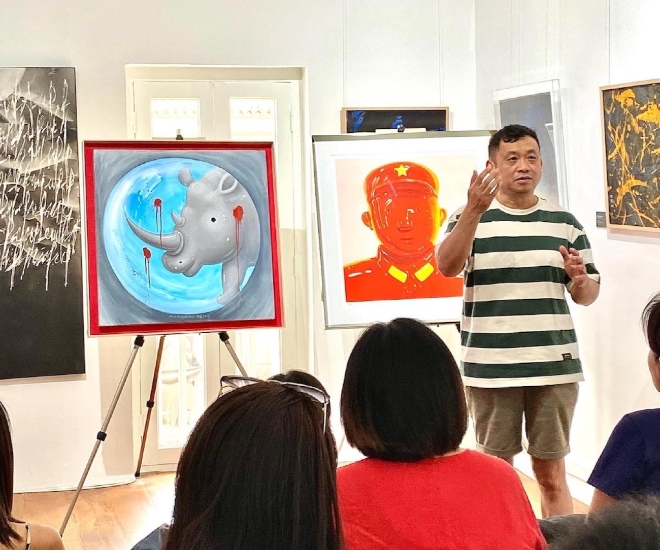 What other activities are planned for you this year 2023?
Time flies, we have already scheduled another 3-4 exhibitions and projects before the end of 2023. Some of these projects include an art commercial project in Sentosa, an art exhibition in collaboration with The Embassy of the Philippines in Singapore, a group-themed exhibition at the Singapore American Club and a joint exhibition from our dear collectors at our Arab street art space.
What is your favourite museum(s) in Singapore?
Asian Civilisations Museum is strongly recommended. This place includes a lot of content, and you can buy an annual pass to visit multiple times and have a different experience each time you visit. Additionally, we also love visiting the National Gallery. From the permanent exhibition of UOB and DBS, we can find excellent Singapore artists that intrigue us to learn more about them. For example. the big exhibition in 2020 featuring Georgette Chen explored Singapore's art history and its influence from China and France.
What are your recommendations to art lovers heading to China and wanting to experience the art scene there?
If you're an art lover heading to China and want to experience the art scene there, here are some recommendations
Visit galleries and museums: China has a thriving art scene, with many galleries and museums showcasing both traditional and contemporary Chinese art. Some of the most prominent art institutions in China include the National Art Museum of China, Long Art Museum Shanghai, the UCCA Center for Contemporary Art, and the Power Station of Art. These institutions offer a range of exhibitions and programmes that can provide a comprehensive overview of the contemporary Chinese art scene.
In addition to traditional galleries and museums, China's art scene is also home to many alternative spaces, such as artist-run collectives and independent art spaces. These spaces often showcase experimental and boundary-pushing works that may not be seen in more established institutions.
What is your best advice to a young gallerist wanting to set up their own art gallery?
Starting a new art gallery is an exciting and challenging endeavour, but with the right vision, dedication, and hard work, it can be a rewarding and fulfilling experience.
Here are some tips that might be helpful for a young gallerist looking to set up their own art gallery:
Develop a clear vision and mission for your gallery. It is important to have a clear idea of what you want to accomplish with it, keep holding on to it, and don't easily let people or outside forces change your mind. Stay focused on your goals.
Build relationships with artists will help you to establish a reputation as a trusted and respected gallerist.
Choose the right location: The location of your gallery will play a key role in its success. Of course together with the cost consideration.
Develop a marketing plan and build a team to ensure the workload will be managed on time and smoothly.
Stay informed about the art world and keep up with the trends.
If you were both to name one mentor who has inspired you in your life, who would that be?
Since the day one Olal'Art was established, actually even before Olal'Art was officially born, we were very blessed and lucky to be able to have support and mentor guidance not just from one person. There are experienced collectors and experts who were there to guide us, give important pieces of advice and share their experiences, introduce their networks and artists. And they are continuously working with us, we appreciate it so much. Some great artists and collectors just keep supporting us, and trust us unconditionally. All of them are mentors in Olal'Art's art journey.
For more information about Olal'Art, please email: info@olalaworks.com; follow their Instagram @Olal'Art.
For more reads on leaders, click here.
---