---
Business / Business of Luxury
Japan plans to move Production from China, showing one potential possibility of a Post Coronavirus World
Japan is spending US$2.2 billion to move manufacturing back from China and it is appearing to be at least one of three models which will reshape the global economy after the coronavirus pandemic
Out of the ashes of a post coronavirus world, Japan is the first developed economy to show us what a new world economy after covid-19 could look like: Japan is spending US$2.2 billion of its $993 billion emergency stimulus package to help its manufacturers relocate production out of China.
The current pandemic has tested international supply chains that have defined contemporary economics and considering that  Adam Smith first alluded to the concept of absolute advantage as the basis for international trade in his 1776 treatise The Wealth of Nations: where he postulated that "if a foreign country can supply us with a commodity cheaper than we ourselves can make it, better buy it off them with some part of the produce of our own industry employed in a way in which we have some advantage" – he did not contend with global virus pandemics like the Spanish Flu of 1918 and the coronavirus scourge of 2020.
Japan is spending $2.2 billion to move Production back from China, showing one potential possibility of a Post Coronavirus World
Since the 1980s, global trade and market economics have been the literal embodiment of Smith's 240 year old ideas: According to Resilinc, a supply-chain-mapping and risk-monitoring company, the supply crisis is showing severe weakness with 2020 data showing that 1000 of the world's largest companies own more than 12,000 facilities – that is to say factories, warehouses and other aspects of the supply chain – in covid-19 quarantine areas, with the majority of the production chain sourced from China.
For centuries, countries have leaned into Smith's laws of comparative advantage, transforming their local economies by weeding out perceived redundancies: sourcing a variety of partially finished and finished goods from global trading partners but the covid-19 outbreak is showing that the broad free-trade consensus which emerged post-Cold War which accelerated the shift to a fully globalised economy (one which promoted international commercial ties) has been its biggest weakness as countries slowly awaken to the fact that having one country, typically the cheapest producer, making all your goods – is not a terribly good idea.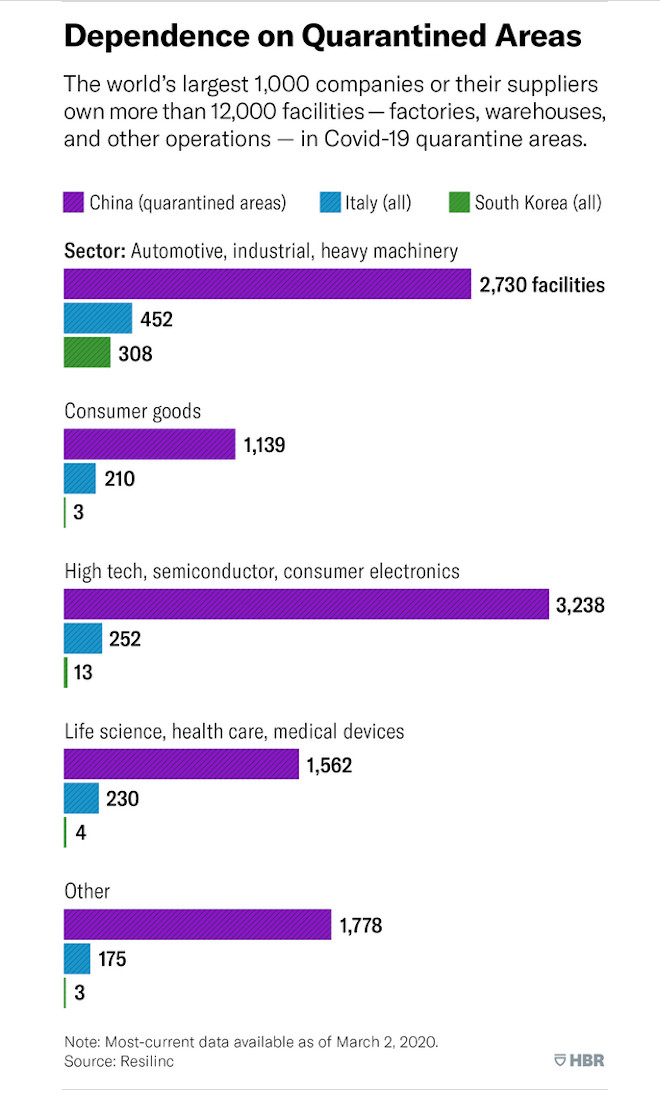 According to Harvard Business Review: Supply-chain managers know the risks of single sourcing, but they do it anyway in order to secure their supply or meet a cost target. Often, they have limited options to choose from, and increasingly those options are only in China.
"We are now, brand by brand, reallocating that inventory to other regions in the world so that we are not too heavy in stock in China," Kering chief executive François-Henri Pinault
It's not just an international issue but a domestic one as well as China's major role in the global supply chain exposed further segmentation of production lines: In Wuhan, alleged ground zero of the coronavirus outbreak and the first region to be locked down by the ruling Chinese Communist Party; Wuhan's focus is on producing parts for technology and consumer-electronics products, apparel and textiles, as well as steel and alloys has meant that the supply chain is so specialised that first, there aren't good alternatives to components and products from Wuhan; and second, even domestically in China, there aren't any alternatives to begin with as the Wuhan quarantine to contain the virus,  restricted shipments of raw materials and goods into and out of the region.
Risk and Strategy consultancy, Marsh & McLennan explained that Wuhan's Yangtze port which handles 1.5 million containers a year, is only handling shipments deemed essential, leading to a trickle-down effect on global trade. 
Indeed, it's a phenomenon from which there is no sector which has remained untouched. Luxury conglomerates like Burberry, LVMH, Kering, all of whom manufacture partially in China – could struggle to release summer collections, prompting some to question if the annual two season cycle of spring/summer and fall/winter luxury collections (not including special capsule and cruise collections) are really necessary and if they were even sustainable practices. Both producer and consumer, the coronavirus outbreak has kept the world's biggest consumers of luxury from shopping – Chinese consumers accounted for slightly more than 40% of the US$291 billion spent on luxury goods globally in 2019, driving some 80% of sales growth at the owner of Louis Vuitton, and Kering owner of Gucci and Chanel. Kering's Chief executive François-Henri Pinault said that the group is reallocating inventory to other regions in the world so that they're not too heavily stocked in China.
Following a traditional two-season model with long lead times, the coronavirus surge forced countries into a lockdown as spring and summer stocks were dispatched to distribution centres but with retail shuttered, shows and luxury launches cancelled throughout the world, it's uncertain how the latest season will retail. Fast fashion and "masstige" – that is to say – mass consumer prestige brands are particularly at risk, with some high street fashion groups reporting at least US$25 million of inventory at risk in China. Delayed delivery and late re-opening of the retail goods sector  means the clothes arrive late for the intended season and must then be marked down to sell. That said, brands like H&M and Zara have long diversified supply across Africa with production in Madagascar and Central Asian Turkey, providing some insulation against the disruption in China.
Outside China, coronavirus ravaged Italy is also causing supply chain and production issues for maisons heavily dependent on Italian handcrafts: Gucci, Prada and Salvatore Ferragamo. One owner of a supplier to Gucci told Reuters, "We were producing 880 to 1,000 bags a month for Gucci. In February we made 450 and we have no orders for March." Italy has the largest cluster of Covid-19 cases outside China, and the initial lockdown of Milan and the worst hit regions in the north, soon encompassed the entire nation, putting a pause on production on the country's leather artisans and shoe craftsmen. Italy is the 5th largest market globally for personal luxury goods.
Honor Strachan, retail analyst at GlobalData, told Forbes in early March 2020 that "domestic brands will feel the biggest hit, given tourist appeal of purchasing Italian brands while visiting Italy, so Prada SPA, Giorgio Armani, Valentino and the Kering group which owns Italian heritage brands such as Gucci, Bottega Veneta & Pomellato will suffer weaker sales in H1 2020. LVMH is also exposed with brands such as Fendi & Pucci likely to experience weaker footfall."  He expressed confidence that luxury sales would rebound if the epidemic could be contained by the end of the month. However, It's mid-April and it looks like we are in this for the long haul.
With significantly higher price tags, hard luxury goods like watches and jewellery follow a more traditional bricks and motor retail model but watchmakers like H. Moser and Patek Philippe have already resorted to online sales – either through eCommerce channels with existing authorised retailers or through self-managed online sales platforms. Lower priced mid range luxury timepieces and soft luxury goods like fashion and accessories are currently available on platforms like MrPorter.com.
Japan could shape Luxury Consumption After the Coronavirus
While there is consensus that global economics and supply chain dynamics as we know it will be forever changed by the coronavirus pandemic, there isn't any agreement on whether the new world economy will be led by China or continue with China in albeit a greatly diminished position. Some analysts argue it's the end of globalisation while the least pessimistic of them believe the post-covid-19 economy will herald a new age of transnational cooperation; however, there's a third potential outcome: nationalism on steroids as countries start to consider their own supply chain inadequacies; China is typically Japan's biggest trading partner but as factories in China closed during the quarantine, imports from the mainland fell dramatically, creating immense logistics and supply issues for Japanese manufacturers. The resulting consequences have led to talk among Japanese business leaders to reduce reliance on Chinese manufacturing.
Market research consultancy Tokyo Shoko Research conducted a survey in February of over 2,600 Japanese firms and found that over 37% were diversifying procurement or had immediate to short term plans for supply and manufacturing in locations other than China.
Japanese Prime Minister Shinzo Abe convened a government panel in March, discussing the need to shift manufacturing of high-added value products back as well as further diversification for production and supply chains to be spread across Southeast Asia rather than concentrated in China. According to a 2017 report by McKinsey & Co shared exclusively with BoF, Japanese consumers are now spending $33 billion each year on luxury goods and in consumption, as in production, over-relying on China has exposed massive pitfalls.
So rabid was Japanese luxury consumption that Sanyo Shokai created the Burberry Blue Label brand for young ladies, adapting the popular checks into youthful expressions of favoured colours like bright pinks and reds
This "disconnect" became a "Burberry Japan Problem" but because it yielded excellent license/royalty fee payments to Burberry, it made it hard for Burberry to consider other options in Japan until 2015 when they ended the relationship originally meant to expire this year.
Japan is the second largest consumer of luxury goods behind the United States, with revenue in amounting to US$29,595m in 2020. China is the world's third largest consumer, if economic recovery in Japan holds true following this re-orientation of the market, they could very well become the world's largest consumer in the short to medium term as the United States continues to fumble its coronavirus response, registering record unemployment with current figures standing at 17 million or over 10% of the labour market. The highest rate of U.S. unemployment was 24.9% in 1933, during the Great Depression.
---