---
Culture / Art Republik
INFLUENCERS: In Conversation With Multi-Disciplinary Artist Andy Yang
"NFTs are here to stay and will evolve for the better. Whether people like it or not, it has a space in the future of the arts."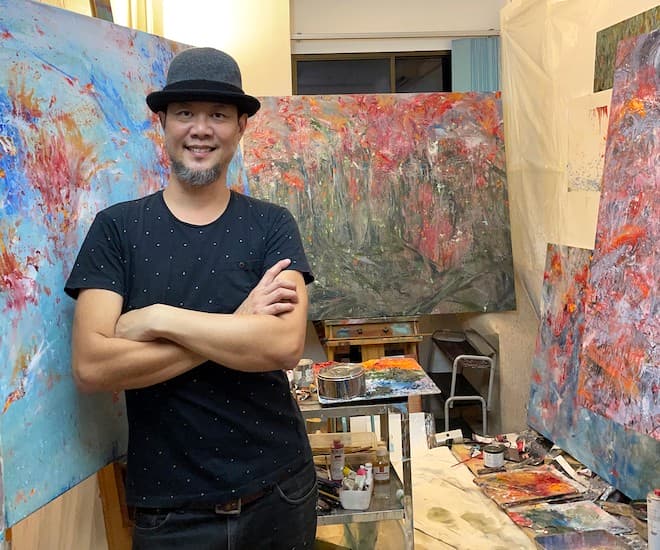 Many of us do not take comfort in chaos for it means disorganisation, mess and sometimes it could also induce anxiety because the feeling of uncertainty irks us. For multi-disciplinary artist, Andy Yang, his artworks are the fruits of his penchant for experimentations with chaos being an important ingredient. Besides using paintings as a medium to communicate his thoughts, the artist also uses soundscape as an extension of his craft. To make sense of chaos is perhaps Andy's mission, and depicting it on canvases allow viewers to have a sense of how it looks like in real life.
Ahead is an interview with Andy Yang, who is part of the INFLUENCERS series of artists, presented at Alliance Française de Singapour, where he shares more about his art and venture into the world of NFTs.
You grew up in Malaysia and you are now based in Singapore. Tell us about your first steps as an artist?
I felt like I was an artist was when I had my first proper solo show. After I made my art pilgrimage to visit some critical museums like MoMA, Tate Modern, The Louvre, to name a few, it changed my life forever. Before that, I was constantly looking for my creative self. I got myself involved in visualising work for an events company for a while. I moved on to a visual merchandising gig before settling on freelance commercial illustrations and, eventually, contemporary art.
What has been your latest project and what is planned for you across 2021?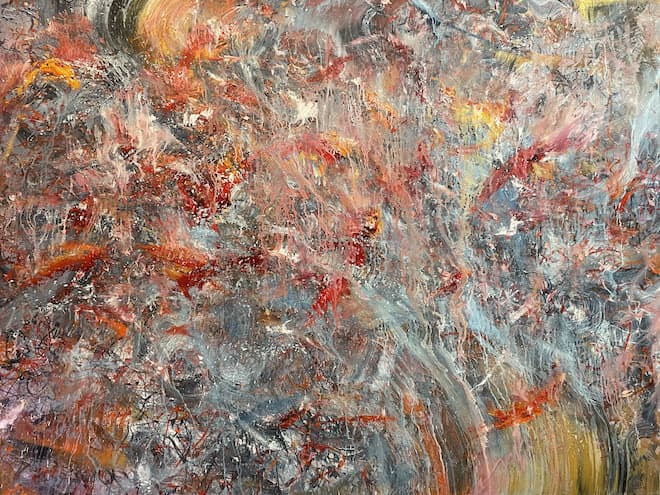 Bus.Stop.Art. 10 Singapore-based artists take out galleries and bus stop shelters along the 175 bus route during the annual Singapore Art Week, 21 January – 3 February 2021. At the same time, as the commuters wait for their buses, a virtual showcase awaits for them to explore. Bringing art to where Singaporeans live, work, and commute. For 2021, I have a series of new digital paintings launched in the NFT Artspace. Currently, I am working on a series of new ink paintings for a group show slated for the third quarter of the year. In between, I will be submitting some works for an art competition. Also, hopefully, squeeze in another group show for my new oil paintings before the year ends. Most likely, I will continue making traditional and digital artworks throughout the year and showing them across both platforms.
What is your creative process like? You are also known as a musician, tell us more there?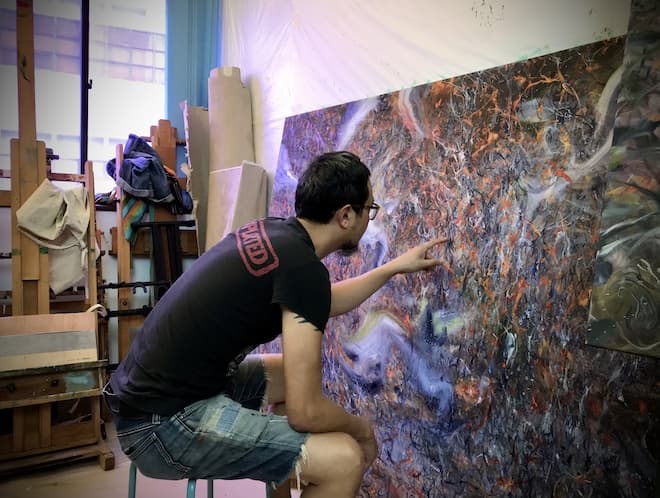 I would have ideas written on my notes on my smartphone and sketchbooks from time to time. I may or may not pick out the views from there. I also work from a different source of materials all the time. Old prints, magazine cut-outs, etc. strewn all over my studio floor—little bits of inspiration that I use as sparks to start work. These days I have become more spontaneous. This spontaneous and direct approach to creating visuals meant translating across traditional and digital platforms has to be seamless. It is more focused on expressing emotions. As a musician, I started playing the bass guitar for a band back in 2006. After leaving the band, I experimented with various instruments and sounds as a multi-disciplinary artist that switches between visual arts and soundscapes. I found myself expressing my creativity on these two platforms. That led me to collaborations with various art groups in the experimental theatre and music scene. Similar to my approach to visual arts, my music style is spontaneous and highly improvised.
When spreading colours on canvas, you are using a variety of implements such as an airbrush, hairdryer and even a leaf blower. Is it related to the notion of "controlled chaos" which you like to refer to?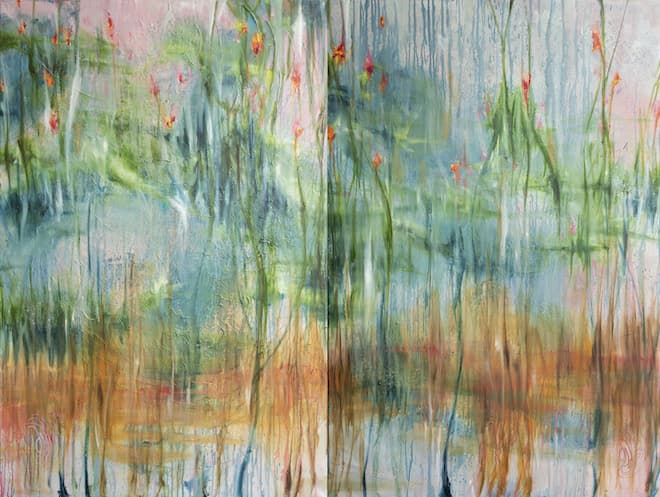 During the earlier days of my practice, the tools mentioned above were indispensable for me to start my work. I chanced upon the technique when I was fiddling around with straws around the painting—moving and blending paints with air. I was thrilled by the game of chance, the unexpected outcome. It still fascinates me. I began using air-like brushes. The hairdryer being the fine brush. The leaf blower for broad brush strokes. It was the beginning of the chaos, after obsessing with the blowers for a while. I was craving for more spontaneous and fluid strokes so I went back to traditional brushes, which became what you see now as the "controlled chaos."
You suffer from insomnia. How does that impact your art?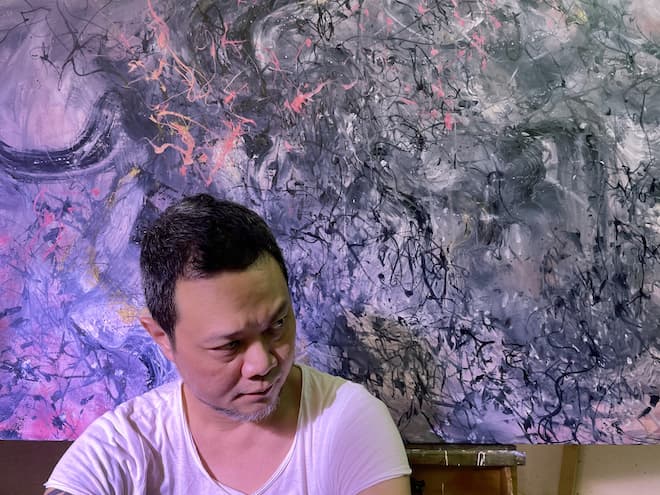 The condition made me create more art. It still comes back from time to time. It seems to be lesser this year compared to the last. 2020 made me anxious about the conditions surrounding us, especially during the Circuit Breaker where Singapore was in a lockdown due to the pandemic. Together with my restless personality, it was a recipe for insomnia. Diving into my imagination and making art made me calmer and focused. It was taking my mind away from all the never-ending bad news that was going on then. We are still not going to be out of the woods anytime soon, but we got used to the situation and we have worked around it. The peace in the early hours of the morning does make me communicate better, clearer with my art.
You have started using NFTs to access more people who might not have been able to purchase an artwork from you. How do you view the future of NFTs and how is this blockchain-based technology able to disrupt the art scene?
It has already disrupted the art scene in many ways. Right from creating, listing, marketing, and down to the final delivery of the artwork to the collector. All this in a new decentralized ecosystem. There is always something new to learn every day about this new technology. As an independent artist, this presents a new platform with added opportunities for me to share my work and reach a wider audience. I joined a group just three months ago called NFT Asia on the Discord channel. A community of artists and individuals that have been helpful and caring. Very generous in sharing each other's knowledge and experiences for navigating this vast ecosystem. NFTs are here to stay and will evolve for the better. Whether people like it or not, it has a space in the future of the arts.
What emotions do you hope the viewers experience when looking at your art?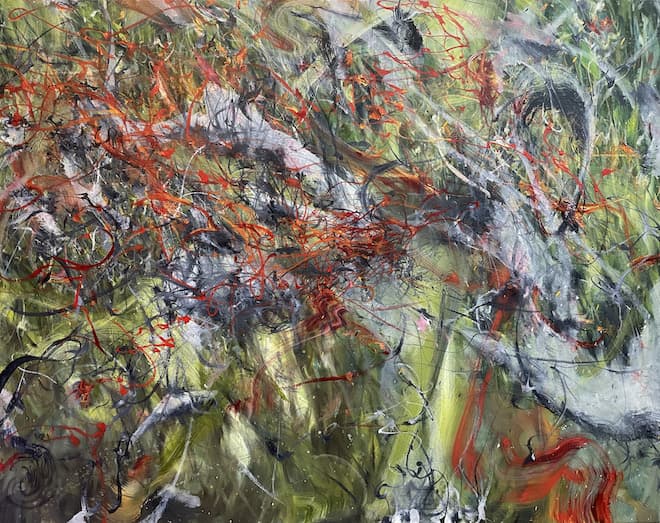 It may sound a little strange, but having a dialogue and conversation with them would be great. It would be great to be able to engage the artworks from time to time in discussion. This relationship keeps the works open for interpretation, invoking responses. Also, to look at the paintings and reading into them. Unlike most people, artists are looking. Most people don't look. They look around to navigate the surroundings, but they are not looking like how artists are doing it. We all have that eye, and we need to activate them to enjoy artworks.
What is the role the artist plays in the society?
For the longest time, this question has been bugging me. Compared to essential roles in society, examples of the obvious ones are professions in the medical and science field. I can't help but feel hopeless sometimes as artists when this question arises. Then again, I think of the great Leonardo DaVinci and his contributions to the fields mentioned above. Also, his contributions to the culture and identity of a society. Of course, I am not comparing myself to him here. I find that is a good reference point. An answer came to me during these unprecedented times. Artists' constant pursuit of excellence is looking for the right balance in their works. These involve countless experiments, trials, and errors. It is a continuous tale of failing and starting all over again. These activities build resilience and stimulate creative thinking—this fearless attitude towards failure and reinvention. The role of a teacher to drive society would fit right in, in these trying times.
The five words that describe best your art?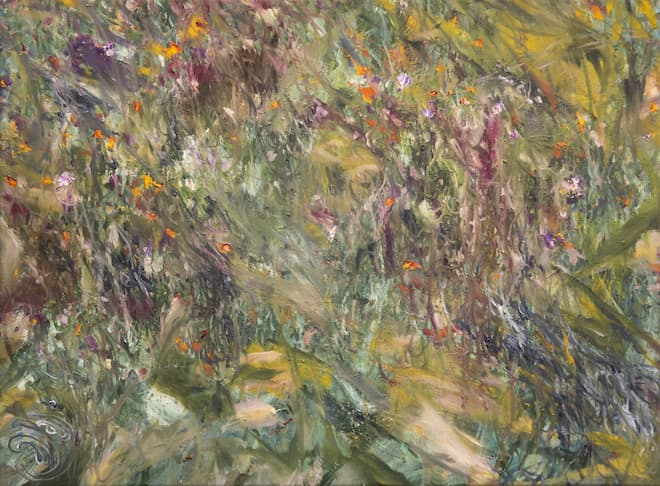 Vibrant. Resilient. Chaotic. Free. Alive.
What can visitors expect to see from you at INFLUENCERS 2021?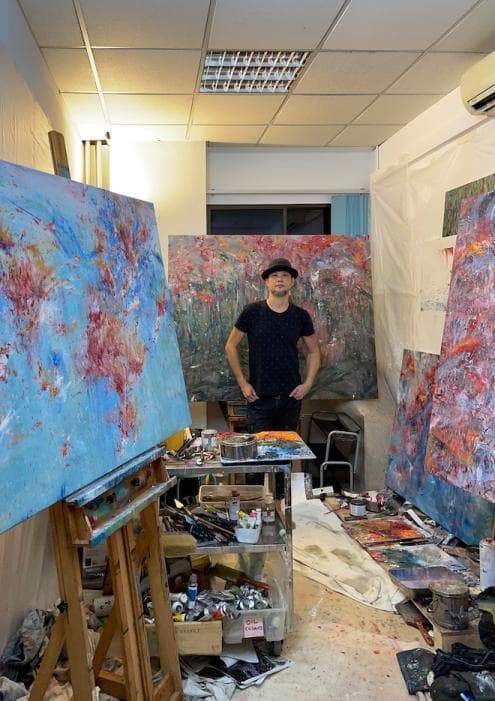 The well-thought-out placement of my artworks in the space has to be the space: one painting and an NFT artwork on a pedestal. The two windows flanked them within the interior of the gallery space. They supported the artworks like an extension of the painting. They were anchoring the pieces against a backdrop of lush greenery from the windows. Almost felt like this space was waiting for these works all this while. The artworks were filling in to complete this particular part of the interior in this given time. Giving the viewer a peek into the colours gave these paintings life before being layered with other hues. These paintings, beauty, fear, regret, pain, and joy, all reside together in energetic and hopeful landscapes. All brilliantly thought out by the curator for the show, Ms. Marina Oechsner De Coninck.
If you were to name one mentor who has inspired you in your life and path as an artist, who would that be?
First of all, I would like to thank you and the team for this question. That got me thinking. For all the support all these years through thick and thin. Also, for putting up with my nonsense and always being there when the going gets tough—going through hopes and fears together—showing me courage in the face of adversity. It has to be my dear life partner and mother of our children, Caryn Lim.
---
Andy Yang's artworks are currently on display at Alliance Française (Singapore).
Date: 8 May to 19 June 2021
Time: Monday: closed
Tuesday to Friday: 1:00pm-7:30pm
Saturday: 9am-5.30pm
The Gallery is opened with limited access and only groups of 2 are allowed to enter. To book a slot, please visit this website: https://www.eventbrite.sg/e/influencers-tickets-155756121753
Location: La galerie, Alliance Française de Singapour, 2nd Level
1 Sarkies Road Singapore 258130
For more information regarding this exhibition, you can visit the Alliance Française de Singapour website.
To view more of Andy's artworks, head over his website here or you can also follow him on Instagram: @andyyangsookit
---