---
Culture / Events
TAG Heuer, China Embark on Mars Mission 2020
TAG Heuer is teaming up with China's Mars Exploration Program to embark on a mission to see the red planet come 2020.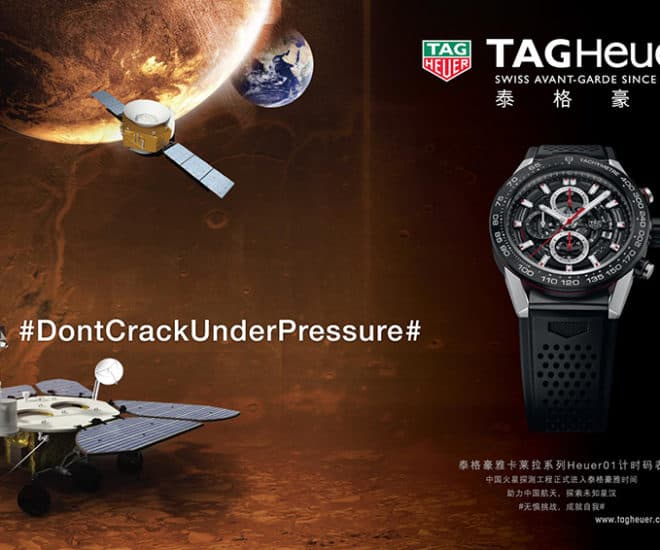 Swiss watchmaker TAG Heuer and China are going to Mars! The news of course is exciting because, well, China and Mars, but someone should be carrying the flag for watchmaking to other worlds and we're celebrating that. TAG Heuer just announced a new collaboration with China's Mars Exploration Program that is set to send a Mars rover to the red planet in 2020. At a press conference earlier this week TAG Heuer's CEO and President of LVMH Watch Division, Jean-Claude Biver, helped kick off the call for global participation in the program logo design. Along with this, the press conference also saw the exterior design of the Mars rover of China unveiled for the first time.
While the exact role of the watch manufacturer is unclear in this mission, we do know that they have had a long history with space travel. Back in 1962, TAG Heuer was the first Swiss watchmaker to accompany an astronaut in space. Worn on the wrist of John Glenn as he manned the first US orbital flight on board Friendship 7, the timepiece made history. Unlike other TAG Heuer timepieces, the stopwatch had elastic bands that helped it to fit over the sleeve of Glenn's spacesuit. This historic timepiece can now be seen at the Smithsonian Institution National Air and Space Museum while a replica is housed at the TAG Heuer Museum in La Chaux-de-Fonds.
In the last decade, TAG Heuer has sent several creations on orbital missions. In 2012, the watchmaker sent the Carrera Calibre 1887 SpaceX Chronograph to the International Space Station by Space X. The move was one that proved just how reliable TAG Heuer creations were. While it may be awhile before we know what is in store for TAG Heuer with the China Mars rover, their previous missions prove that it is set to be a partnership that will possibly make history.
Thus far, only the USA and the former Soviet Union have successfully gotten a lander in working shape to the surface of Mars. If China succeeds, it will be joining a very exclusive club indeed. TAG Heuer sounds like a good fit for this sort of exclusivity but if the brand actually sends hardware on this mission, the champagne will be flowing in La Chaux-de-Fonds.
---