---
Culture / Events
Success for Hainan Rendez-Vous 2011
After four thrilling days of exclusive parties, glamourous entertainment and intense networking, the Hainan Rendez-Vous 2011 ended last Monday leaving no doubt about its status as the region's leading yacht show. The superyacht show, which also incorporates a business jet exhibit and displays of luxury properties and high-end brands, once again drew crowds of China's […]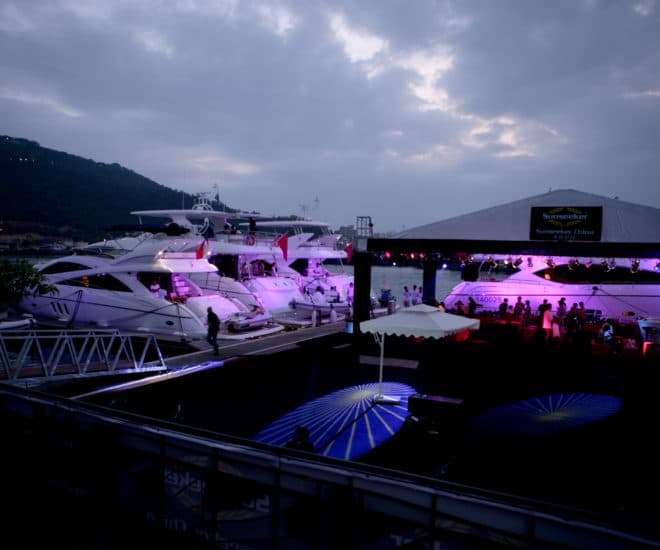 After four thrilling days of exclusive parties, glamourous entertainment and intense networking, the Hainan Rendez-Vous 2011 ended last Monday leaving no doubt about its status as the region's leading yacht show.
The superyacht show, which also incorporates a business jet exhibit and displays of luxury properties and high-end brands, once again drew crowds of China's most affluent individuals to Sanya city in the 'Chinese Riviera' of Hainan Island.
This year's edition had twice as many exhibitors as last year's Hainan Rendez-Vous, and generated several billion RMB worth of transactions.


Over 250 Chinese ultra-high net worth individuals were flown to the event on business jets, and some 15,000 people in total visited the 185 exhibition booths set up along the 500-metre promenade outside the Visun Royal Yacht Club.
At least 70 CEOs from China's leading listed companies attended this amazing business networking platform.
Nearly one hundred yachts and superyachts docked for the show along the riverbank outside the yacht club (including ten boats larger than 24 metres), making Hainan Rendez Vous the largest in-water boat show in the country.
The 65-metre AMBROSIA, a Benetti ship operated by YPI, also sailed in from Hong Kong for the event, berthing in the waters of the beautiful bay outside the Mandarin Oriental Sanya Hotel.
Marine exhibitors expressed strong satisfaction with the event, many saying that the aviation and lifestyle components of Hainan Rendez-Vous resulted in increased networking opportunities and additional, high-value contacts.
Giuseppe Zecchin, Asia Pacific market manager for Ferretti Group, said he was delighted with the quality of the show's visitors.
"They were very qualified," he said. "On behalf of Ferretti Group, I would like to express my gratitude to Delphine Lignieres (show creator).
We hope she will be organising the show in other cities in China as well, as it really is an effective way to introduce yachting to China's people."
Traugott Kaminski from Sunseeker China said: "The organiser of Hainan Rendez-Vous did a great job. Just like at the 2010 Hainan Rendez Vous, Sunseeker China once again sold four yachts. We will definitely attend this event every year!"
Hainan Rendez-Vous 2011 was fortunate to receive support from the same major sponsors of the show's 2010 debut: renowned watch and jewellery manufacturer Chopard; wealth management service provider Deutsche Bank; famous champagne brand Perrier-Jouët, which celebrated it's 200th anniversary at the show; the three-century-old cognac house, Martell; BMW; and the Mandarin Oriental Sanya.
Social activity highlights at Hainan Rendez-Vous 2011 included two Gala Dinners, two pool parties and several cocktail parties organised on board the amazing boats displayed along the marina.
Lacoste, Perrier Jouet, Chopard, Martell all took the opportunity to celebrate in style their second year of participation in the Hainan Rendez-Vous.
"We're very excited to join hands once again with Hainan Rendez-Vous, which provides an excellent platform for Chinese consumers to experience the substance of the ultimate lifestyle," said Mr. Con Constandis, Managing Director of Pernod Ricard China.
"During this year's successful event, we launched the Martell Trunk and the Perrier-Jouët bicentennial celebration pack in China. The Martell Elite Club members also expressed great appreciation for this fantastic event."
BMW, Maserati, Lamborghini, Porsche and Ferrari each exhibited their latest model sports cars at the show, which also showcased luxury properties from New York to England to Singapore, and a wide array of ultra-luxury product brands.
While the Hainan Rendez-Vous 2011 was surely a worthwhile event for many exhibitors, it was without doubt also a boon for Sanya, a city that seeks to become an international yachting hub and prime international tourism destination.
These aspirations are reflected in the city's recent commissioning of NDA, an architectural design firm and leader in waterfront projects, to oversee a development masterplan that involves the building of ten main marinas and a total 6,000 berths in ten years' time.
This is but one of many significant infrastructure developments now happening in China that will open the doors to faster growth for the nation's recreational marine market.
Dephine Lignieres, founder and CEO of China Rendez-Vous Ltd., said, "Hainan Rendez Vous is just in its second year, but we somehow managed to take this 2011 show to a whole new level. No other show in the region has yet offered the services we are offering to exhibitors.
I sincerely thank them for the trust they have placed in us these past years, and I look forward to bringing them even better shows in the years to come in other great cities in China."
For more information about Hainan Rendez-Vous, visit www.hainanrendezvous.com
LUXUO is proud to be a media partner or Hainan Rendez-Vous
---