---
Culture / Events
AirAsia opens sales for Branson's latest stunt
AirAsia has opened ticket sales for a charity flight with Virgin supremo Sir Richard Branson among the cabin crew, set to take off May 1. The Asia-based low-cost carrier announced that tickets for the much-publicized stunt, a result of a Formula 1 bet made between Branson and AirAsia chief Tony Fernandes, will be available from […]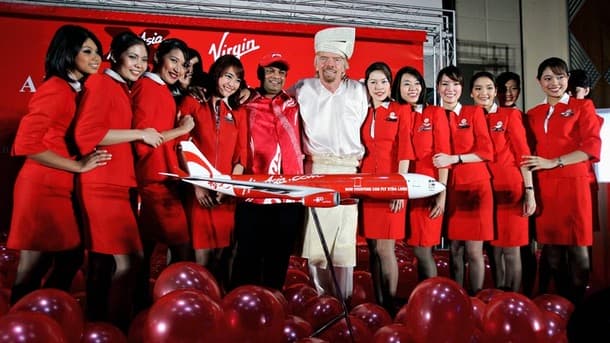 AirAsia has opened ticket sales for a charity flight with Virgin supremo Sir Richard Branson among the cabin crew, set to take off May 1.
The Asia-based low-cost carrier announced that tickets for the much-publicized stunt, a result of a Formula 1 bet made between Branson and AirAsia chief Tony Fernandes, will be available from April 13 through April 24.
The 13-hour flight, from London to Sri Lanka, will feature Branson serving with AirAsia's cabin crew, while a host of other celebrities will also be on board the flight to entertain passengers who snap up the 160 tickets available.
The man to whom Sir Richard lost the bet, Tony Fernandes, will join the flight, while Formula 1 celebrity Eddie Jordan will perform with a band and British comedian James Cordon will also be providing entertainment.
Guests will also be entertained at a pre-departure event at London Stansted and welcomed by a cocktail reception and charity auction in Kuala Lumpur on May 2.
Guests will have to dig deep — tickets for the flight cost £4,500 (€5,050) — but all of the proceeds will go to beneficiaries chosen by the two airline bosses.
It's the second time the flight has been scheduled as the initial event on February 21 was postponed after Branson ruptured a ligament in a skiing accident, and it's the latest in a long line of publicity stunts masterminded by Britain's most famous businessman — not always successfully.
In 2007, the grinning tycoon had to be gently lowered to the ground in front of crowds in Las Vegas after an abseiling stunt to promote Virgin America went wrong, leaving him with slight injuries, ripped pants and a red face.
In fact, it seems Las Vegas is an unlucky spot for Branson — last year he misjudged a jet ski turn during a stunt for Virgin Atlantic at the Bellagio, soaking himself and a Virgin stewardess in front of the waiting cameras.
Source: AFPrelaxnews
---