---
Culture / Design
Mercury High Speed Train Vision by Priestmangoode
British designers Priestmangoode have unveiled a conceptual high-speed train for the UK. The London studio have created the design, entitled Mercury, in an attempt persuade the British government to advance the project. Paul Priestman of Priestmangoode, designer of the iconic Virgin Pendolino train, believes that the new high speed train is vital for the future […]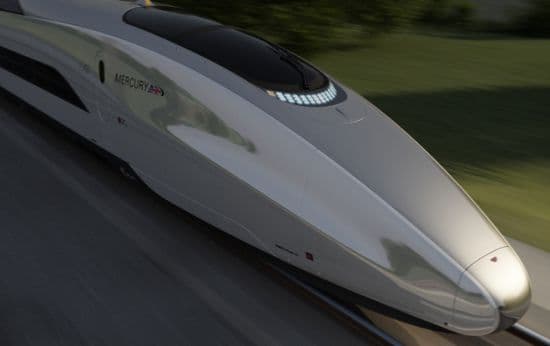 British designers Priestmangoode have unveiled a conceptual high-speed train for the UK.
The London studio have created the design, entitled Mercury, in an attempt persuade the British government to advance the project.
Paul Priestman of Priestmangoode, designer of the iconic Virgin Pendolino train, believes that the new high speed train is vital for the future of Britain.


Their 400 metre-long, double-decker train would travel at 225 mph and have one of the longest nose sections in the world.
The interior would have areas with commuter seats and private berths, a childrens play area, and lounge and bar.
Priestman believes his concept, Mercury, could be the new Great British design icon, following in the footsteps of Concorde, the Spitfire, Rolls Royce and the Routemaster bus and reawakening Britain's authority as a global leader in design and technology.
Via Dezeen
---