---
Culture / Design
Ermenegildo Zegna Celebrates 20 Years in China
Year 2011 sees Italian fashion house Ermenegildo Zegna celebrating its 20th Anniversary in China. To commemorate this occasion Ermenegildo Zegna made a special limited edition collection of just twenty pieces to mark this important milestone. The collection include watches, cufflinks, mobile phones and fabrics made in collaboration with Girard-Perregaux, Tateossian and Vertu. Twenty limited edition […]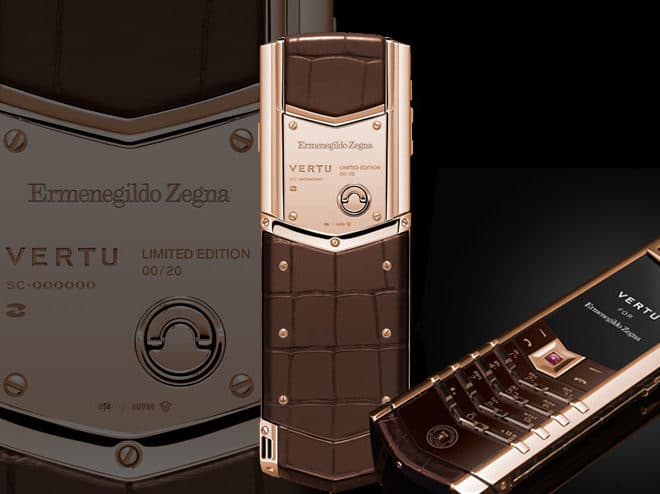 Year 2011 sees Italian fashion house Ermenegildo Zegna celebrating its 20th Anniversary in China.
To commemorate this occasion Ermenegildo Zegna made a special limited edition collection of just twenty pieces to mark this important milestone.
The collection include watches, cufflinks, mobile phones and fabrics made in collaboration with Girard-Perregaux, Tateossian and Vertu.


Twenty limited edition cufflinks created by Tateossian, in solid 18 kt rose gold. Replicating the Zegna China 20th Anniversary logo, with discreetly embedded rubies.
The Signature Vertu for Ermenegildo Zegna China 20th Anniversary Limited Edition presents Vertu's iconic Signature handset in precious rose gold, sapphire crystal and exotic alligator skin.
As a testimony of its unequalled success in China, Ermenegildo Zegna offers two unique fabrics, signature to the link between the Chinese culture and the sartorial tradition of the Ermenegildo Zegna Wool-Mill.
The watch, with its timeless design, is adorned with an elegant rose gold case, true to Girard-Perregaux's great chronograph tradition as well as a rare and precious specially designed movement guaranteed by Girard-Perregaux.
On the dial, a tachymeter scale lends it an assertively sporty character, while the logo at 6 o'clock is a tribute to the 20 years that Ermenegildo Zegna has been in China.
The mechanism features one of the most spectacular watchmaking complications – a coaxial Rattrappante chronograph with Foudroyante.
The two superimposed second hands of the Rattrappante chronograph enable to time several events which start simultaneously but which last for different times.
The Foudroyante is represented by the red hand in the counter at 9 o'clock, and enables to measure the final chronograph time to one-eighth of a second.
It completes one revolution of the counter per second, stopping on one of the 8 sections at the end of the timed event.
---