---
Culture / Celebrities
Michael Jackson's 2nd Funeral costs $1 Million
According to showbiz411, Michael Jackson's funeral costs $1 million dollars. This is the second funeral, the first one was the Staples Center memorial in Los Angeles, on July 6. His mother had to petition the court so that Michael's estate would pay for this burial at Forest Lawn's Glendale cemetery, including the extravagant mausoleum picked […]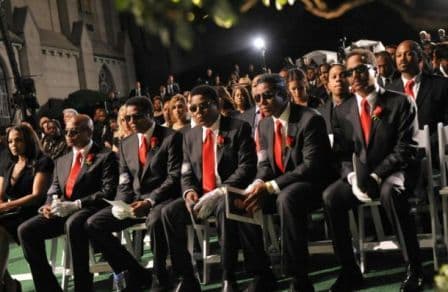 According to showbiz411, Michael Jackson's funeral costs $1 million dollars. This is the second funeral, the first one was the Staples Center memorial in Los Angeles, on July 6.

His mother had to petition the court so that Michael's estate would pay for this burial at Forest Lawn's Glendale cemetery, including the extravagant mausoleum picked out by the Jacksons that no one will ever see.
It is hoped that this will be the last burial for Michael, who died on June 25, that now has famous neighbors as Clark Gable, Carole Lombard, Humphrey Bogart, Errol Flynn, Walt Disney, Spencer Tracy, Jimmy Stewart, Sammy Davis Junior.
---