---
Culture / Celebrities
El-Hadji Diouf's gold Cadillac Escalade
Blackburn Rovers' footballer El Hadji Diouf has a super shiny gold Cadillac Escalade. The 28-year-old striker parked his latest 4×4, complete with a 6.2litre engine and 6-speed gear system, in a loading bay as he stepped out for lunch in Manchester He is already the owner of great supercar including a white Cadillac Escalade, a […]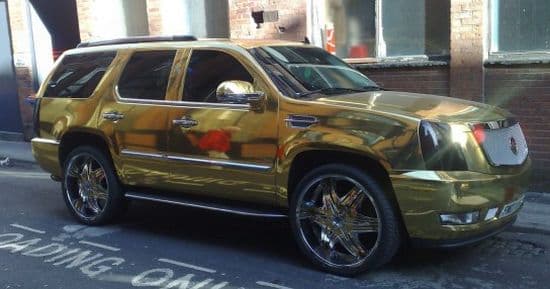 Blackburn Rovers' footballer El Hadji Diouf has a super shiny gold Cadillac Escalade.
The 28-year-old striker parked his latest 4×4, complete with a 6.2litre engine and 6-speed gear system, in a loading bay as he stepped out for lunch in Manchester
He is already the owner of great supercar including a white Cadillac Escalade, a show-stopping chrome Mercedes-Benz SLR McLaren and a white BMW X6.


Escalade Cadillac costs £53,000, but the customised fittings and gold paint work would have no doubt upped the price considerably.
---