---
Culture / Auctions
Most Expensive: $31 million Unique Pink Diamond
The 15.38-carat vivid pink diamond has been sold at Sotheby's for a phenomenal price.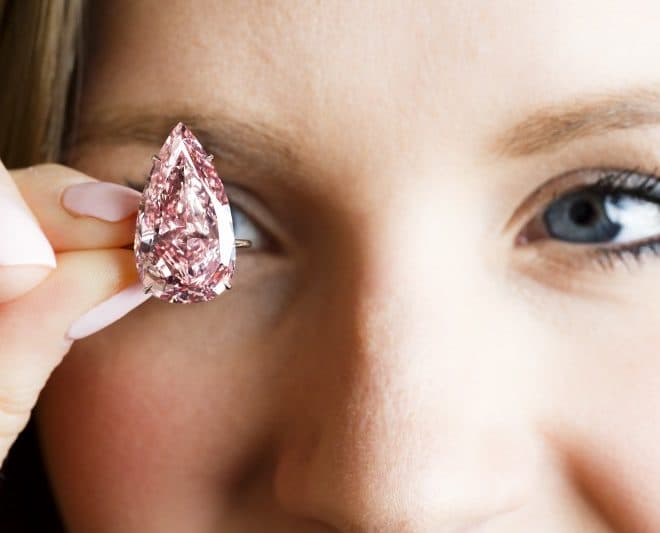 Another diamond has hit the auction block, with a great deal of fanfare, but this particular rock has delivered on those promises with its unusual size and exceptional quality. The result was a record-breaking sale and a happy moment for the Asian collector who walked away with it.
The 15.38-carat vivid pink diamond, affectionately dubbed "Unique Pink" is not only the biggest of its kind to go on auction, it also sold for an eye-watering total of $31.56 million, making it the most expensive fancy vivid pink diamond ever to sell at auction. For some context, just look at the picture above and realize that the stone is about the size of the human eye.
The prized jewel, set in a simple ring, was sold to an Asian private buyer who was bidding via phone. "Exactly one year after having set the world record for a jewelry sale, Sotheby's Geneva has raised the bar once again with a great sale and a great result for the Unique Pink," said David Bennett, Worldwide Chairman of Sotheby's International Jewellery Division.
Sotheby's, who valued the gem at $28 – $38 million, revealed that the Unique Pink was discovered less than five years ago in a South African mine. "It is difficult to imagine a diamond that better illustrates the term Vivid Pink than this outstanding stone. The color is simply astonishing and, for its size, it is in my experience truly unique," Bennett added.
Tuesday's auction also saw a 7.32-carat blue diamond being sold for $17.1 million. The magnificent spring jewel auctions continue in Geneva at Christie's, where the biggest ever vivid blue diamond – the 14.62-carat "Oppenheimer Blue" – will hit the auction block at an estimated $38 — $45 million. The massive gem belonged to Britain's Sir Philip Oppenheimer, a kingpin in the world diamond market for nearly 50 years at famed jeweller De Beers.
---