---
Culture / Auctions
Blue Diamond to Earn $35 million at Auction
The De Beers Millennium Jewel 4 makes its way to Hong Kong auction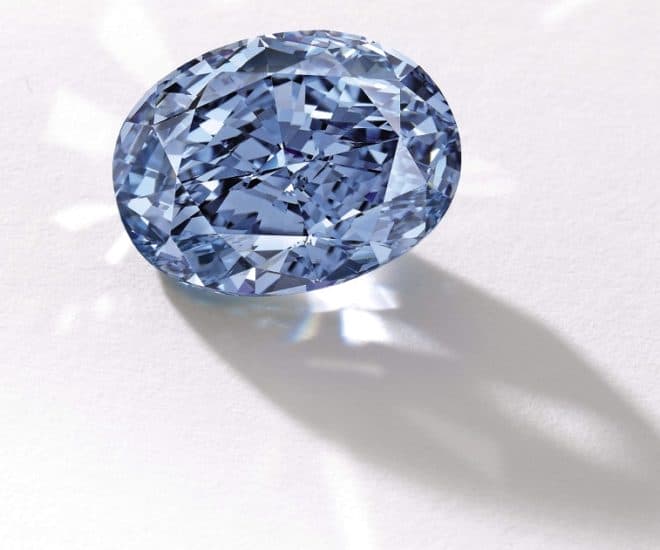 Coming five months after the sale of the 12.03 carat Blue Moon of Josephine (bought by businessman Joseph Lau for his daughter at a record $48 million), the 10.10 carat De Beers Millennium Jewel 4 is set to go on sale at Sotheby's in Hong Kong. This oval vivid blue diamond was rated with a clarity of "internally flawless" or IF as it is known in the trade and is expected to fetch between $30 million and $35 million.
"There are no more than a dozen or so blue diamonds of fancy vivid color and over 10 carats in the world, so they are very, very rare," Sotheby's Deputy Chairman for Asia Quek Chin Yeow told AFP.
The blue diamond was mined from the Cullinan Mine in South Africa – one that is famous for being a significant source of blue diamonds in the world. Blue diamonds are especially rare and have a high price due to a diminishing supply mixed with an increasing demand.
One of the most famous Blue Diamonds is the Hope Diamond, currently located in the Smithsonian Museum. The Hope Diamond was suspected of being cursed due to the deaths of many owners over the years.
Despite the slowdown of the Chinese economy (having a weak 6.9% expansion in 2015), the jewelry auction market remains strong. The previous record for a diamond sold in Hong Kong was set in 2013, with the sale of a 118-carat white diamond for $30.6 million.
"It's the rarity and collectability of these wonderful objects. When they come to the market, they will have strong interest from all over the world," Quek said as an explanation, adding that the location of the upcoming sale was a sign of confidence in the Asian market.
---