---
Culture / Auctions
Artcurial Auctions Jewelry, Retro Fashion Items
The Paris auction house announces two haute couture private collections for sale.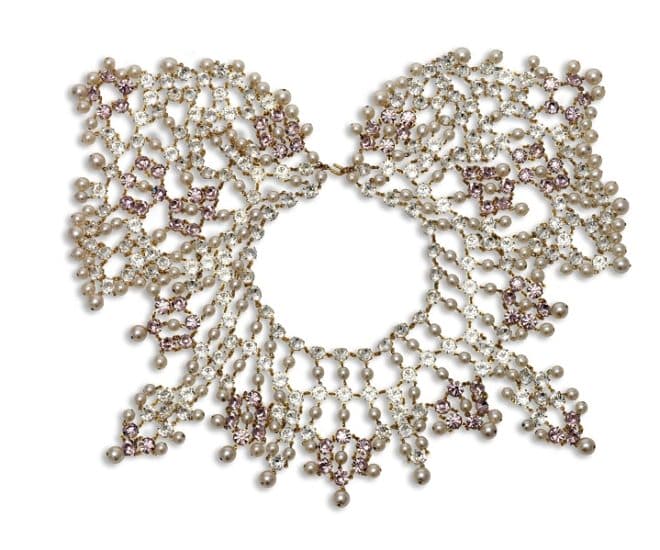 Two collections will go on sale at Paris auction house Artcurial (with its new Hermès Vintage & Fashion Arts department) as a part of its Haute Couture auction on July 4: a collection of haute couture jewelry created for the collections of fashion designers, and items from the catwalk collections of 1980s fashion designer Elisabeth de Senneville. Both collections together provide a good juxtaposition of high elegance and innovative retro fashion.
For those who aren't exactly sure what the term 'haute couture jewelry' means, these were specially crafted jewels made to embellish the collections of the biggest fashion names. The craftsmen worked in close collaboration with fashion houses including Christian Dior, Balenciaga, Chanel and Givenchy to provide small series of jewelry for a handful of wealthy clients. This art form originated in the mid- and late 1930s, before falling out of favor at the end of the 1970s. One hundred such pieces from names such as Roger Jean-Pierre, Maison Gripoix, Roger Scemama and Robert Goossens will appear in the sale.
On the other side, 130 pieces from Elisabeth de Senneville's archives are set to go under the hammer, with items such as flannelette or brushed cotton garments printed with her "furniture" or "photo story" motifs, as well as sweaters, coats and jackets made from technical fabrics. Her brilliant use of monographing in her pieces is especially notable and even ahead of its time when you consider the proliferation of images resulting from the digital age. The auction celebrates the designer's avant-garde, artistic and experimental spirit of absolute sincerity.
These two private collections will be accompanied at auction by a selection of Louis Vuitton trunks, Chanel leather goods and haute couture gowns from Christian Dior, Pierre Cardin, Nina Ricci, Yves Saint Laurent and Paul Poiret. Before the auction itself, the lots will be exhibited July 1-4, 2016, at Artcurial's Paris showroom, located at 7 rond-point des Champs-Elysées.
You can check out more information over at Artcurial's website here.
---