---
Culture / Art Republik
Taipei in Bloom: Formosa Art Fair 2016
Two art fairs in Taipei aims to provide the best of the contemporary Asian art scene to eager collectors.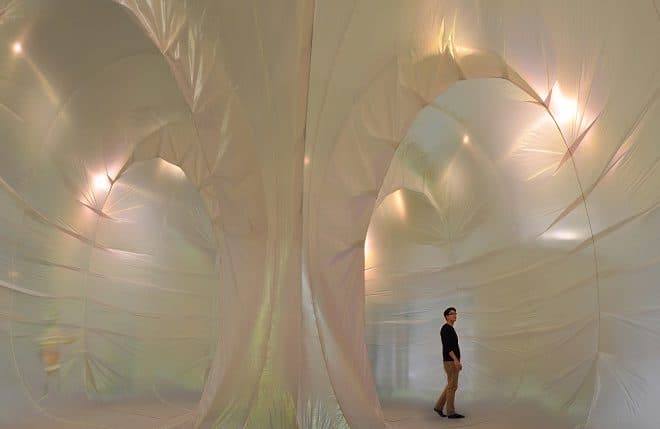 Are you a hungry art collector always searching for the next great art fair to add to your haul? Look no farther than Taipei. The Formosa Art Fair Company Co. Ltd. will be running two art fairs within the same week (May 13 – 15) in two different locations, capturing a nice slice of contemporary Asian Art by working in tandem with nearly 100 galleries all over Asia. These two fairs, the Formosa 101 Art Fair and the Formosa Art Show, will differ completely in their approach towards selection and exhibition.
Formosa 101 Art Fair
With so many galleries and so much work on show, sometimes things can get a little cluttered with works that may not be up to a collector's standard. The Formosa 101 Art Fair aims to be as finely curated as possible in its selection process to ensure that the cream of the crop gets to be put on display. How they do this is by choosing galleries through invitation only, and, furthermore, making sure each exhibitor can only present one artist's works at their booth. This makes the Formosa 101 the only 'solo show' art fair in Asia.
A total of around 30 galleries will be featured here, such as Shugo Arts Gallery, Gallery Nomart, Double Square Gallery, Nunu Fine Art etc… The fair will be split into five sectors – the Gallery sector, Curatorial sector, Video art sector, Public Art sector and a special exhibition entitled "MADE IN GERMANY". The primary aim of the fair is to facilitate greater inter-communication between the various spheres of the artistic community, such as museum directors, critics, and the artist.
Formosa Art Show
This is the second time that this art show will be running, with its debut being last year. With the 2015 show enjoying total sales numbers of around $1.5 million as well as having 6,800 visitors and over 300 important Taiwanese art collectors, this year aims to go for an even bigger scale. The entire show will take place at the 5-star 'art hotel' Humble House Taipei.
The 64 galleries participating will be split across four floors. The art show has its own special thematic sectors as well: "Classic and Focus" aims to showcase contemporary art that's also immersed in aspects of classical art. "Up and Coming" focuses on artists under 40 years old with potential. "Limited and Unlimited" will go through other art possibilities within mediums like photographs, prints, sculpture, and videos.
You can check out more information on the artists and galleries being exhibited over at each of the show's respective websites.
---