---
Culture / Art Republik
Reconnect With Nature At Fauna Allegoria Exhibition
From architect to art show curator, we talk to Marina Oechsner de Coninck on her journey in the world of art and her upcoming Fauna Allegoria show.
When did you first get interested in art and how did it lead you into the business of being an "art show curator"?
My passion for art started at an early age. After studying at Ecole Boulle, the college of fine arts in Paris, I begin my career as a scenographer in Paris working with architects on the renovation of the Egyptian Antiquities in Le Louvre. Most of my experience in Visual Arts, design and scenography have all come from collaborating with international beauty brands in Asia such as Giorgio Armani, Shu Uemura, Helena Rubinstein, Elizabeth Arden.
The world of beauty brought me to Asia 20 years ago as an international architect. Making a pause with the cosmetic industry in 2020, gave me the opportunity to develop the art consultant activity in Asia. I always wanted to propose cross-cultural experiences related to art and heritage in Asia.
My experience of artistic collaborations and creative platforms begins with Guerlain LVMH and the launch of historical pop-up stores in China. I have learned through these various experiences the importance to adapt the concept and palettes to the audience in Asia.
The exhibition Fauna Allegoria will be staged in Singapore from December 12, 2021 to January 3, 2022. Tell us more about the concept of the show and what visitors can expect to see?
Fauna Allegoria is an exhibition featuring 14 artists from Asia and Europe. The concept is about the reconnection to the fantasy of nature from within. Living a period of sudden immobility, with the universal desire to discover the world, the artists explore the genuine and free-spirited sense of nature in an enclosed environment.
Who are the participating artists and what is their respective background?
We are collaborating with Olal`Art Chinese Art club, two ladies from Hong Kong and Shanghai who arrived in Singapore during the lockdown. Together we have selected Chinese and Singaporean artists who represent a new generation of dream-like and pop art artists in Southeast Asia with their most iconic series.
Visitors will have the chance to discover the iconic series of Shi Lifeng, the Peach Blossom landscapes, new works from Singaporean artist Andy Yang, the textile artist Lilia Yip, the Greek artist Emi Avora, and ceramist sculptor Charlotte de Charentenay. Inessa K will be showing for the first time — she is a Russian artist based in Singapore, with a poetic approach to Peranakan collages. Hélène Le Chatelier will exhibit installation sculptures and her series, Natural Memories. Delphine Rama will be showing a new series of engraved leather artworks.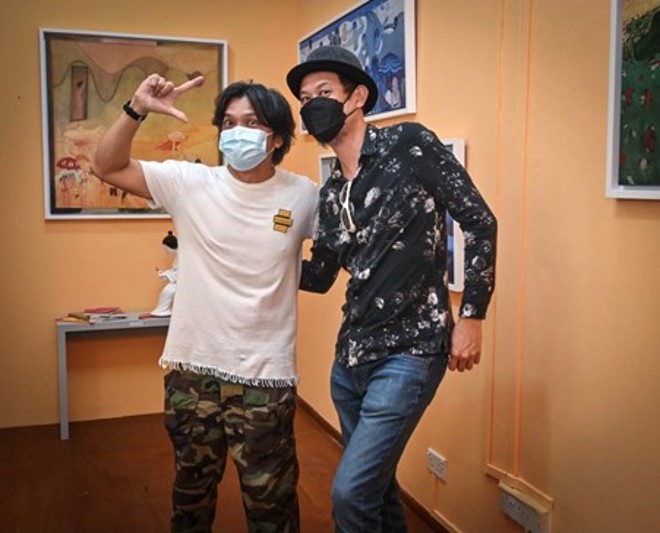 We are also proud to participate with two Chinese artists with pop art influences: Shen Jing Dong and Leo Liu Xuan Qi, a Chinese artist who won a UOB award in 2012. His abstract ink and clouds series is inspired by nostalgia of his country of origins and features the mountains and fields in China. The renowned Singaporean artist Justin lee will show his iconic pop art Happy Girls series with porcelain faces that will bring a touch of positive energy and humour.
Is the need for nature-related topics in art much stronger following the past lockdown periods?
Fortunately, yes! With the art world shifting to virtuality and the natural materials being rarer to source, there is a new desire for "Renaissance" and a demand to reconnect with nature. The "dream-like" trend is growing in Europe and is echoing in the Asia art market with contemporary artists re-exploring ancient techniques such as ink, ceramic art. The artists are also experimenting with upcycling and bringing holistic experiences into their artistic practices. This experience of rebirth is building the future for a new generation of art lovers and is engaging the audience in the artistic community about concerns regarding sustainability and the environment.
What are the top five reasons to visit Fauna Allegoria?
A moment to reconnect and to celebrate nature through the eye of dream-like artists from China, Southeast Asia and Europe.
Get to know multidisciplinary artists who playfully re-invent crafts in a contemporary way with different mediums such as ceramic art, abstract ink or collage art.
A moment to celebrate nature and heritage with bold colours and texture dialoguing and connecting artists from different cultural backgrounds in a lovely shop house apartment.
A unique opportunity to discover high-potential artists at your doorway and at affordable prices.
To engage with the art community in Singapore as well as supporting the art scene and artistic community in Southeast Asia.
What special emotions do you want the visitors and art collectors to experience when going through Fauna Allegoria?
At a moment where Singapore slowly re-opens its borders, visitors are brimming with energy to explore. We believe it will be an engaging exhibition where artists celebrate the gift of nature through their beautiful crafts.
Will all artworks exhibited at Fauna Allegoria be for sale?
Yes, all the artworks are for sale and at affordable prices. The art collectors are welcome to discover Fauna Allegoria art selection in the e-Catalog posted on our Instagram with the direct link provided on the page. All the benefits are re-invested to organise more exhibitions and to promote local and international artists.
Will this be an annual exhibition?
In collaboration with Olal`Arts, we wish to organise more curated pop-up exhibitions with Chinese and European artists. The next one will be in a cutting-edge gallery in the Tiong Bahru district. We will keep you posted in early 2022! 
Which are the supporting partners and participating galleries?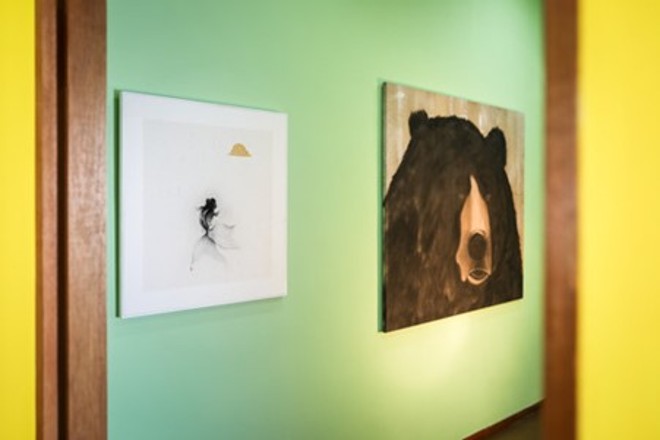 On the venue, we are collaborating with our neighboured galleries Art Porters and Art Agenda Sea located in the heritage shophouses of Spottiswoode Park District. Visitors will have the chance to see three exhibitions at one time at 63 Upper Gallery, Art Porters, and Art Agenda Sea Galleries. After the "Influencers" exhibition, it is a pleasure to renew the collaboration with Intersections, Clementine de Forton, and Cuturi Galleries who have contributed to launch the artists like Hélène Le Chatelier, Thierry Bisch, Delphine Rama, and Didier Jaba Mathieu.
What measures are you putting in place to ensure the exhibition complies with the strictest health rules?
Visitors are welcome up to groups of five persons. We are ensuring all the visitors are welcomed according to safety regulations and wearing of masks. The exhibition will be opened from Thursday to Sunday from 10:30 am to 7 pm until January 3, 2022.
Your favourite contemporary museum in Southeast Asia?
Without hesitation, my favourite museum in Southeast Asia is the National Gallery of Singapore. "Nam June Paik: The future is Now" is a must-see exhibition for art lovers. Thrilling to re-discover the story of the avant-garde Korean artist, Paik.
Get your tickets to the exhibition here. Follow Marina on her Instagram: @marinaoeschner, and get in touch with her at marina.calinaud@gmail.com.
---