---
Culture / Art Republik
Louis Vuitton Art of Travel with the Rijksmuseum
Emblematic of Louis Vuitton Art of Travel, the brand has partnered with The Rijksmuseum to create a customised monogrammed trunk for The Milkmaid
At the turn of the millennium, global luxury maisons have looked increasingly to the art world for inspiration. This trend is no better encapsulated in French fashion house Louis Vuitton. From regularly working with artist commissions to reinvent their iconic bags, to supporting art museums and art projects, Louis Vuitton has constantly pioneered and by itself, inspired the muse of art and its artists. Collaborations between artist and artisan from two distinct realms like crossover collections like Yayoi Kusama for Louis Vuitton and supported by centres for artistic endeavour like the more than 450m² devoted to the arts, the Espace Louis Vuitton Paris, on the top floor of the Maison Louis Vuitton on the Champs-Elysées leads one to believe that nurturing the arts and young talents is more than just lip service or good PR. It is representative of true passion for the arts, thus, there's no better emblem for Louis Vuitton when the Parisian maison partnered with The Rijksmuseum to create a customised signature trunk to transport the masterpiece – The Milkmaid by Johannes Vermeer.
Louis Vuitton Art of Travel with The Rijksmuseum
Largely regarded by The Rijksmuseum as one of its most important pieces, Johannes Vermeer's The Milkmaid will travel in its own bespoke Louis Vuitton trunk from Amsterdam to its new temporary home in Tokyo at the Ueno Royal Museum, Japan.
"Louis Vuitton has always supported the greatest pioneers and artists on their travels. A real passion for creation, Louis Vuitton has always supported the arts and cultural heritage. It is an honour for us to design the bespoke case that will transport and protect one of the most famous international masterpieces of all times," – Michael Burke, chairman and CEO of Louis Vuitton
Concepts like the Espace Louis Vuitton actively supports the  arts with the sharing and exchange of ideas beyond its exhibitions through scheduled encounters between artists and other art professionals: thus it seems apt and natural that Louis Vuitton Art of Travel is physically manifested in a customised art trunk. Louis Vuitton was recently commissioned to create a bespoke trunk which saw the World Cup return home with its victorious French team.
For The Milkmaid's voyage, Louis Vuitton lives up to its literal "Art of Travel" reputation with a special-order trunk, handcrafted in the maison's heritage workshops and dressed in the brand's signature "LV" monogram canvas, complete with iconic brass corners and key lock. The bespoke Louis Vuitton art trunk will deliver Johannes Vermeer's masterpiece in secure safety, lying on a bed of yellow cushion hand-painted with stripes.
The Louis Vuitton art trunk for The Milkmaid is not the first but it is its most recent. Since 1924, Louis Vuitton has made trunks for some of the world's most prominent artists and gallerists including René Gimpel, a French gallery owner who used bespoke "Art of Travel" Louis Vuitton trunks to move and showcase his artworks to clients around the world.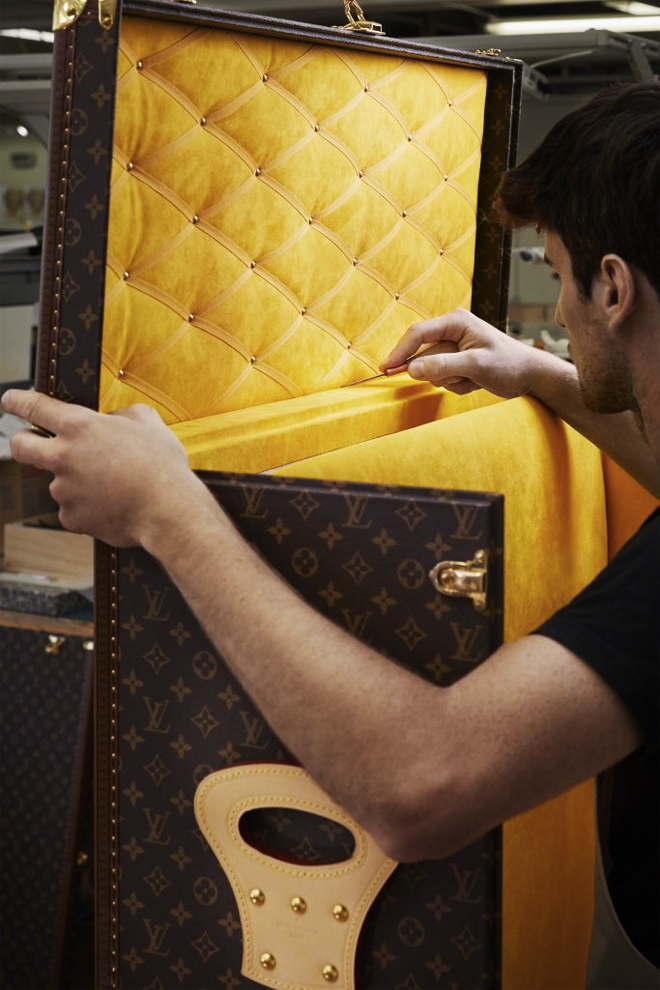 ---