---
Culture / Art Republik
Focus: Art Collective TeamLab
Art Republik star TeamLab is an artist collaborative that epitomizes the phrase "imagination knows no bounds".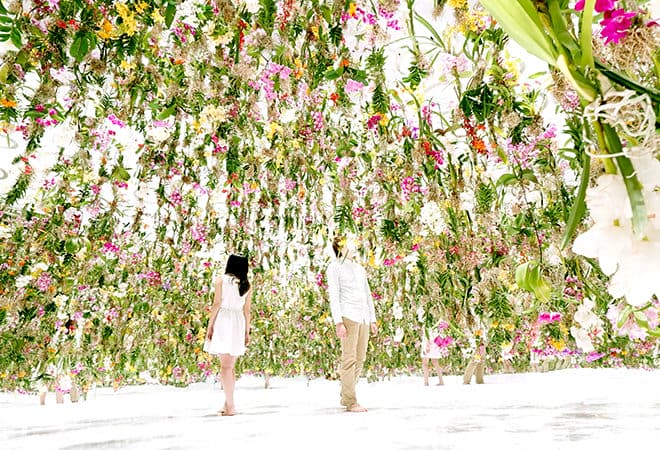 TeamLab is an artist collaborative that brings together creative professionals from disparate disciplines to realise visionary art projects. Founded in 2001 by Toshiyuki Inoko, the team has grown to more than 400 people, including architects, artists, composers, computer graphics animators, editors, engineers, graphic designers, mathematicians and programers.
A multi-tasking outfit, TeamLab operates out of its Tokyo-based office. It offers creative solutions and innovative ideas through products such as interactive software and mobile applications, and of course, its artworks. Calling themselves ultra-technologists, the members contribute their unique expertise to create signature cross-disciplinary artworks that blur and push the boundaries between art and technology.
TeamLab had its first exhibition in 2011 at Japanese contemporary artist Takashi Murakami's Kaikai Kiki Gallery in Taipei. Since then, interest in its artworks has grown steadily. TeamLab has exhibited in other parts of the world, such as at the Singapore Biennale 2013, at Pace Gallery in New York in 2014, and in Europe at events such as Expo Milan 2015 and Art Paris Art Fair 2015. Earlier his year, TeamLab was also shortlisted for the 'Best Emerging Artist Using Digital and Video' award at the Prudential Eye Awards, and exhibited new works at START Art Fair 2015, presented by Prudential and held at Saatchi Gallery in London.
Interactive Digital Art
TeamLab creates digital art. This is different from video art, which runs from beginning to end in a finite pre-choreographed sequence, and when exhibited, is played in loop that remains the same each time it is presented. Video art is also independent of the audience's actions. In contrast, the digital art that TeamLab creates is neither pre-taped nor replayed. Rather, it is a computer program that is able to run endlessly, and what is seen is dependent on the audience's interactions with the artwork.
In making its digital artworks, TeamLab is deeply influenced by what has come before in Japanese art. It has coined a special term, "ultrasubjective space", which refers to "the logical structure of the spatial awareness of ancient Japanese". Although Japanese paintings are often considered flat in contrast to Western paintings, TeamLab sees it as an equally logical perspective to view the world. This is an underlying principle in the making of its digital artworks.
Japanese Culture and Way of Life
In August 2014, Pace Gallery New York presented TeamLab's first exhibition in America, aptly named 'Ultra Subjective Space'. On display were six artworks including five large-scale digital monitor pieces, as well as the immersive digital installation 'Crows are Chased and the Chasing crows are Destined to be Chased as Well, Division in Perspective – Light in Dark'. This was spread out across seven staggered screens, showing Yatagarasu, a three-legged crow in Japanese mythology, flying through the screens, leaving in its wake what TeamLab called "spatial calligraphy", a digital trail of the crow's movements.
Another work in the exhibition, 'Cold Life', was equally inspired by Japanese culture. Based on the Japanese and Chinese character 生, pronounced sheng, meaning life, the strokes that made up the character morphed into a tree – a fitting commentary on the magical power of nature. It was also a technological marvel in its Ultra High Definition (Ultra HD) display – four times the resolution of Full High Definition (FHD) – to show off the technical intricacies that made the work possible.
There is inherent pride in Japanese culture that comes through in all of TeamLab's works. For the Singapore Biennale in 2013, the work 'Peace can be Realized Even without Order', drew from the traditional Awa Dance Festival. The artwork, exhibited at the Singapore Art Museum, featured a group of male dancers in holograms wearing printed kimonos playing instruments. When a visitor came into proximity with a dancer, he would stop moving and making music, which in turn made his neighbouring dancers do the same. Soon however, the dancing and music resumed. Peace, represented by the convivial atmosphere of merry-making, would be restored.
It is not only from cultural forms that TeamLab takes inspiration for its works, but also the Japanese way of life. For the Japan Pavilion at Expo Milano 2015, which opened in May this year and will close at the end of October, two works are shown: 'Harmony' and 'Diversity'. In 'Harmony', screens are placed horizontally at knee and waist levels for visitors to walk past, transporting them to the rice fields of Japan. This simulation allows the visitor to experience the change of seasons throughout the year. The artwork effectively communicates the delicate and harmonious relationship shared between people and nature.
Complementing the focus on Japanese food, in 'Diversity', images of food items from Japan are placed against a computer-generated waterfall. Visitors are able to transfer these enticing pictures, together with details about the delicacies onto their smartphones, taking away the experience of the artwork with them. It is an innovative way to share information about a distinctive part of the Japanese way of life.
Nature in Japanese Art
The imageries that TeamLab uses are for the most part derived from nature, including water, birds, flowers, insects and trees. TeamLab is particularly taken by the depiction of water in traditional Japanese paintings, which it remains faithful to in their digital artworks. Speaking to Art Republik, Takashi Kudo from TeamLab noted that the way water is traditionally depicted in Western art and Japanese art are vastly different. For example, while the former may hint at rain through the subjects' use of umbrellas or the glistening of a wet rock, the latter uses curvilinear lines to represent rain itself.
In an exploration of the Japanese way of portraying water, TeamLab created 'Universe of Water Particles', a waterfall made of digitally created water particles and lines. It has been exhibited at different locations, including the Dojima River Biennale 2013 and Art Stage Singapore 2014. In March this year, the work was projected on the façade of the Grand Palais by invitation from Bogéna Galerie, as part of Art Paris Art Fair 2015 in March.
Flowers often take centre stage in TeamLab's artworks. 'Floating Flower Garden – Flowers and I are of the Same Root, the Garden and I are One' is a work by TeamLab that is made up of an explosion of flowers. The colourful work features over 2300 flowers, each with an accompanying insect. As each visitor enters the space, flowers that are "disturbed" by the intrusion float up and hover in a dream-like flower halo. As the visitor moves away, the flowers float back down to occupy the space that he or she has left. If there are many visitors in the interactive kinetic installation at a time, then the flowers move to form one big dome that surrounds all of them. This will be shown at the 20th anniversary instalment of the Maison&Objet Paris fair in September.
TeamLab often makes variations of a work. For instance, there is 'Flowers and People – Dark' and 'Flowers and People – Gold', which show shifting fields of flowers in two colour schemes. As one walks through each installation, the flowers goes through their life cycles, budding, blooming and finally withering away. Similarly, the works 'Ever Blossoming Life II – Dark' and 'Ever Blossoming Life II – Gold' present the predictable life cycle of flowers, one with a dark background and the other with a gold background. Surrounded by responsive screens of animation, the viewer experiences a simulated Zen garden that responds to his or her movements.
Besides recreating nature in controlled environments, TeamLab has worked directly in the great outdoors where the digital worlds it creates co-exist with the natural world. In an upcoming project for 2016, 'Resonating Trees – Forest of Tadasu at Shimogamo Shrine', a light show will be installed among the trees that line the way to the World Heritage site of Shimogamo Shrine. With the approach of people or animals, the light that each tree is bathed in will change its colour, bringing attention to the presence of other living beings in a serene and poetic commentary on the ecosystem we all live in.
Sights and Sounds
To facilitate its immersive environment, TeamLab adds sounds to its visually captivating artworks, giving the audience a multi-sensory experience. In 'Resonating Spheres and Night Fish', currently on show until December at the Enoshima Aquarium in Kanagawa, Japan, spheres of light on the walls and ceilings change their colours upon touch, accompanied by a change in sound, which is unique to each colour. As this happens, the other spheres also react to the shifts, and momentarily emit the same colours and sounds as part of a chain reaction.
TeamLab has a long-time music collaborator, Hideaki Takahashi, who has produced soundtracks for many of its works, including 'Resonating Spheres and Night Fish', as well as 'Floating Instrument' back in 2010, 'Flowers and People – Gold and Dark' in 2014, and most recently 'Flowers and People, Cannot be Controlled but Live Together – Dark', 'Floating Flower Garden – Flowers and I are of the same root, the Garden and I are one' in 2015, among others. The music serves to envelop the visitors and helps them to transition from real world to the alternate realities that TeamLab creates.
Inspiring the Next Generation
As innovators, TeamLab is far seeing not only in the works it realises, but also in the potential for their works to connect and inspire people. In particular, the artist collaborative has its sights set on grooming the younger generation through introducing them to new ways of learning, playing and eventually, in the future, working. A key idea is the importance of working in collaboration with others rather than in isolation.
Back in Japan, TeamLab's first major solo exhibition at home opened at Tokyo's National Museum of Emerging Science and Innovation, also known as Miraikan, in November 2014. The exhibition had two sections that displayed 18 artworks from the artist collective's oeuvre: 'Dance! Art Exhibition' and 'Learn and Play! TeamLab Future Park'. The latter featured children-friendly artworks. The exhibition was a huge success, with nearly half a million visitors coming through the museum's doors. 'Learn and Play! TeamLab Future Park' was a first step in the artist collaborative's forward efforts to provide a platform for children to see the fun in being creative, an indispensable quality that TeamLab believes is not encouraged, let alone groomed in an education system they believe places emphasis on rote learning.
One artwork, 'Sketch Town', was a three-dimensional town built on the two-dimensional drawings of cars, buildings and the like from children, allowing them to see "in reality" the fruits of their imagination. Furthermore, the children's drawings were also made into paper-craft patterns that they could then take home to turn into three-dimensional models. Another interactive installation, 'Sketch Aquarium', worked on the same idea, and to make it more interactive, the children could touch the sea creatures they drew to feed them or make them swim away.
Coming Up
The momentum that TeamLab has gained over the past few years shows no signs of slowing down. At START art fair from 10 to 13 September, TeamLab showcased as part of START Projects. This marked the first time the artist collaborative exhibited in London, and a book documenting its oeuvre launched at the same time.
Altogether, TeamLab showcased three works: 'Flowers and People, Cannot be Controlled but Live Together – A Whole Year', 'Dark, Ever Blossoming Life II – Dark' and 'Flutter of Butterflies beyond Borders'. As with other TeamLab works, the visitors' movements have an impact on what happens on screen.
In addition, the artworks will interact with each other as well. The butterflies are free to flit through the other two works that are on display, creating a single immersive experience. The butterflies' flight paths are altered by the visitor's direct interaction with it. Kudo explains that if one touches a butterfly, for examples, it dies, as it might in real life, where human interaction with nature has the potential to nurture and equally to harm. The butterflies' movements are also influenced by what happens with the other movement-sensitive artworks in the same space.
TeamLab is daring and ahead of its time in the execution of their artworks through ground-breaking vision and advanced methods. While TeamLab's artworks seem avant-garde, they are also accessible. Combining the traditional with the contemporary – and at times the futuristic – TeamLab has pioneered a new model of art-making that pays homage to and preserves its country's artistic heritage by presenting it in a way that is entertaining and exciting. More importantly, it is encouraging a new way of thinking and working for the next generation – a legacy that any artist can be proud of.
Story Credits
Text by Nadya Wang
This story first appeared in Art Republik.
---