---
Cars / Yachts
The New Nimbus T11: Cruises into Asia
The new powerful two-cabin Nimbus yacht from Sweden is notable for its flexible sunbathing and seating areas.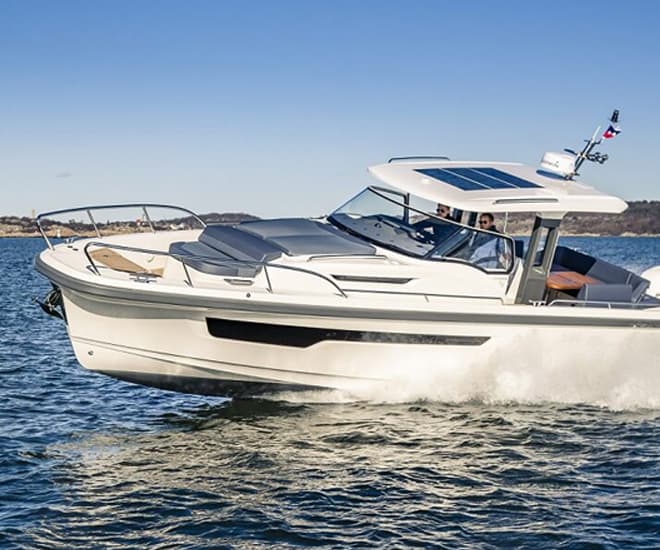 'T', they say, stands for Tender, which would be something of an understatement. What they really mean is that the Nimbus T11 is a high-speed, supremely stable, brilliantly designed, ingeniously practical, perfectly constructed, fabulously versatile go-anywhere boat. But that would probably have involved too many initials.
Until recently, I hadn't heard of an 'adventure boat'. Ok, so I've been living in a cave (actually, Hong Kong, but there's a similarity) and I'm a dyed-in-the-wool sailor, so clearly I've not been taking a lot of notice beyond the guardrail. However, I was recently introduced to Nimbus and its T11, and the effect is remarkable: all of a sudden, I want a motor boat.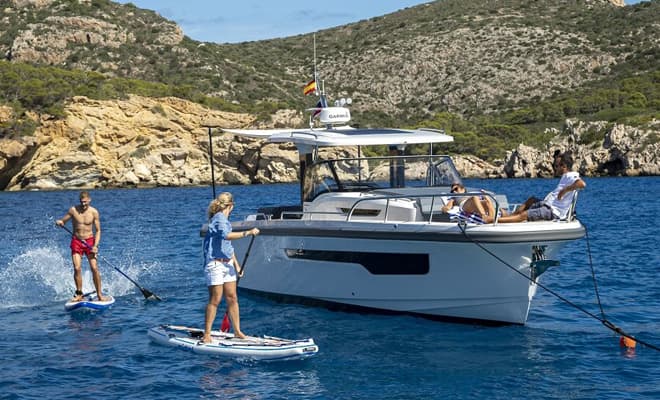 Yacht Style was invited for a sea trial of the T11 by dealer Asiamarine, which has represented Nimbus in Hong Kong, Singapore, Thailand and Vietnam since last year.
In Hong Kong, a sea trial usually means a slow speed cruise from Aberdeen to Deep Water Bay in the company of a few young ladies from the society magazines who have been reminded to leave their high heels on the dock and who don't want to spill the prosecco.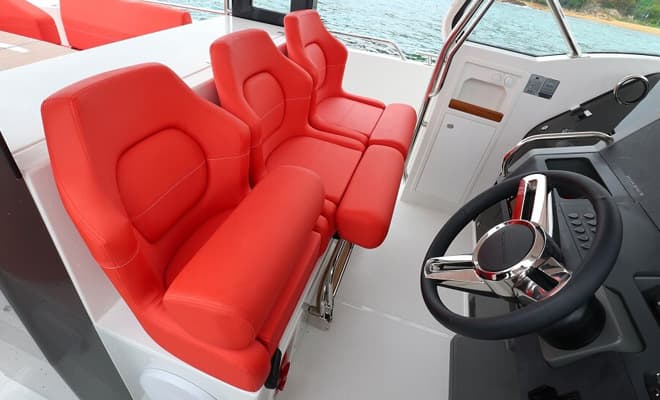 In Europe, an invitation to a sea trial means "here's the wheel, give it the beans". Happily, Asiamarine adheres to the European model, so this was an opportunity to properly put the T11 through its paces – and my oh my, it didn't disappoint.
Here's the short review: if you're looking for a boat around 40ft that will move 12 people pretty much anywhere, fast and in comfort, then please don't sign anything until you've checked out a Nimbus T11.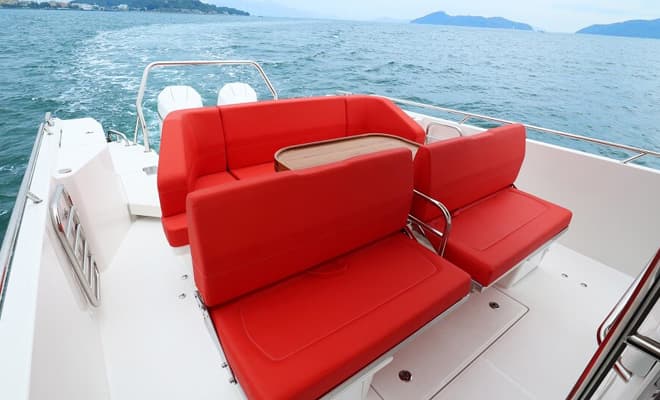 You'll be excused for thinking that the T11 is lacking in curvy curves. Instead, it comes across with a more purposeful look. It's a big boat, more Amazon than ballet dancer. It has a super-sharp bow profile, high freeboard and accommodation for four.
And this is a walkaround day boat? That high freeboard means correspondingly high bulwarks on the inside which makes the T11 feel like the safest walkaround ever. Hmm … it's going to need a new label.
Power & Performance
Let's start at the stern. Two 300hp Mercury outboards come as standard, but you can upgrade to 350hp or 400hp versions, or even have a pair of Volvo Penta D4 DPI inboards.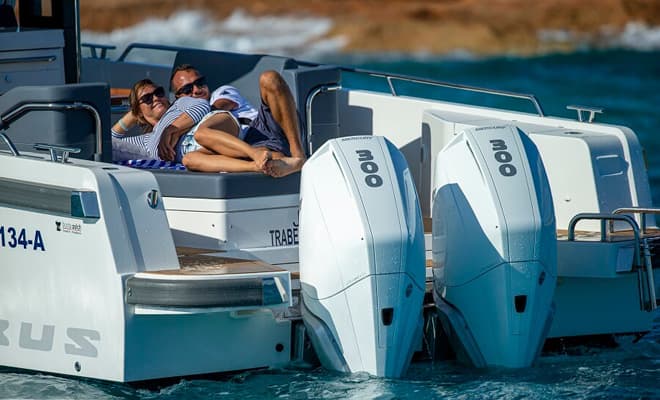 There's never going to be lack of power, but — and it's not a secret — in standard configuration, this boat gets up on the plane in a heartbeat and cruises effortlessly at 40 knots. That's Sai Kung to Tai Long Wan in 19 minutes, or Central to Cheung Sha Wan on Lantau in just 25. Do you need more?
Get behind the helm of the T11 and it proves to be an exceptionally well-mannered boat. The T11's hull has a properly sharp entry for low drag at low speeds, which allows the boat to accelerate fast and break out onto the plane very quickly indeed.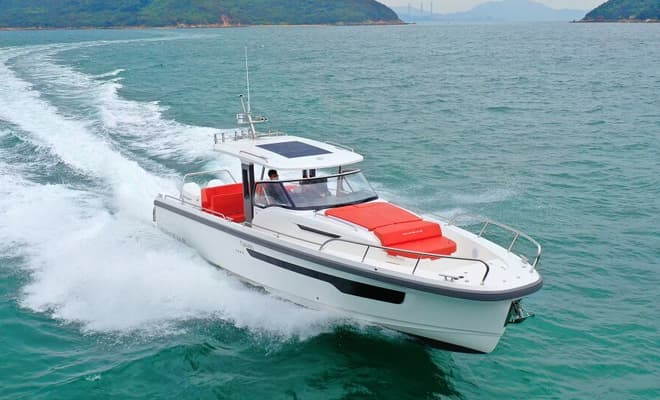 Two spray rails slide away aft to a 20.6˚ deadrise that gives the boat immense stability, while the two race-derived hull steps reduce wetted surface area and therefore speed-killing drag. With the throttles wide open and the helm fully down, the roll angle of the boat was only 22˚ (we measured it). The boat showed no inclination to bite in the turn. It's a beautiful ride, no doubt about it.
Flexible & Functional
Go forward past the engines and you're in the social part of the boat. Honestly, I've never seen a dayboat of any size that offers so many seating, lounging and dining configurations in one unit.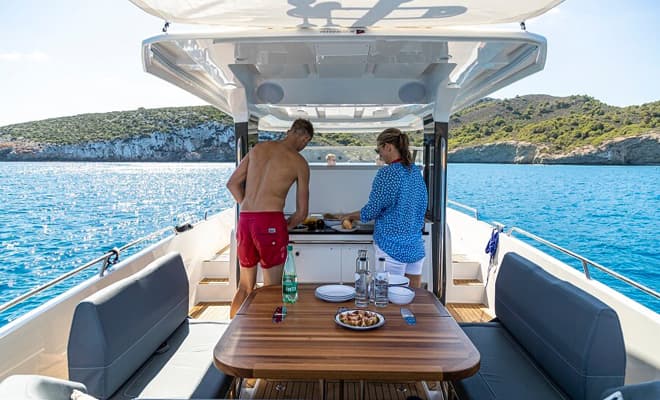 The designers at Nimbus must have sat down one day with the intention to create a Transformer, this time not based on a car, but a boat.
The aft sunpad connects to a trio of — sometimes — adjoining bench seats with movable backrests. The side bench seats can face the full-scale dining table that can fold open to full size and seat nine.
Alternatively, for when you want to get to the beach as fast as possible, the table can be folded in half and the side bench seats can be rotated 90 degrees to sit side by side and provide a row of forward-facing seats, complementing the long aft sofa behind.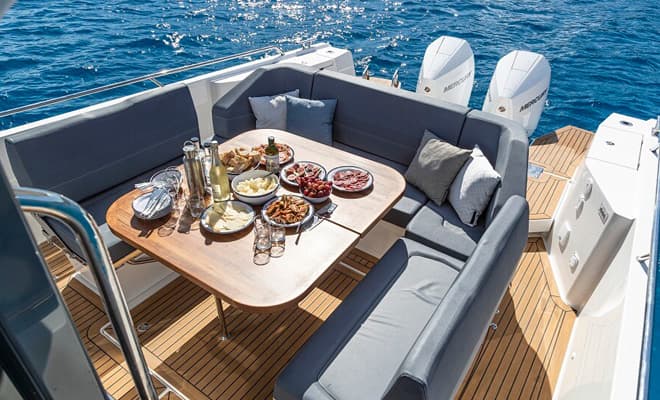 In front of the main social zone are two seats alongside the helm to keep the pilot company, giving you forward-facing seating for 11-12 people when required. And that doesn't include the foredeck
seats.
The helm position has got all the toys to hand — two screens displaying all the relevant running and navigation instrumentation, as well as the bow thruster, joystick and Skyhook.
The latter is a real gem. Arrive in the marina short-handed, engage the Skyhook to keep the boat stationary while you prep the lines and fenders, and then use the joystick to get into the berth. Step ashore and tie up. The system is so good and easy to use that it's laughable.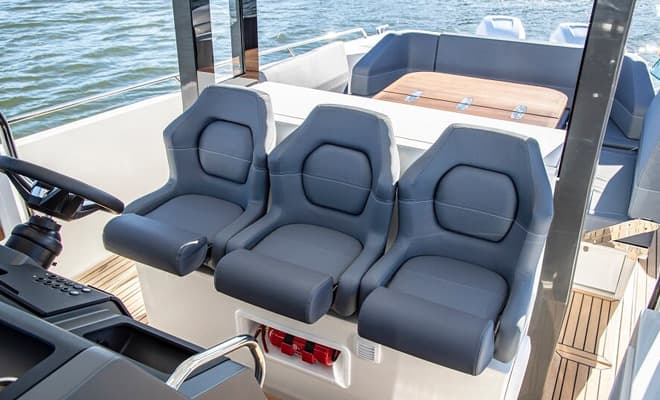 Fridges, drawers, lockers, a sink and a grill inhabit the unit between seating area and the helm, and there isn't a cubic inch anywhere that isn't dedicated to storage space — under the floors, under the lifting bench seat, and under the aft sunpad.
Remarkably, the whole aft bench seat opens upwards on an electric or hydraulic ram to reveal a huge amount of storage space below. Inboard engines are going to take up some of that space if you have them fitted, which may be a good reason to stay with the outboards.
Forward & Below
Forward a little more, on the port side, and down three craftily designed offset steps, and you are in the main cabin. This boasts a full-size double berth, almost 2m of headroom, and a fully-fitted bathroom with head, basin and separate shower.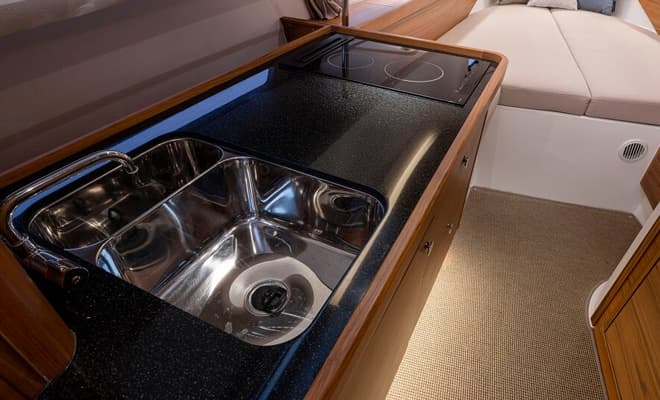 Hull windows let in the light, and so does a deck hatch, so this is no dark cave. Turn hard right and down another step, and you'll find another double cabin. This one fits into the void under the cockpit floor, so it's a thoroughly practical feet-first-and-slide-in arrangement.
Forward of the helm position is the front deck sun pad arrangement, with storage underneath, naturally. There's a windlass and anchor locker, of course.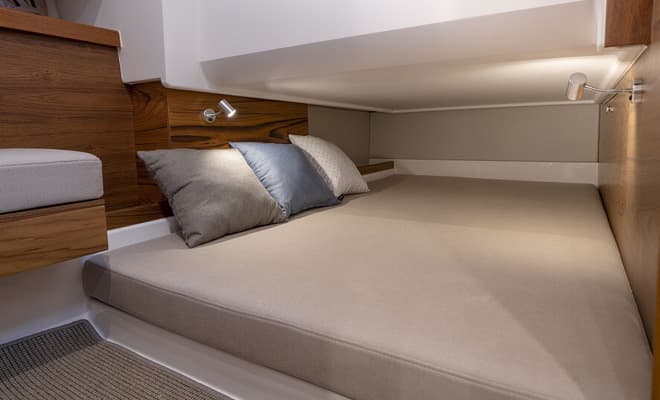 The build quality of the Nimbus T11 is better than first class. There are no rattles and no wobbles. This is the first time I've seen a T-top arrangement that has absolutely no movement in it — solid as a rock.
The finish throughout the boat is impeccable, from the hull construction to the stainless steel, and from the teak deck to the thoughtful provision of appropriate handholds, rails and grab points. Even the upholstery is top quality and fun. Nimbus call it 'Tomato', but it looks like a happy fire-engine red to me.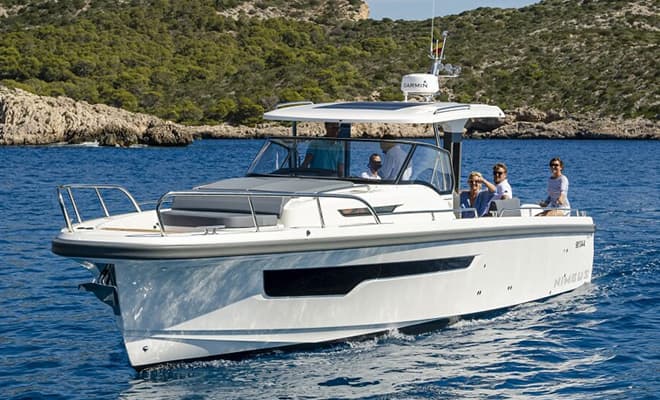 Here's the real skinny: if you can produce a powerboat that impresses a sailor, you're doing something quite extraordinary. I'll never give up sailing, but now I want a powerboat, too: a Nimbus T11.
This article first appeared on Yacht Style.
For more yacht reads, click here.
---