---
Cars / Yachts
Inside a luxury yacht: A tour of superyacht Titania by its billionaire owner John Caudwell
Yacht Style explores the superyacht Titania and finds out the allure it had that drew John Cauldwell to purchase the yacht.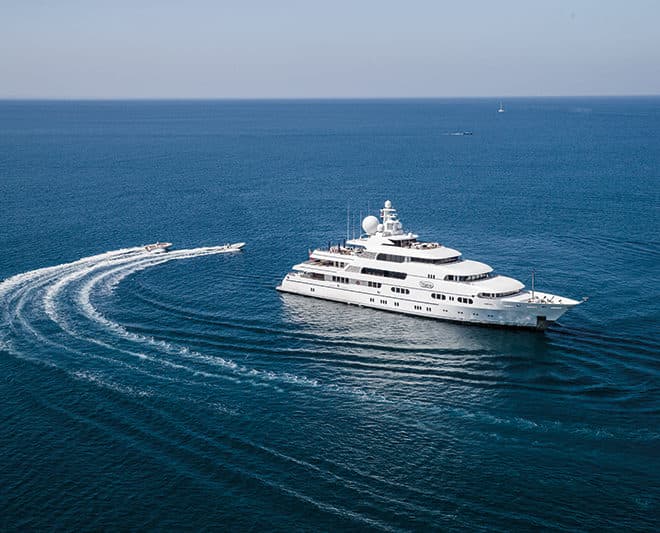 Who knew the Phones 4U founder had a love for the seas? As an owner of several yachts, John Caudwell enjoys spending several weeks per year on the open water. His largest yacht is the Titania by Lurssen. At 73 meters in length and a 2000 gross tonnage, she is one of the largest and most luxurious yachts currently available for charter in Asia. Previously named Apoise, the yacht was originally built in 2006 and was 67m in length. When Caudwell acquired her through an auction, he revamped the entire ship, which included extending the length.
Founded in 1875 by Fredrich Lurssen, the German shipyard is known for crafting beautiful luxury yachts. In fact, Caudwell owns two from the specialists. When asked how his experience as a customer has been with Lurssen, he responds "they're an exceptional superyacht builder. The quality and workmanship achieved on the conversion significantly exceeded my expectations. It was perfection. These were very significant changes and I have to say that Lurssen did an amazing job since it is completely impossible to see that the work has been done, even if you search for it."
When asking Caudwell what he likes most about owning a superyacht, he says he always fills the yacht up to capacity with his friends and family. He loves being able to indulge them in all the luxuries and glamour that goes along with a fabulous boat like Titania. It is the social aspect of getting people together in an opulent environment and having a lovely time with great friends that floats his boat. I really can't argue with him there. Luxury is what the Titania is all about. The yacht has five dining locations, a beach club, sauna, gymnasium, and soon to be completed waterslide.
He states that he wanted the yacht to be very appealing to families of all ages and that the final ingredient is to have a passionate and wonderful crew. Where does the name come from, I ask? Titania is pretty unique. "I wanted a name that conjured up romanticism, mystery and excitement. I also wanted to install a bow sprit to make the boat even more distinctive. There are only a couple of boats out there that do this, one being Phoenix. I wanted a figure that was very feminine and attractive," he says. Well Titania certainly does this and after further discussion, I learn that Titania is actually the name of the Queen of the Fairies from A Midsummer Night's Dream. Caudwell has created a beautiful sculpture of her in which he describes as "a scantily clad gorgeous lady with a little bit of romance and mystery."
Caudwell's passion for yachting goes back to his childhood when he used to sail lollipop sticks on the Trent and Mersey Canal. This eventually led to building rafts, which he ensures me, always sank. Building rafts has now led to purchasing yachts, but the passion for having fun on the water is still there. I ask about his most memorable moments on board, he says "we've had sports competitions, unicycle riding, gala dinners, themed evenings, karaoke, water sport days and so many other memorable occasions. The most memorable was when Robbie Williams was my guest and sang 'Candy' about a year or more before its release."
Purchasing a yacht this size is a big investment and a unique opportunity. Caudwell tells me that he found out the yacht was going for auction through some friends and he couldn't believe it. "I did not believe that it was genuine, since it would be a very difficult sale to achieve by this methodology. I suspected that the sale would not be bona fide, but I was fascinated by the possibility. As I investigated the situation and its owner, Dave Ritchie, of Ritchie Bros Auctioneers, the more I realised this was a genuine sale." He then flew to the Cayman Islands to spend the night on board the yacht and speak with the owner. "I fell in love with it and bought it, albeit after a few minutes of extreme tension as I was the only buyer in the room bidding against others on the telephone."
As the yacht is available for charter, Caudwell only uses it around four weeks per year. He says if you're looking to charter a yacht, make sure you know what the crew will be like and follow recommendations. "The yacht accommodation and interior design vary enormously, but the crew can make or break your holiday." Caudwell is off to Thailand next, where he says "as a winter destination it is much more fascinating and magical than the Caribbean."
This article was first published in Yacht Style Magazine.
---