---
Cars / Cars and Bikes
Is There Room for Self-driving Cars in Luxury Motoring? 
Fully autonomous cars are on their way to becoming a reality in our world, but does being self-driving qualify as being luxury?
The word "automobile" entered the English lexicon from French in the late 18th century, a compound of the Ancient Greek autós (αὐτός) which means "self" and the Latin mobilis which means "movable". Originally referencing how manmade vehicles transitioned from relying on external sources of power, such as horses, to being powered by their own engines, it seems ironic now that the word foreshadowed in itself the advent of truly "self-driving" vehicles.
Self-driving vehicles are becoming more and more of a reality in the automobile industry today. To qualify as fully autonomous, a self-driving vehicle must be able to both chart a path from point A to B and navigate the route by itself safely, free from human intervention. Currently, these works-in-progress rely on a combination of sensors which read the external environment (i.e. cameras, radar, lidar etc.) and artificial intelligence (AI) to make sense of the feedback to do so.
Companies developing self-driving cars range from Audi to Google, though Google's Waymo in partnership with Lyft has already launched their own fully autonomous commercial ride-sharing service, Waymo One. The service is ongoing testing but is currently available in the US cities of Phoenix, San Francisco and soon, Los Angeles.
The tech race to make cars self-driving is very much in line with the rise of Web3 and Big Data, where data is not only decentralised but also harnessed to power machine learning and AI – the digitisation of manual processes into automatic ones and the further obscuring of layers and layers of hardware into smooth, clean surfaces which operate multitudes of softwares seamlessly through a touch of a finger.
Self-driving cars are nothing short of a technological wonder, but at the same time, they problematise the definition of what makes a good car. Sustainability, road safety, and comfort are aspects of car-making all car makers aim to excel in. Yet, the removal of the driver themselves seems to transform the car into a whole other beast. Perhaps then, the question we should be asking in the world of luxury motoring is not what makes a good car, but what makes a beloved car.
The Driver Makes the Car
Call it what you will: an effective marketing model or consumer-centric branding; cars are defined by the people who drive them. It may be a bit of a chicken-and-egg conundrum figuring out which came first, the discursive image of the ideal car owner or the loyal car lovers themselves. Regardless, the relationship between cars and the people who love, own or hope to own them is an intimate one – a relationship built around the sheer euphoric act of driving.
One need look no further for proof than history's most famous car – James Bond's Aston Martin DB5. The DB5 has captured the hearts of many a car lover since its debut in 1963, not least because its Agent 007 who's behind the wheel, but also because of what it means to drive it. Between chasing down villains along winding cobbled streets and silently speeding off from one city to the next in the dead of night as international spies do – the movies only show off what the car was built to do: work like a beast.
One of the fastest cars in the world at the time, the DB5 featured a 4.0 litre naturally-aspirated straight-six producing 282bhp and 380Nm, all that power sent through a five-speed manual gearbox to the rear wheels. Cornering in the DB5 lies just a step shy of being hardcore, though the heavier the steering is on such cars, the less input is needed mid-turn. The engine however more than makes up for it with its smooth, graceful ride at enormous velocities, living up to the DB5's status as a grand tourer. Even modern GTs with their sophisticated suspension geometry and adaptive damping would struggle to match this senior in ride softness.
At the car's helm is a more than well-tuned cushy leather seat which sets the driver up for extra visibility, along with a generously-sized tactile wooden steering wheel paired with a comfortingly delicate gear knob, fitted for your driving pleasure. The pedals have also been known to be so skinny that the driver would feel clumsy in everyday sneakers, almost as if demanding you to suit up in a pair of well-shined oxfords. The wind noise over the front wings due to the lack of soundproofing is almost welcome, a reminder to the driver that they are already shifting into serious speed.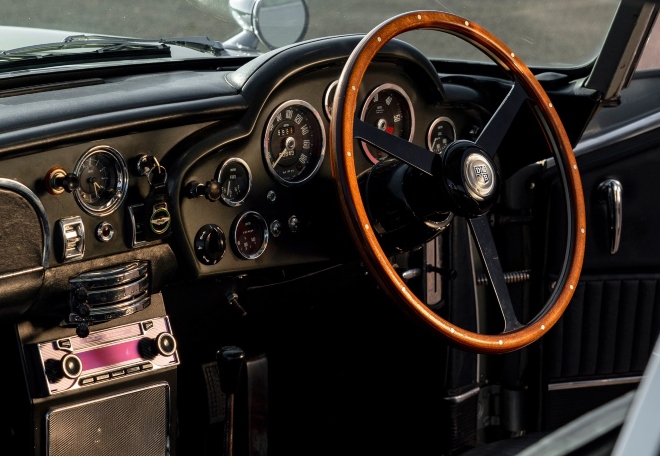 The DB5 was discontinued in 1965 but received a special limited re-production of 25 units in 2020 to match the release of the last Daniel Craig Bond film, No Time to Die – a testament not just to its enshrined place in motoring history as the Agent 007 car, but also to the love of cars that were meant to be learnt, almost struggled with and finally, masterfully driven. The 2020 DB5 goes for a hefty price of 3.6 million USD. With such an iconic name as the DB5 at the centre of luxury motoring, could one bear a switch to self-driving cars? Without James Bond skilfully in the driver's seat, the iconic DB5 seems to lose a huge chunk of what makes it so beloved.
Disrupting the Automobile Industry
It is perhaps this lack of identity that defines the self-driving car. Autonomous vehicles, after all, are not made for driving – they were made to fulfil social purpose. In the US, the National Highway Traffic Safety Administration estimates that 94% of serious crashes are due to human error, including drunk or negligent driving. Self-driving cars seek to be answer to the inherent problem in human effort – risk of failure from exhaustion. Besides aiming to increase road safety, the autonomous vehicle industry also promises to help lower carbon footprint through increasing fuel efficiency and self-driving car-sharing.
In the US and Europe, autonomous trucks are undergoing testing in hopes of improving the safety and work quality of truck drivers over long distances, while Beijing, China is in the midst of deploying autonomous street-sweeping vehicles in the city. These projects are disrupting the automobile industry by fundamentally changing the way cars are designed. In this vein, cars are not made for the driver but instead, made to make up for a driver's inherent limitations.
Still, fully autonomous self-driving cars are far from complete with countless reports of errors and accidents. The technology is growing, but very much slowly. The problem of growth and scaling in the industry is perhaps most obviously evinced by the lost of the allure the world had for Elon Musk's Tesla back in 2021 when he first announced that he would have "over a million Tesla cars on the road with full self-driving hardware". Tesla's stock might be enjoying a resurgence this summer, but it can only be described as "volatile" and "risky". It hit a 52-week low of just over a 100USD a share back in January, having to climb up by more than 130% in June. Musk has been struggling with supply chain disruptions since 2021, eager to cut costs to improve his margins and produce a more marketable and affordable self-driving car.
His crosshairs landed on radar technology, a core component of the autonomous vehicle's ability to detect hazards from afar. Without radar, Teslas would be susceptible to even basic perception errors and worse, crashes and collisions. In the past 2 years, reports of Teslas misinterpreting street signs, aggressively braking from high speeds for imaginary hazards and even fatal accidents have been steadily floating to the surface. The rush to scale and cut costs might be typical of any tech startup, but almost antithetical to the spirit of luxury motoring.
Luxury is Permanence
After all the innovation and design has passed, what remains in the figure of the luxury car? The truth is, a true luxury car is that which represents the unattainable. Never mind the multi-million dollar price tags, the top cars of the luxury motoring world are as rare as fine jewels. They conjure the joy of driving not so much because of the luxury driving experience, but because most people can only dream of being able to drive one.
Self-driving and luxury cars seem to have one thing in common: they are both not meant to be driven. The former disrupts what a car is by removing the driver and aims to fulfil as many human functions as possible – a rush to innovate and create. The latter, however, is focused on refining what a car is by centring the experience of a single driver, striving for perfection and becoming so sought after that it becomes rare, only to be seen on the roads when its lucky owner decides to take it out on a spin. Therein lies the euphoria of driving a luxury car, to be in a seat which is universally beloved across time.
For more motoring stories, click here.
---