---
Cars / Cars and Bikes
Vintage Cars: 5 Classic Beauties Ready for Spring
In the market for a classic car? Here are some of our favourites from the upcoming Amelia Island Auction.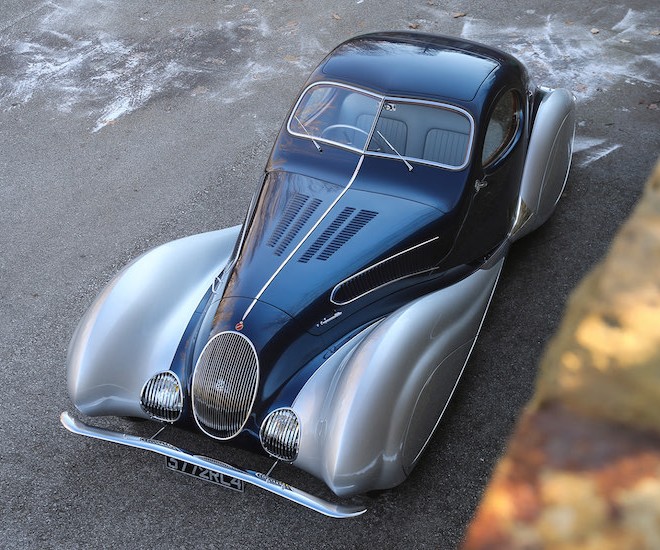 For vintage car enthusiasts, Gooding & Company's annual Amelia Island Auction is one of the top events of the calendar. Every year, the catalogue is filled with gems and this year is no different. As enthusiasts excitedly rip the covers off their beloved collection in time for Spring, we bring you a few of our favourite classic cars from the upcoming auction.
1959 Porsche 718 RSK
This 718 is one of just 34 examples ever made, and was designed off the success of the 550 Spyder. Internally designated as the Type 718, the RSK replaced the 550. Aesthetically, it was designed to be more modern than its predecessor, featuring streamlined Wendler coachwork and faired-in headlamps. Both of these design features resulted in a lower aerodynamic drag. Its power plant is a Ernst Fuhrmann-designed four-cam engine, a more advanced version the Type 547 unit. This engine allowed the RSK to adapt to a variety of applications, from track days to hill climbs and even coastal drives.
Estimate: $2,500,000 – $3,500,000
1967 Ferrari 330 GTS
The 330 GTS was built as a successor to the 275 GTS, combining iconic Pininfarina styling with a larger 4.0-liter engine. It also features a revised nose reminiscent of the 500 Superfast, which enabled it to reach a jaw-dropping 240 kph in an open configuration. The example offered here, chassis 10173, was delivered new in July 1967 to Luigi Chinetti Motors of Greenwich, Connecticut. It features a stunning combination of Amaranto – named for the vibrant, dark-red perennial — and Pelle Beige (Beige Leather) interior.
Estimate: $2,000,000 – $2,400,000
1937 Talbot-Lago T150-C-SS Teardrop Coupe
Quite possibly the gem of the entire auction, the Teardrop is touted as "one of the most enduringly beautiful automobiles of all time". The brainchild of two Italian visionaries, Anthony Lago and Joseph Figoni — who became darlings of the Parisian automotive scene, the Teardrop presented here is only one of two that features this unique body type. Of the two, this car, chassis 90107 is the only one that survives with its original coachwork intact. 90107 has been the star of many automotive shows, including the historic Concours d'Elegance.
Estimate: In excess of $10,000,000
1954 Mercedes-Benz 300 SL Gullwing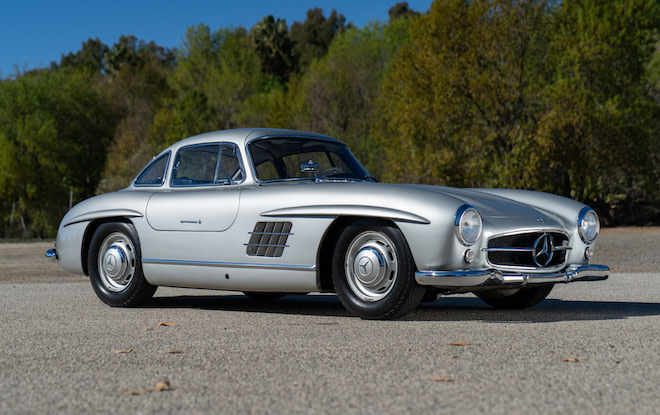 Gullwings are about as sexy as features can get on a car, and this is a prime example of it. In 1954, New York-based importer Max Hoffman announced that a refined version of the 300 SL race car would soon be available to the public, and order came immediately flooding in. It wasn't only racetrack enthusiasts clamouring to get their hands on the new car — the 1954 Mercedes-Benz 300 SL Gullwing had attracted the well-heeled members of society as well. This particular offering was initially owned by William A.M. Burden II, a member of the Vanderbilt family. He was a brilliant businessman, philanthropist, and, for decades, a highly valued customer of Mercedes-Benz.
Estimate: $1,100,000 – $1,300,000
1954 OSCA MT4 2-AD 1500 Spider
Officine Specializzate Costruzione Automobili, or OSCA, was launched in Bologna, Italy by Bindo, Ernesto, and Ettore Maserati in 1947, when they left Maserati. Over the next two decades the Maserati brothers put their heads together to produce — in extremely limited quantities — some of the most eclectic vehicles we've ever seen, from race cars to grand tourers. The MT4s, like the one seen above were especially popular in the US among the wealthy elite. Some connoisseurs that owned this model include Bill Spear, Jim Kimberly, and Briggs Cunningham. Cunningham's car, in particular, won the 12 Hours of Sebring in 1954, leaving cars of greater displacement in its dust.
Estimate: $1,100,000 – $1,400,000
For more car reads, click here.
---