---
Cars / Cars and Bikes
Porsche 911 R Goes for Pure Racing Pedigree
The new model shown at Geneva focuses on the thrill of the race with a new lighter body, manual transmission and a naturally aspirated engine.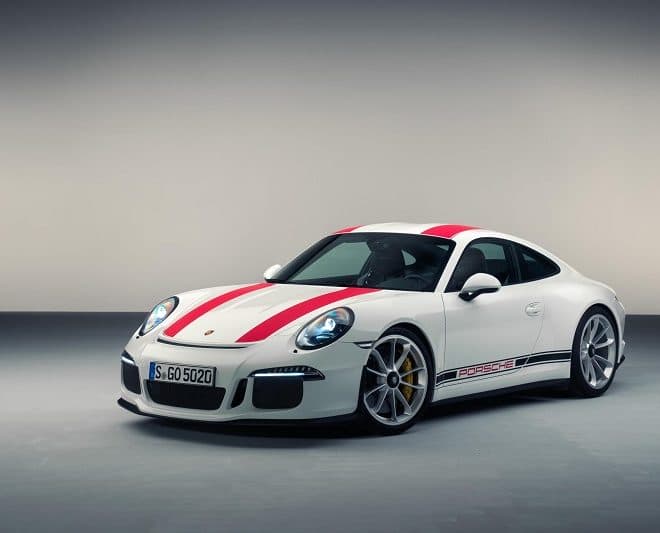 Weighing in at 3,020 pounds, the 911 R ('R' for Racing) cuts 110 pounds from the next lightest 911 variant. This bid for cutting down the weight is all a part of Porsche's vision for bringing back a good old pure sportscar in a bid to no longer alienate the hardcore fans, after being forced to add turbochargers and paddle-shift gearboxes to keep with the times or environmental legislation. The 911 R was displayed at the Geneva Motor Show.
The naturally aspirated 4-liter flat six-cylinder engine pumps out 500hp to propel this lightweight speedster from 0-100km/h in just 3.7 seconds, maxing out at 201mph. This new lighter body results from racing design choices such as ripping out the rear seats, using carbon-fiber for the bonnet and front guards, a magnesium roof, and aluminum everywhere…
With paddle-shift transmission gone, what's there instead is a proper six-speed manual gearbox. The idea is that the driver is completely involved in every aspect of the car's performance and it's for this reason that, although the new car clearly stands out visually from any other 911, it doesn't do so because of side skirts, front aprons or huge rear wings. Porsche also carried over two recent technological innovations. The first is rear-wheel steering to keep that pendulous back end in check, and the second is huge carbon ceramic brakes.
With its unassuming white colors though, little indicates the car's powerful capabilities except for the twin red racing stripes detail that run from nose to tail. The 911 R is the model that puts the sporty performance back to the forefront, limited to just 911 numbered examples worldwide.
Images courtesy of Porsche
---