---
Cars / Cars and Bikes
Porsche 918 Spyder Concept
The 2011 Porsche 918 hybrid concept is set to debut tomorrow at the 2010 Geneva Motor Show. The 918 hybrid is powered by a 500 HP V8 engine along with two electric motors which supply an additional 218 HP. Porsche claims that it delivers up to 78 miles to the gallon and can travel 16 […]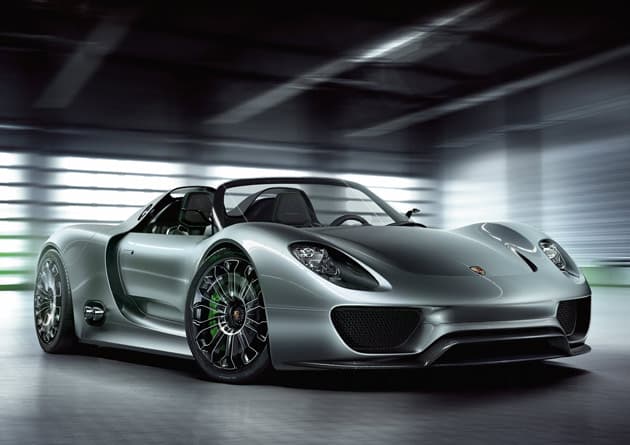 The 2011 Porsche 918 hybrid concept is set to debut tomorrow at the 2010 Geneva Motor Show.
The 918 hybrid is powered by a 500 HP V8 engine along with two electric motors which supply an additional 218 HP.
Porsche claims that it delivers up to 78 miles to the gallon and can travel 16 miles on battery alone.


This mid-engined two-seater combines the performance of a super-sports car with the CO2 emissions of a small compact, an innovative plug-in hybrid concept reducing emissions to just 70 grams CO2 per kilometers and fuel consumption to 3.0 liters/100 kilometers (94 mpg imp).
Starting on Tuesday, March 2nd, at 8:15 am, the Porsche 918 Spyder will be presented at the Porsche Stand in Hall 6 of the Palexpo Building during the Geneva Motor Show.
Two other Porsche hybrids will join the 918 Spyder on the stand, including the Cayenne hybrid and the 911 GT3 R Hybrid race car, which uses a F1-derived KERS kinetic hybrid system.
---