---
Cars / Cars and Bikes
Is the BMW X6 Vantablack SUV the brand's most dangerously (cool) car yet?
In a 20 year study of 850,000 automobile accidents, researchers found black cars 47% more prone to incidents, is this Vantablack BMW SUV the brand's most dangerous car?
BMW just released visuals of a unique X6 VantaBlack SUV and its seriously cool from a design perspective. Vantablack was developed for the aerospace applications and one of its first consumer applications happened to be in the watch industry, courtesy of H. Moser's Endeavour Perpetual Moon Concept VantaBlack.
VantaBlack VBx2 is the world's "blackest black" pigment. Named for technology which makes this true black paint possible, VantaBlack is comprised of a carbon matrix of vertically aligned nano tube array, with each of these nanotubes between 14 to 50 micrometres, and only 20 nanometres in diameter, making it around 5,000 times thinner than a human hair. What results is the ability to absorb over 99% of the light spectrum, making objects appear two-dimensional.
Is the BMW X6 VantaBlack SUV the brand's most dangerously (cool) car yet?
During a 20 year study by Monash University Accident Research Centre in Australia, looking at detailed police data on 850,000 accidents, researchers discovered that black cars were the most accident prone. During daylight hours, black cars were 12% more likely be in crashes than white vehicles, and as night falls, accidents with black cars rose to 47%. With scientific data like this, the argument can be made that the BMW X6 Vantablack SUV the brand's most dangerous. Yet, it's undeniable that its pretty damned cool.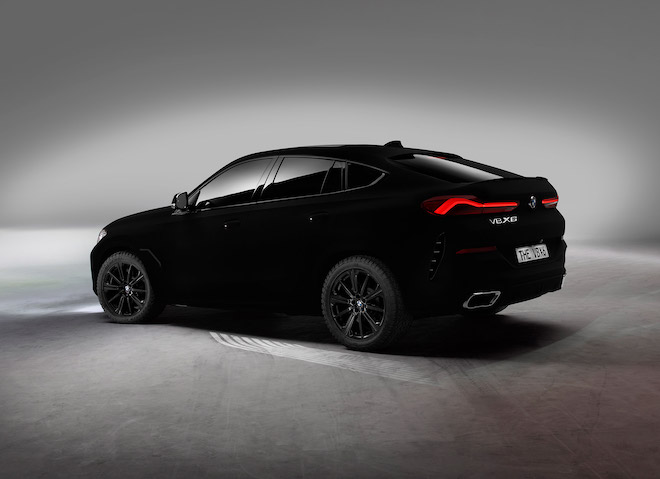 VantaBlack's peerless light absorption qualities (that is to say, rather than reflect light like a traditional paint, it is deflected and trapped between the paint's carbon nanotubes) define BMW's X6 SUV – you simply cannot discern any of a car's distinctive features – a three-dimensional car essentially looks two-dimensional. Teaming up with Surrey NanoSystems, the pigment, initially exclusive to British artist Anish Kapoor, was apply to the entire exterior of the BMW X6 with the exception of the massive grille, headlights and wheels. This VantaBlack SUV is a literal automotive ninja.
That said, VBx2 is a different application of the carbon matrix than the original VantaBlack, using a sponge-like structure. British architect Asif Khan used this formulation for the pavilion at the Pyeongchang Winter Olympic Games in 2018.
If you decide to own this dangerously cool car, make sure to increase its security with a BMW tracker. Infiniti Tracking can help you learn more about this.
The BMW VBX6 VantaBlack SUV will debut at the 2019 Frankfurt Motor Show from 12 to 22 September 2019.
Editor's Note: According to the study, white and silvery cars fared better when it came to number of accidents because of brighter contrasts between the car and the road. BMW previously earned the Top Safety Plus award from the Insurance Institute for Highway Safety Testing for another model
---