---
Style / World of Watches (WOW)
Limited Edition Richard Mille RM 57-03 Tourbillon Sapphire Dragon for Asia Only
Featuring an intricately carved crystalline dragon, the RM 57-03 is masterfully executed using a combination of traditional and high tech engraving techniques, produced in a limited edition of 55 pieces, 5 of which have a sapphire case.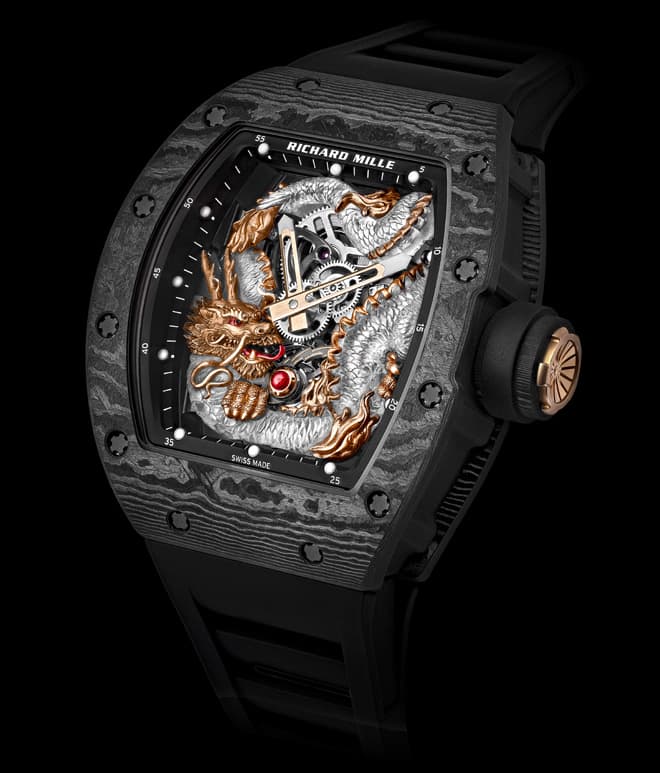 Combining the art of engraving with cutting-edge sapphire, the RM 57-03 Tourbillon Sapphire Dragon is a limited edition Richard Mille timepiece joining both traditional and contemporary watchmaking techniques.
Exclusive to Asia, the 55 piece RM 57-03 Tourbillon Sapphire Dragon is the pinnacle of a beloved special project, taking East Asia's most beloved and powerful motif and birthing a gold and crystalline dragon carved from a single block of sapphire.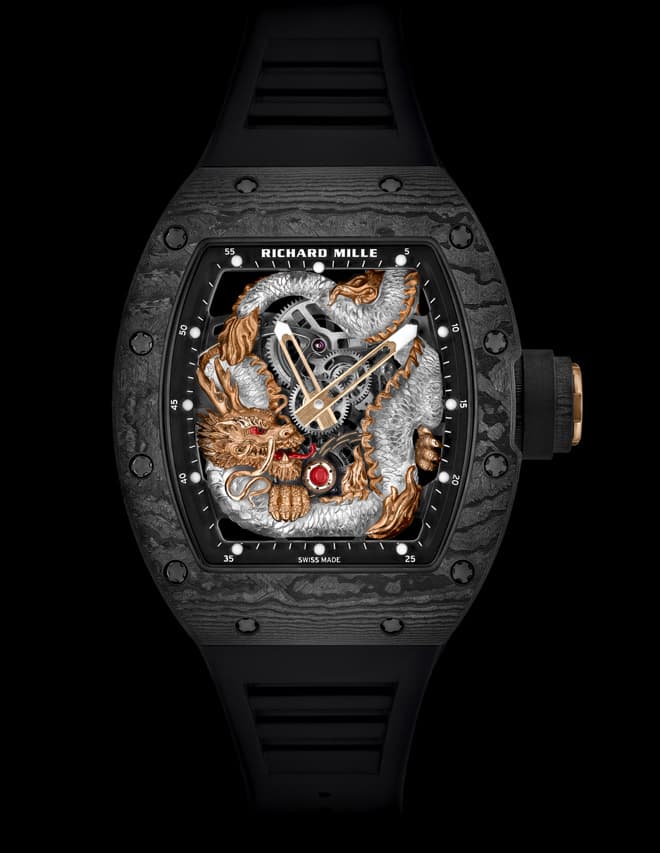 Limited Edition Richard Mille RM 57-03 Tourbillon Sapphire Dragon for Asia Only
Inextricably associated with the mystical East, the mythical creature  traditionally symbolises potent and auspicious powers and while a powerful symbol for power, strength and good luck, it is believed that the dragon is only for those who are worthy – that is to say, in Oriental culture, those of nobility like Emperors, can bear the auspicious emblem synonymous with perseverance and success.
Objectively, the Limited Edition Richard Mille RM 57-03 Tourbillon Sapphire Dragon is yet another allegory for watchmaking creativity and prowess of the brand. Engravers at Olivier Vaucher – one of Geneva's most reputed names in engraving – previously responsible for the Zenith Academy Christophe Colomb Hurricane Grand Voyage II, the Roger Dubuis Excalibur Knights of the Round Table and the Richard Mille RM 19-02 Tourbillon Fleur, embarked on this second collaboration with Richard Mille movement engineers allowing the sapphire dragon to firmly encircle the manually-wound tourbillon calibre.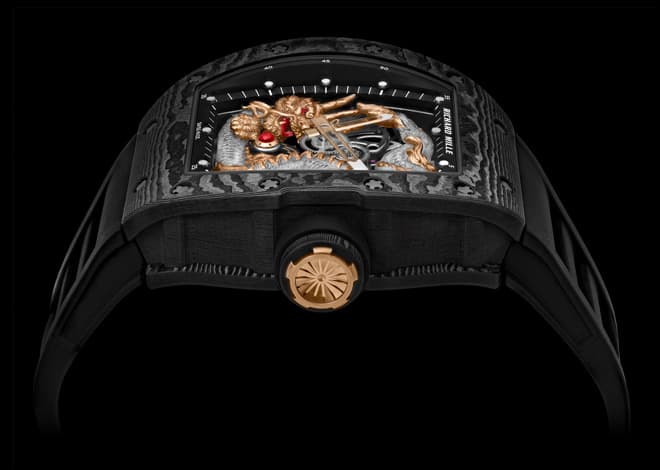 Incorporated within a tourbillon movement, birthing the entwined sapphire dragon is no mean feat. The RM 57-03 Tourbillon Sapphire Dragon requires a complex procedure of sapphire machining, already not the easiest task when it comes to relatively simple tonneau shapes like those in the US$2 million Richard Mille Sapphire Tourbillon RM 56-02, the hardy yet delicate material combined intricate details was a poetic act of artist engraving and technical skill.
Sapphire has a special place at Richard Mille, the manufacture has used it for complex cases and movement components and now, in the RM 57-03 Tourbillon Sapphire Dragon, the 1800 Vickers a realistic depiction for Asia's most legendary of beasts. Using a combination of laser micro-cutting, performed using a machine specific to this project, bringing life to the dragon's intricate details and curves while avoiding deleterious ramifications of physical deformity and damage and other potential chemical reactions.
Weak points and probable fissure lines were eliminated from the block of sapphire through countless hours of R&D and Computer-assisted design (CAD) programming. The Tourbillon Sapphire Dragon was then engraved by Olivier Vaucher and his artisans with a never-before-seen hand-polishing technique to enhance the natural transparency of the sapphire. The head and feet in carved red gold also serve to accentuate the crystalline texture of the sapphire and the volume of the subject. The minute details of the scales were the result of a long and delicate process of painting with gold, while applying these to the dragon's tongue and eyes—giving it a look of rigour and determination.
Only available in Asia, the RM 57-03 is produced in a limited edition of 55 pieces, 5 of which have a sapphire case.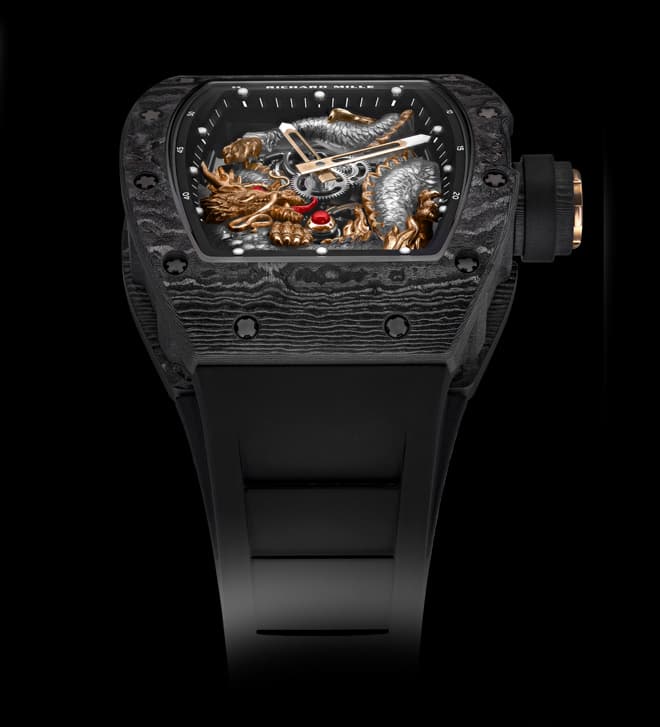 RM 57-03 Tourbillon Sapphire Dragon Price and Specs
Movement Manual winding Calibre RM57-03 with 48 hours power reserve
Case 42.7mm carbon or sapphire case with 50 metres water resistance
Strap Rubber
Price On Application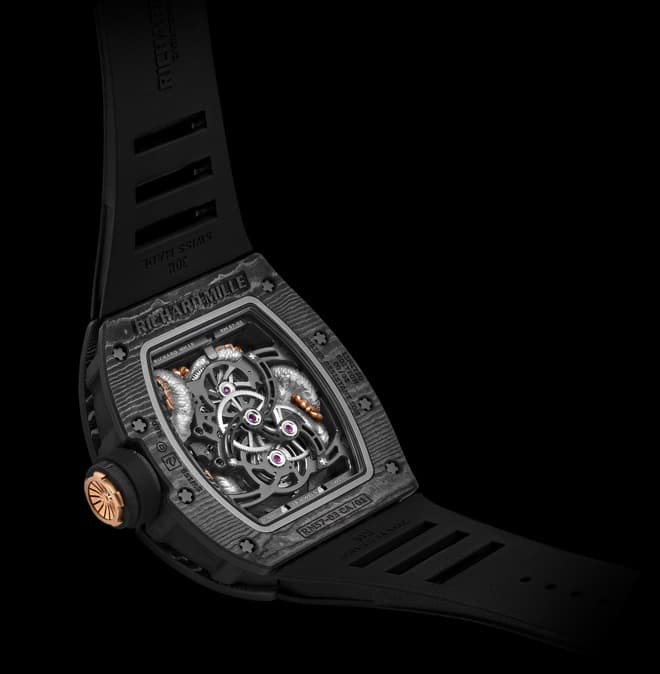 ---