---
Cars / Cars and Bikes
Ferrari 488 Pista Spider – Maranello Special Series
With incorporation of the most powerful Ferrari V8 engine ever, the new Ferrari 488 Pista Spider sets a new benchmark for the Maranello marque.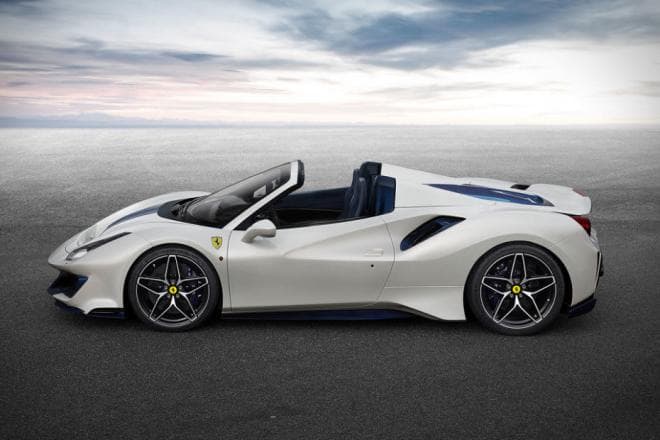 The new the Ferrari 488 Pista Spider, a Maranello Special Series and the 50th convertible for the Prancing Pony was unveiled at the Concours d'Elegance® at Pebble Beach in California. Thanks to the incorporation of the most powerful Ferrari V8 engine ever, the new Ferrari 488 sets a new benchmark for the Maranello marque for spider performance with an unprecedented weight-power ratio of 1.92 kg/cv.

Ferrari 488 Pista Spider – Maranello Special Series
The 3902cc twin-turbo V8 power plant of the Pista Spider unleashes 720 cv and combines that power with increasing torque at all engine speeds for continuous and unending acceleration all the way to the red line, translated – the new Ferrari 488 completes its century sprint (0 – 100kmh) in 2.85 seconds (0-60 mph). Going from rest to 200 kmh takes but 8 seconds. Thanks to its open-top configuration, Ferrari's 50th convertible enjoys the full roar of its distinctive engine sound.
Uncompromising choice of materials for the Ferrari 488 bodywork makes generous use of new lightweight materials like carbon-fibre and Alcantara® throughout; saving additional weight by the use of pared-back components. What results is that the new Pista Spider weights 300lbs lighter than the regular 448.
In terms of engineering, the Maranello's latest Ferrari 488 Pista Spider is directly derived from the 488 Pista which encapsulates all the racing experience gathered on world's circuits with the 488 Challenge and the 488 GTE. As a result, the new Pista Spider offers the highest level yet of technological transfer from the track to a road-legal drop-top car.
The Ferrari 488 Pista Spider represents the natural evolution of Ferrari's vision for coupé design and Ferrari's latest convertible is a perfect marriage of aerodynamic efficiency, purity of form and racing spirit; a concept further demonstrated by the characteristic central livery which runs the whole length of the car, expanding towards the rear where it finishes at the end of the rear wing next to the spoiler.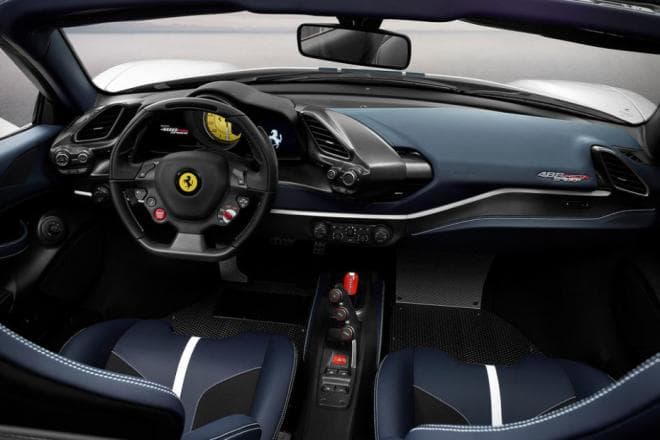 ---