---
Business / Finance
Aditus Plays Host as Official Partner of the Inaugural Penang Rendezvous 2018
Aditus is the official partner of the inaugural luxury lifestyle event Penang Rendezvous 2018.
Singapore, SINGAPORE – Aditus, the world's no. 1 luxury access platform for crypto-affluents, made its presence felt as an official partner of the inaugural Penang Rendezvous 2018. It was held for the first time in Penang at the Straits Quay Marina from the 26th to 29th of July. More than 3,000 visitors graced the four-day event including Penang Tourism Development, Heritage, Culture and Arts Committee Chairman, Yeoh Soon Hin, who took a guided tour following the opening ceremony and press conference on the first day.
The immersive maritime showcase featured some of the most comprehensive makes from international yacht brokers Pen Marine, Simpson Marine, Hong Seh, and Ferretti Group. Guests were entertained daily by live musical performances and glitzy fashion shows. Many also checked out seaplanes, went out on sea trials, and indulged in Martell Malaysia's series of pop-up cognac-pairing dinners. They also perused offerings from various exhibitors that participated at Penang Rendezvous including high-end property developers, luxury automotive manufacturers and financial institutions among others.
There were also rare vintage cars such as the Jaguar E-Type Series 2, Austin Healey Sprite "Bugeye" and Rolls-Royce 20/25 Sports Saloon paraded at the foyer; while supercar convoys led by both the Ferrari Owners Club Malaysia and Lamborghini Car Owners Club Malaysia incited much excitement when they made an appearance.
As part of the festivities on Day-3, Aditus also hosted Malaysian blockchain proponents and cryptocurrency investors at the nearby Performing Arts Centre of Penang (PenangPac). Likened to a blockchain retreat, the fittingly named 'Crypto Rendezvous 2018' was attended by more than 80 participants on the 28th of July.
For just one day, concerns regarding innovation and implementation were addressed by experts in field. Julian Peh, CEO and co-founder of Aditus gave a welcome address and provided his insights on the topic of Pioneering Top-Down Cryptocurrency Adoption during the conference. This was followed by Patrick Tan, general counsel of Crypto Hedge Fund Compton Hughes; and representatives from cryptocurrency exchanges Coinbene, Gibraltar Blockchain Exchange (GBX), and SINEGY. Other speakers included Rene Bernard, CEO and co-founder of LuxTag, and Simon Pang as head of the Malaysian Steemit community. The half-day seminar was emceed by popular radio personality Freda Liu of independent business station BFM89.9.
Liu also moderated a panel headlined by Colbert Low, Harpreet Singh, and Jason Chew. A born-and-bred Penangnite, Low is the Vice Secretary of Access Blockchain Association and has been credited for uniting the various Malaysian cryptocurrency communities. He is also the founder of BitcoinMalaysia and a Senior Adviser for consulting firm Celebrus Advisory. Harpreet is the CEO and co-founder of Blocklime; while Chew is the founder of EMPOWER, a blockchain database that supports the generation and consumption of electricity from renewable sources.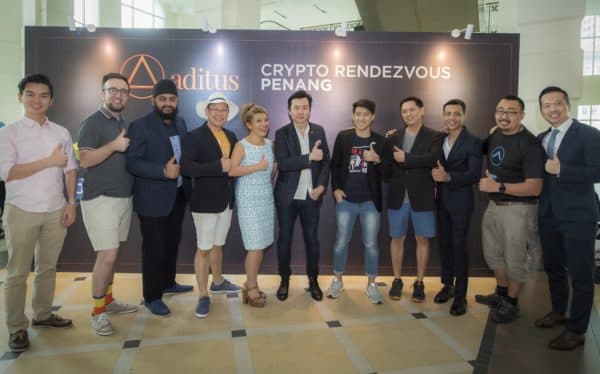 "As far as a gathering of the who's who of the Malaysian [blockchain] scene, we couldn't have asked for a more refreshing and vibrant setting than Penang Rendezvous here at Straits Quay," says Julian Peh. "The luxury space is ripe for transactions using cryptocurrencies. By providing a decentralised, safe, and stable solution that meets the needs of our clients as well as luxury merchants, Aditus is facilitating the growing demand by crypto-affluents to spend the proceeds from their hard-won investments."
Befittingly, lavish cocktail- and networking-sessions at the Aditus VIP booth and Cercle Lounge after-party on board Simpson Marine's Monte Carlo Yachts MCY 70, provided ample opportunities for crypto enthusiasts to engage with experts, innovators and investors in an effort to foster adoption in the country. This bodes well for Aditus as it is well-placed in the market to serve Aditus VIP members and crypto-affluents in Malaysia and beyond with special access to similarly exclusive lifestyle experiences and events in the future.
For more information, visit:
www.aditus.net
www.penangrendezvous.com
---