---
Business
What is "Threads" and Why is Twitter Threatened?
It is a digital battle of the tech billionaires as Mark Zuckerberg's Threads could potentially be the end of Elon Musk's reign over Twitter
Social media has been in a flurry with memes, questions and potentially an impending lawsuit after Mark Zuckerberg announced the launch of his latest social media platform Threads. So what is Threads? Threads is an extension of the "Meta" universe (not to be confused with the metaverse) owned and created by the Facebook technology tycoon. According to Meta, "Threads is built by the Instagram team, for sharing text updates and joining public conversations".
The "Thread" Count
Perhaps the textual-focused counterpart to Instagram's more visual content-based platform, Threads is able to leverage on Meta's existing user reach, where other platforms would have to essentially start from scratch. New Thread accounts can easily migrate their data from Instagram, so users maintain their followers with Threads' built-in follower base. At the same time Meta maintains its preexisting audience pool and data from Instagram. When it comes to the technological similarities, according to Meta, "The core accessibility features available on Instagram today, such as screen reader support and AI-generated image descriptions, are also enabled on Threads".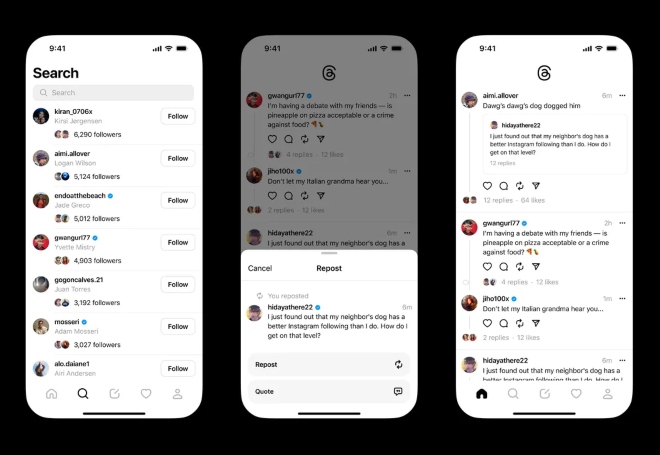 CBS News reports that according to Meta CEO Mark Zuckerberg, more than 10 million people signed up for Threads within the first seven days of its launch. The new platform comes in line with the rise in hate speech and misinformation since Elon Musk took over as CEO of Twitter with a US$44 billion acquisition at the end of last year. The Guardian reports that Zuckerberg aims to "remove content that contains credible threats or hate speech" and "content that targets private individuals to degrade or shame them".
Why is Twitter Threatened?
As soon as it was launched, Threads was dubbed as the alternative to Twitter.
According to the New York Times, ad revenue at Twitter was down by 59 percent in April as opposed to where it was the year before. Impromptu policy changes at the whim of Musk (from charging for "blue tick" verification to putting a limit on tweets) have had their part to play in a downward trend of advertising revenues. Controversy and technical problems continue to place Twitter and its roughly 250 million active users in a precarious situation.
CNBC News reports that traffic on Twitter has slowed down since the launch of Meta's Threads with Cloudflare CEO Matthew Prince sharing a screenshot to Twitter showing the downward traffic progression on the platform.
Do We Really Need Another App?
If Zuckerberg's vision of creating a space that is free from hate speech, Threads would need to work on the platform's content moderation. The Guardian reports that white supremacists, extreme United States nationalists and fringe right-wing figures have already created accounts on the site including Richard Spencer and Nick Fuentes.
On the flipside, if Threads is able to accurately moderate their platform and filter out misinformation, Twitter could have a contender on its hands. While Twitter and Threads both provide platforms for dicussions and debates, one of Threads' biggest setbacks is the lack of the "trending topics" feature which allowes users to engage in current global news and popular pop-culture discussions. The lack of other notable features from the offset including hashtags (which were crucial during the #MeToo and #BlackLivesMatter movements), direct messaging and even the ability to edit posts may hinder the growth of Threads unless Zuckerberg and his team are able make the necessary changes.
On the flipside, Threads is a perfect space for users with digital prowess who are perhaps fatigued with the Gen Z monopoly of TikTok, who prefer reading to reels. The response by high-profile celebrities has been humourous to say the least.
The Zuckerberg vs Musk Online Battle
The online spat between the two billionaires first started when Zuckerberg made his return to Twitter, posting a meme on his account to announce the launch of Threads. Musk reponded by threatening to sue Meta accusing Zuckerberg of hiring former Twitter employees who "had and continue to have access to Twitter's trade secrets and other highly confidential information". The digital battle of the billionaires only continued with Elon Musk suggest him and Mark Zuckerberg have "a literal dick-measuring contest," reports the Guardian.
Staying Power
Will Threads maintain consistency or will it be a passing fad, joining the "digital graveyard" of ghosts of apps past?
Case in point, during the height of the pandemic, the social network Clubhouse was valued at US$4 billion at a time when the world was going digital. Two years later, in April 2023, Clubhouse began drastic downsizing with CNBC news reporting that 200 employees were laid off. A move that Clubhouse hopes will "reset" themselves for the post-covid era.
Aside from early interests, Twitter users who have ready amassed long-cultivated followings and connections may be as easily swayed to jump to another platform which will already demand time and attention in and of itself. You can already hear the audible groans from the marketing teams of brands and enterprises that may be required to use another app, having just got accustomed to TikTok algorithms and reels.
Besides this, for the anti-social, social media user, another app can really feel like shouting into an endless void. Digital detox anyone?
For more business reads, click here
---